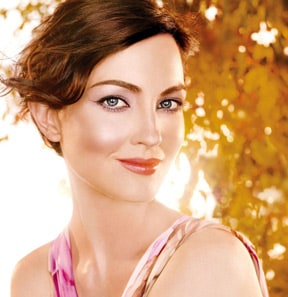 As Da Vinci is to art. As Meryl Streep is to acting. As Jimi Hendrix is to the guitar. Laura Mercier is to makeup. All masters in their field. Anyone who has tried her products knows that this is no exaggeration, especially her face products. Her "flawless face" is unmatched by anyone in the industry. I won't go into it too much because we plan to devote an upcoming post to it. But know this, if you are looking for ANY makeup for your skin (from tinted moisturizer to powder) you won't get a finer product than hers. And don't even get me started on her body products and fragrance…
But it's her color that we are focusing on today. We were lucky enough to receive several items from a few of her new Spring collections. They are exactly what I have grown to expect from Laura Mercier makeup; classic, sophisticated and incredibly feminine. And like all of her products, the absolute highest quality.
From the limited edition First Blush collection there is the soft and romantic palette, which our lucky member Melissa won in our latest giveaway. I defy her to not look like a Spring day while wearing this! (On a side note, do you know how hard it was for me to not to keep this? Palettes really don't get any prettier than this. And if there's one thing I love, it's a pretty palette. No one could ever say I don't love and appreciate our members!) From the same collection, we received the mini brush set (no longer available on Sephora – check out the Travel Brush Set
as an alternative), which we promptly gave to our favorite working woman, who I know first hand does her makeup at her desk. Now we know she will be doing it in style with this. Everything she could need in one adorable, pink, lady-like set.
We only received one item from the The Gilded Garden (also limited edition) but oh, what an item it was! I don't know if I've seen anything as pretty as the Mosaic Shimmer Bloc
in quite some time, a playful mixing of flower patterns in tones of wearable pink shimmer. This, like the First Blush palette, is about as Spring as you can get. This gorgeous compact can be used on the face or body and like all Mercier shimmers, gives a luminous glow without being neither too frosty or metallic.
Lastly, the Sateen Cream Eye Colours
are six stunning shades that add luminous, pearl-like color to your lids. Pretty much everything you're looking for in a creme shadow-long wearing, crease proof, water resistant and easy application. And breathtakingly buildable! Apply lightly for just a wash of color or layer for more dramatic eyes (either with more crème or with a powder). To me, these are perfection. And hooray-they are not LE so I can try them all!
Read on to see what each tester thought of these products. And explore the entire Laura Mercier line to see a master's work!
Laura Mercier Spring collections
Stef is a plethora of things. Amongst them: co-founder of we heart this, photographer, condiment connoisseur, Philly girl in the California desert, borderline hoarder and a hardcore beauty junkie. She also has a touch of wanderlust and, arguably,
the cutest dog in the whole world
...
skin tone:
NC 25/30
skin type:
oily with a fear of rosacea
favorite beauty product:
high end skincare and lip products