Plus a look at the self-tanner, Tan Airbrush in a Can
photo: we heart this
There I was, at a packed arthouse showing of a Japanese horror movie, waiting in the dimly-lit theater for the show to begin, when my lips started to feel a little dry. Always looking for a reason to use a lip product, I slid my ModelCo Lip Lights
gloss out of my bag and twisted it open, bathing my entire row in a bright light. As I applied this gorgeous gloss with its tiny brush, complete strangers started whispering, "What's THAT?" So I did a little impromptu demonstration of the coolest gloss ever invented, complete with its own light and mirror. My ModelCo Lip Lights gloss caused a commotion.
Which is what this Australian company has been doing all over the world since its launch in 2002. Director Shelley Barrett ran a successful modeling agency and based ModelCo around the "dream products" wished for by models and stylists alike. Noted for creating never-before-seen cosmetics and gadgets, like their wildly popular Lash Wand Heated Eyelash Curler
, ModelCo backs up their clever inventions with quality cosmetics. I tested two items from different ends of the beauty spectrum, the brilliant gloss and their Tan Airbrush in a Can. If these products are any indication, I just might have a new favorite beauty line!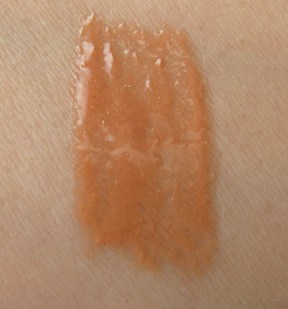 The Lip Lights gloss
($28) immediately won me over (and every woman within 5 feet of me) with its ingenious packaging and design. Besides the light and mirror, the squared shape of the tube is so pleasing to me– just one touch and I know I've found my Lip Lights in my makeup bag, even in the dark! The gloss I tested, Indian Summer, is the perfect neutral nude that I suspect would work with any skin tone. The gloss itself is shiny and long lasting without being overly sticky. It seems to set on my lips after a few minutes, looking natural and pretty. It's become my go-to daily lip color.
The other product I tested, Tan Airbrush In A Can
, is equally revolutionary. In the past, I tried spray tanning in an automated booth, and learned I'm not coordinated enough to move my arms and legs, turn, AND hold my breath. I loved the resulting color but wasn't so crazy about the bronchitis I developed afterwards. So this at-home spray tanner is a great invention for me. I was able to spray outdoors wearing an old bikini (okay, my underwear, but don't my neighbors!) and avoid inhaling the stuff.
There are many spray tanners on the market now, but Tan Airbrush in a Can (5.3 oz $30/7.8 oz $42) differs in its color. Besides self-tanner, this product contains a greenish bronzer. I know this sounds weird, but the green eliminates that telltale orange hue and helps to deliver a natural looking tan. Plus this formula leaves a natural glow right away.
Following the instructions, I shook the can well, sprayed all over my body, lightly rubbed the product in, and washed my hands (like all tanners, this stuff can stain your hands, as well as light-colored fabrics, so beware). I sprayed in the evening, and woke the next morning with a genuine-looking, virtually streak-free tan. Not a hint of orange gave me away, and even the dreaded "tanner smell" wasn't bad at all. I spent my recent beach vacation under the umbrella with a good coating of sunscreen, but returned to work with a tropical tan thanks to ModelCo!
we heartsters – Have you been wowed by ModelCo? Testers – What did you think of the Lip Lights lip gloss and Tan Airbrush in a Can?
Disclosure: This review includes products that were provided by the manufacturer/PR firm for our consideration. It also contains an affiliate link, a link that gives us a small commission if you purchase the item. For more info, or any questions, please see our disclosure policy.
Melissa loves road trips, bargain shopping, drive-in movies, lip gloss and rock 'n' roll. She lives in Baltimore with her precious pup Bellarina.
skin tone: NC20
skin type: dry to normal
favorite beauty product: skincare
Latest posts by turboterp