Recently the New York Times published an article about the next big trend and new fashion muse in the cities hipster circles – Elaine from "Seinfeld." Think about that for a moment…
The circle of fashion dictates that styles and trends recycle about every 20 years, and we've been seeing hints of early 90's trends on the market (like reworked flannel shirts and leggings in lieu of the 90's tights) for the last few seasons. According to the Times, these downtown hipsters are our arbiters of style, and you should get ready to see lots of Elaine Benes clones all over your town soon.
While mulling over the the ways fashion recycles styles, I came up with a couple of fads I'm hoping stay way back in the dark, back recesses of the closet:
• Platform Sneakers
I blame the Spice Girls for the flash and burn cycle of this (let's face it stupid looking) shoe fad. As I'm barely 5'2", I quickly picked up a pair of my own black platform sneaks. I'm lucky if I wore them maybe 50 times, and when on my feet they were responsible for approximately 50 overturned and sprained ankles. And these are daytime shoes, so we can't even blame the alcohol for the falls. 1970's type platform shoes are no problem for me, but the platform sneaker was hell on the ankles.
Disclosure: I will admit that it was the alcohol and not the platform sneakers (I wore the exact same Steve Madden pair as pictured) that caused me to fall, repeatedly, Halloween night of 96 (Sporty Spice)  – not a good combination, but a fun night!
• Little Backpacks
Again with the tragically flawed accessories! This fad – the teeny, tiny, almost always black, backpack – was nicely designed to automatically make any woman, once she strapped the Barbie sized bag to her back, appear about 25% larger then actual size. Thanks for that.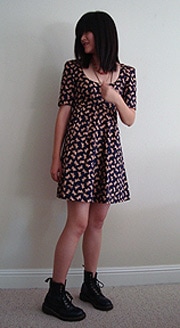 • Combat Boots with sundresses
(Image: chictopia)
Hmm, well according to the Times, this combo is part of the Elaine style, even though I picture her wearing something brown and loafer-like with buckles. I will admit the reason I'm hoping the combat boot/sundress look stays in NYC is purely selfish. As mentioned earlier, I'm short; and I have correspondingly short, sadly dumpy, legs. Wearing a dress or skirt with chunky boots that hit at the mid-calf is not a slimming or lengthening look for anyone. On me, this trend visually cuts my legs in half, giving me a nice square and squat figure. Tip One: If you're under 5'4" stick to pairing mid-calf boots with jeans.
Need an additional reason to shelve this look? No matter how graceful the lady, paring a pairing of army boots with a dainty dress creates a nifty juxtaposition that makes everyone look just a little clumsy. Listen up youngsters, as I recall closing time at my favorite Hollywood bar in the mid 90's; picture a roomful of tipsy to soused, Doc Marten-footed girls lumbering around, trying to avoid the bouncers eye, slightly off balance like a roomful of cross-dressing Frankenstein. (Tyna, I didn't look that bad! ~Stef) Tip Two: If you do wear this recycled trend, do not wear it when drinking.
• Anything Steve Sanders wore on 90210
(Image: happygrrls)
I'm pretty sure those 90210 era swoopy haircuts and sharp sideburns will be back (and secretly, I'm sort of excited for it). However if there was ever a gigantic 90s Fashion No, it would be any and everything in Ian Ziering's trailer. Throw in David Silver's wardrobe (Brian Austin Greene) as well.
• Those Ridiculous Pants (sort of like Jams on steroids)
Stef and I both tried to find just the right phrase to title this one. Remember those awful, baggy men's pants (a descendant of Hammer Pants maybe) that were like a combination of pajama bottoms and workout pants? They were always made of too-thin material with an obnoxious print and loud colors and the fine details included deep slouchy pockets and pleats? Those. They were a classic sign of a 'douche bag' back when they were called 'tools'.
http://www.youtube.com/watch?v=1kT7pVHgWu4
• TRL
I've heard there's plan to resurrect this series over at MTV and to that I say, "It's too soon!" This truly awful live show ran at prime just-home-from-school-hours everyday on MTV and was responsible for unleashing unspeakable horrors from head to toe as worn by both the fashion victim guests (teen boy bands and pop princesses) and audience (lovers of teen boy bands and pop princess wannabees). Also? I blame this show for the downfall of the M in MTV.
• Possibly the most evil of them all – Scrunchies!
(Nightmare inducing image: American Apparel)
No explanation necessary – just look at that thing! Shudder.
Is it possible this long reviled hair accessory is poised to make a comeback? No matter what the fashion mags tell me, I just can't ever wear a scrunchie again.
we heartsters – what 90's trends have you dreading their comeback? Share in the comments!
Tyna is a former editor and co-founder of we heart this that worries about becoming a crazy cat lady, reads at least a book a week, checks in at a Flyers fan forum every morning and is forever organizing her closets and drawers.
skin tone: NW 20/25
skin type: combination
favorite beauty product: eye shadows and lip balms