A Green Monday tip that adds a little everyday luxury to your life.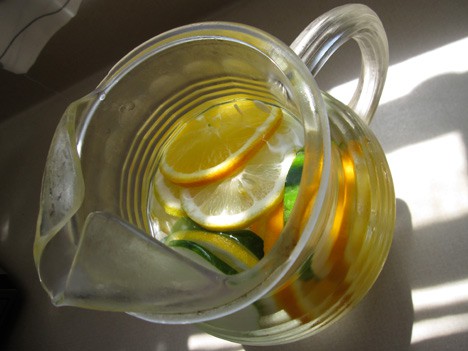 photo: we heart this
I admit it; while I'm constantly trying to live just a teeny bit greener, I'm having a very hard time cutting out the plastic bottles completely from my life. I know how terrible they are for the environment, but it has been a hard habit to break!
First, I force myself not to buy a case of them when they are on sale at the grocery store and I steer clear of the bottled water aisles in convenience stores. I also cut the 5 gallon bottled water delivery service to my house and purchased a water filter that not only cleanses my tap water, it also fits in my fridge (freeing up valuable kitchen space).
So, I've cut the plastic, but how to drink my daily water when not in a conveniently packaged bottle? I purchased a few steel bottles, but never found a cap or opening that I liked. Large glasses kept ice cold in the freezer have been my go to for a while, but I still wasn't as happy as I was with the dreaded plastic bottle and sporty squeeze caps.
Then I had on of those "light bulb moments" and discovered a way to make water exciting, add more nutrients to my diet and feel fancy all at once. The idea? Make my own at home spa water. You know, the simple but elegant mixture of icy cold water, citrus and cucumbers that is customary at every well heeled spa?
I grabbed my nicest pitcher, added some sliced, organic, oranges, lemons and cucumbers (about half each) and then filled it up with filtered water. In a few hours, I had delicious, refreshing water as I happily typed at my computer.
Since that day, I've been making my spa water on a regular basis. I know I've increased both my water and my vitamin C intake (all those extra fruits) while slashing my water bottle consumption! Best of all, every person to visit my home has exclaimed "Oh, how fancy/clever/fun!" as I served them their spa water. Something I never heard when I handed them a plastic bottle!
Readers – how do you cut the plastic water bottles from your life? Share your tips in the comments!
Tyna, co-founder and co-editor of wht, worries about becoming a crazy cat lady, reads at least a book a week, checks in at a Flyers fan forum every morning and is forever (some say obsessively) organizing her closets and drawers.