The yummiest day of the year is almost here! There is nothing I enjoy more than rounding the table on Thanksgiving with family and friends and indulging in a few hours of pure gluttony. From cocktails and apps to the big feast and finishing up with coffee and pie – on Thanksgiving I'm ALL in. No thinking twice about seconds, no proclaiming I'll regret it tomorrow – just enjoying the day…and the food.
If you are throwing the big meal this year, or need a no-fail dish to bring to the event, I've rounded up a few of our tried and true, beloved recipes from the wht archives to grace the Thanksgiving table.
Cocktails:
honey apple martini – photo: we heart this
• Honey Apple Martini – Start off with this warm, cheery cocktail invented by Stef one fateful fall afternoon. The Wild Turkey American Honey makes this an apple drink a whole different animal compared to most candy apple sweet cocktails.
• How to: Pour a Black and Tan – Everyone loves beer, and this fun drink will astound and amaze your guests as you pour the perfect black and tan before them. Our tips make you look like a pro. Cheers!
• Pomegranate Ginger Champagne – Looking for something a little more festive? These sparkling red and fizzy cocktails always brighten the mood when served.
Appetizers & Starters:
butternut squash soup – photo: kristy for we heart this
• Onion Cheese Ball – This is a help yourself, crowd pleasing hit when served pre-meal (maybe as people catch an early game) while things are counting down in the kitchen.
• How to: Build a Salad – Trying to sneak in a healthy dish? Follow our tips for making a perfectly balanced, perfectly tasty salad and serve it as the first course. Watch it be gobbled up, be happy one vegetable was consumed sans butter and cheese and then let the fattening stuff begin!
•Jalapeno Ginger Butternut Squash Soup – This gorgeous looking bowl of soup makes the perfect starter for your meal – warm, homey and full of thanksgiving flavors with a spicy kick.
Turkey and Gravy:
• How to brine a Turkey – Before she was gracing the pages of O Magazine, Spice Station owner and friend of wht Bronwen (aka Winnie) shared her secrets for getting a plump and juicy turkey to the table.
•Tofurky Roast & Gravy – And for the vegetarians, a review and photos of my first (and only) Tofurky roast meal. (I think I'll stick to Morning Star fake chicken patties this year.)
•Pamela's Thanksgiving Stuffing – Here's a super easy, super tasty stuffing that you can make a day or two ahead of time. Every minute counts on the big day!
• Turkey Gravy – Guest will be declaring "Good gravy, that's good gravy" if you follow these steps for perfect gravy every time.
• Good Gravy: gluten free and vegan recipes – Don't worry vegetarians and the gluten-free – we have easy-peasy, yummy gravy recipes for you too!
Sides: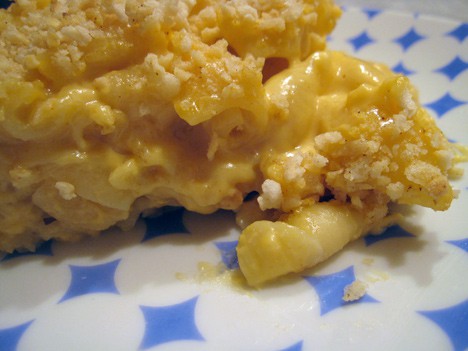 mac and cheese – photo: we heart this
• Cauliflower and Brussels Sprout Gratin Stef and I were just discussing how we both can't wait to dive into this rich, cheesy dish that she has declared her absolute favorite side of the entire meal.
• Sweet Potato and Carrot Puree – I always avoided anything with sweet potatoes, until I discovered this incredible recipe – a light as air, marshmallow free delight that gets its depth from a generous splash of crème fraiche, lots of butter and dashes of nutmeg and cayenne pepper
• How to: Mashed Potatoes – Every plate needs a big heaping scoop of mashed potato goodness. Here's a tried and true recipe, and some tips for whipping up fluffy potatoes.
• World's Best Mac and Cheese– We didn't have a mac and cheese side on the family table when I grew up – and I'm still feeling a little deprived. If you think there's always a need for cheese, try Krista's insanely good, gooey, crumbly recipe.
Desserts:
apple pie – photo: kristy for we heart this
• Simple Apple Pie – This easy as pie recipe will make an impression on guests ("She made homemade pie too?!") as they sip coffee and marvel over the delish meal.
• Shaya's Pumpkin Pie – The must have pie of the day – here's a quick and easy version with a bonus pie crust recipe.
• Pumpkin Pie Cake – Here's a dessert sure to stand out among the pies. This simple cake, perfect for turkey day can also be made gluten free.
What did we miss readers? What dish has to be part of your Thanksgiving meal every year?
Tyna, co-founder and co-editor of wht, worries about becoming a crazy cat lady, reads at least a book a week, checks in at a Flyers fan forum every morning and is forever (some say obsessively) organizing her closets and drawers.