Who doesn't love a parade?
Confession: Me actually. I've never been a parade fan. But for this one, I am front and center, waving a miniature flag! It's Ice Parade, MAC's holiday gift sets.
Packaged in either clear or silver bags trimmed with a metallic silver circle, the collection contains:
Iced Delights Lip Bags – a Cremesheen Lipstick, Cremesheen Glass and Lip Pencil
Iced Delights Nail and Lip Bags – a trio of Lipglass, Lipstick, Nail Lacquer
Iced Delights Eye Bags – an Eye Shadow duo, a Technakohl Eye Liner and Zoom Fast Black Lash
Make it Perfect Brush kits – four glitter handled travel brushes.
Let's see what's wrapped in the first futuristic, pretty lil' package, shall we?
We got to take a look at the Iced Delights Eye Bag in Gold ($45). It contains an eye shadow duo packaged identically to the Double Feature eye duos from the Colourizations launch. But unlike the duos in that launch, now they have names – hooray! This duo has Baby, It's Cold… (a shimmery butter yellow) and Woodsmoke (muted emerald green and red brown duochrome effect). I LOVE this duo. Both shadows are really pigmented, smooth and velvety feeling, and will you look at Woodsmoke? Is it green? Is it brown? It IS fabulous!
The bag also includes Brown Border Technakohl, a full-sized Zoom Fast Black Lash Mascara and travel sized 275SE brush. This is an amazing kit that anyone would be delighted to own. You can also pick between Silver and Pearl color palettes as well.
Next up is the Iced Delights Nail and Lip Bag in Rocking ($36), which is pretty much a holiday party in an amazing circular bag!
I mean, check out this trio. If that doesn't scream "I've got a hot date" I don't know what does.
This set contains Kanga Rouge Lipstick, a bright blue based red with a glossy amplified finished. This goes a bit pinkish on me, rather than a true red. Asiatique Nail Lacquer, which is a true red cream polish.
And the beauty shown above Golden Blanket Lipglass. MAC describes this as "translucent with silver pearl". But as the name suggests, it's also got this enveloping layer of frosty and glowing gold warmth that slays me! It's the perfect combo of silver and gold. I didn't previously own anything like it, and am so glad I now do.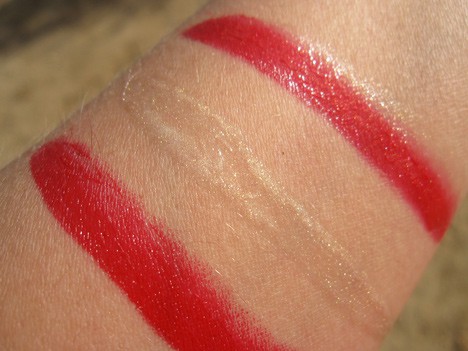 Kanga Rouge lipstick, Golden Blanket lipglass, the two layered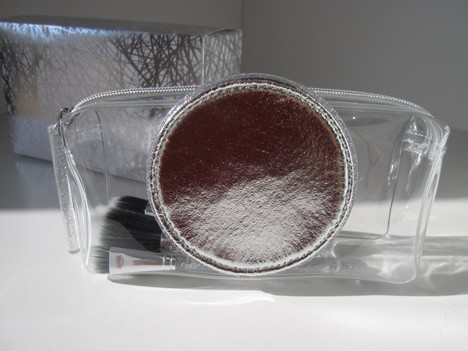 And finally, we got to take a peek at what lies inside the next clear bag, the Make It Perfect Brush Kit in Mineralize ($49.50).
a peek at the touches of silver glitter
This kit has four travel size brushes, all created with a duel blend of black natural fibers and white synthetic ones:
130SE, a round, flat-top to be used for foundations, creams, emulsions, and some powder products.
187SE, a full circular brush, use it lightly to create soft layers or add textures with face powder or pigments.
286SE, a tapered eye shadow blending brush (not sold separately).
282SE, a flat eye shadow shader brush (not sold separately).
How about it readers, will you be joining in on the Ice Parade?
Iced Delights Lip Bag
Wintercool
Fashion Whim Lipglass – Pink flesh (cremesheen)
Crème de Nude – Lipstick (cremesheen)
Stripdown – Lip Pencil
$38 U.S./$45.50 CDN
Sultry
Deelight Lipglass – Raisonette (cremesheen)
I Love Winter Lipstick – Medium passionfruit (cremesheen)
Boldly Bare Lip Pencil
$38 U.S./$45.50 CDN
Iced Delights Nail & Lip Bag
Rocking
Kanga Rouge Lipstick – Bright red (amplified)
Golden Blanket Lipglass – Translucent with silver pearl (frost)
Asiatique Nail Lacquer (cream)
$36 U.S./$43.50 CDN
Pure Drama
Hang up Lipstick (cremesheen)
Frozen Lamé Lipglass – Frosty nude (frost)
Vintage Vamp Nail Lacquer (cream)
$36 U.S./$43.50 CDN
Iced Delights Eye Bag
Silver
Silverwear – Metallic lavender (frost)
Blue Spruce – Marine blue with lavender sparkle (velvet)
Graphblack Technakohl
Zoom Fast Black Lash
275SE Brush
$45 U.S./$54 CDN
Pearl
Taupeless – Lavender pink (lustre)
Celestial Black – Rich blue black with red pearl (velvet)
Purple Dash Technakohl
Zoom Fast Black Lash
275SE Brush
$45 U.S./$54 CDN
Gold
Baby, It's cold… – Butter yellow (frost)
Woodsmoke – Muted emerald green (frost)
Brown Border Technakohl
Zoom Fast Black Lash
275SE Brush
$45 U.S./$54 CDN
Make It Perfect Brush Kit
$49.50 U.S./$59.50 CDN
Mineralize
187SE
130SE
286SE Duo fibre tapered blending
282SE Duo fibre shader
Essential
190SE
129SE
275SE
266SE
226SE
Special Edition
167SE Bronzer Brush
168SE
239SE
217SE
212SE
Stef is many things. Amongst them: co-editor of we heart this, graphic designer, Philly girl in the California desert, borderline hoarder and a hardcore beauty junkie.
Disclosure: This review includes products that were provided by the manufacturer/PR firm for our consideration. For more info, or any questions, please see our disclosure policy.