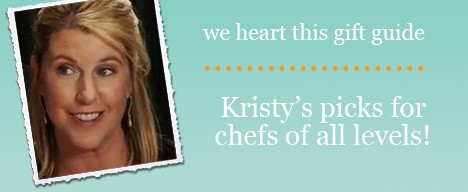 Everyone has a chef in their life, whether budding or gourmet, so we asked OUR favorite chef for some help on the gifting front. We heart this contributor and food blogger Kristy gave us four things that EVERY chef needs:

1. Pottery Batter Bowl ($25)
Everyone who does even a minimal amount of cooking or baking needs a good batter bowl. It's your workhorse in the kitchen that you'll use almost every time you're in there. I like to keep one on hand that is as pretty to look at as it is versatile.
You'll find more lovely bowls and pottery in a rainbow of colors, perfect for gifting, over at the Klayhouse etsy shop.
2. Cuisinart Immersion Hand Blender
($29.85)
I couldn't live without my immersion blender. It not only makes preparing blended soups a breeze, but I also use it for pureeing carrots, cauliflower or even making a quick chipotle puree. It's one of my favorite cooking tools!
This SmartStick hand blender from well respected Cuisinart is super lightweight with push-button controls, finished in brushed chrome and dishwasher safe.
It is not only a great gift for anyone that enjoys to spend time in the kitchen, it's also a great deal for those watching their gift budget. Pick it up at Amazon right now for less than 30 bucks, almost half the normal $55 retail price.

3. Salts of the World ($36)
Everyone knows that proper seasoning is the key to turning an average dish into something extraordinary. Finishing salts take that one step further! They allow me to experiment in the kitchen; each subtle sprinkle adds a depth of flavor it would be otherwise hard to get.
4. A good balsamic vinegar ($49.95)
Much like finishing salts, a high quality balsamic vinegar can transform a dish from mediocre to amazing. A good balsamic can also be used for a quick drizzle at the end of a dish or as part of a cheese course.
This bottle of Villa Manadori's artisanal Balsamic Vinegar, available at Williams Sonoma is handcrafted with Italian grapes and aged in a series of oak, chestnut and juniper barrels. Produced in limited quantities, no reduction is needed here; it's good straight out of the bottle.
Happy Cooking and Season's Greetings to All!
Kristy is a personal chef, web designer, freelance writer, and the food blogger behind The Wicked Noodle. She's a happily married mom to two girls, a bit of a tech geek and loves animals, yoga, long naps and anything with chipotle in it.
Disclosure: This post contains an affiliate link, a link that gives us a small commission if you purchase the item. For more info, or any questions, please see our disclosure policy.