DIY Gift Alert: These simple treats make a fab presentation!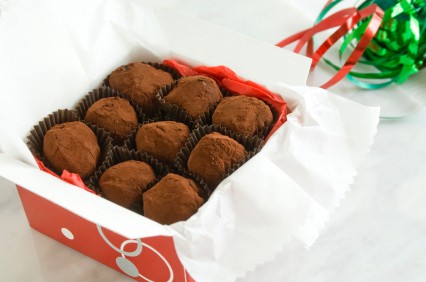 Happy Holidays, everyone! This month I thought I'd share one of my easy yet favorite recipes that I always find myself making this time of the year. It's always so busy with parties, gift shopping and baking, so I look for recipes that pack a lot of punch with not much effort.
These chocolate mint truffles are so easy and incredibly delicious! I like to put half a dozen or so in pretty boxes lined with paper and give them as inexpensive gifts. They're always appreciated and I've been told they always disappear quickly! These make a lot; enough for about 10 boxes with half a dozen truffles in each.
Chocolate-Mint Truffles
Ingredients:
1 lb good-quality semi-sweet chocolate, chopped
1 cup of heavy cream
1 bunch mint leaves, chopped

1. Bring mint and heavy cream to a simmer. Remove from heat and let sit for one hour.
2. Place chopped chocolate in a separate bowl. Bring cream back to a simmer; pour over the chocolate; let site a few minutes then stir until smooth.
3. Once cool, place in the refrigerator until cold, at least two hours. Form into balls and place on a parchment lined baking sheet. Return to fridge and leave there overnight.
Roll balls in cocoa powder and give as gifts or keep in refrigerator until your chocolate cravings strike!
Need more holiday sweet ideas? Check the Related Posts link below for more delicious treats!