Washing dishes has never looked so good
photos: we heart this
As some of you read before, I kind of love Archipelago Botanicals. They make some of my favorite candles, some lovely bath products, and unbeknownst to me, dish soap. When I received a very large bottle of their Elder and Olive Cleansing Dish Soap, I admit to being intrigued…and kind of skeptical.
I'm one of those people that suffer from extreme brand loyalty, especially if the brand is tried and true. I've used the same dish soap for 16 years now and love the stuff. I mean, I LOVE the stuff. That being said, since I also already adored all things Archipelago (especially their soy candles), I forced myself to be open to change. (Have I mentioned that I hate change?)
My first impression of the Elder and Olive Dish ($19) is that the bottle, once placed next to my kitchen sink, managed to look more chic than anything else that's ever graced my kitchen counter. It even has a little metal medallion wrapped around the neck of the bottle. Too cute!
The soap slightly resembled extra virgin olive oil in color. It contains all-natural ingredients such as olive oil, Vitamin E, Elder Blossom and Sage. Like the all-natural quality of this product, but still want something anti-bacterial? Don't fret; this dish soap contains Tea Tree oil! The end result is a dish soap that does the work of tougher soaps, but without the drying and damaging effect on hands.
So, as I've stated, the packaging is lovely – the bottle is tall and square, with a nice, understated label. Chic. The smell is not bad, but truthfully it's not my favorite. It's a little too herbal for my liking. Like, strongly herbal. My current dish soap smells like oranges and that's why I love it. I'm a sucker for citrus. But I can work past the smell of something if it works well.
I put this to the test the week of Thanksgiving, a time when I needed to hand wash prep bowls, measuring implements, and the like, repeatedly. I was happy to find that something made with natural ingredients could be such a powerhouse.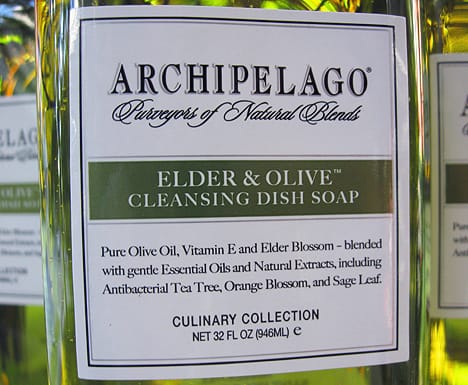 It took a big squirt to fill my sink with suds, about 3 times as much as my standard dish soap for similar results. While it took more, it still did a really thorough job of cleaning everything – even the more disgusting messes. I will note the flip-top cap style doesn't really a lot of control when dispensing; I prefer the standard pull-top cap.
Other than that, worth noting is that usually my hands resemble something close to the Crypt Keeper's by the time I'm done with that much hand washing, but not this time. Sure, I was a little pruney, but my hands dried soft. No dry, cracked digits! I'm impressed.
Overall, I'd have to say that this dish soap is pretty terrific, but probably not for everyday use, unless you can afford $19 dish soap. I personally think this is best for when you are having company and want to impress or if you plan on doing a lot of hand washing. I own a dishwasher, so times when I need to hand wash extensively are rare, but how gentle this was on my hands would make this worth having for those occasions.
Pros:
• Natural ingredients.
• Gentle formulation that leaves hands soft.
• Gorgeous packaging dresses up a counter.
• Cuts through grease and grime.
Cons:
• Smell is strongly herbal.
• Pricey.
Testers – Do you (and your hands) love the Elder and Olive Dish Soap from Archipelago? Readers – are you a hand washer or a machine washer?
[ratings]
Krista currently lives in a semi-haunted house in New England with her hubby/best friend and obscenely big-eared dog. She thinks the world would be a better place if people smiled more and ate more dark chocolate. She is a firm believer that humor can be found in everything and that Tom Selleck's moustache has healing properties…
Disclosure: This review includes products that were provided by the manufacturer/PR firm for our consideration. For more info, or any questions, please see our disclosure policy.