Want a youthful glow? All you've got to do is MAC, Naturally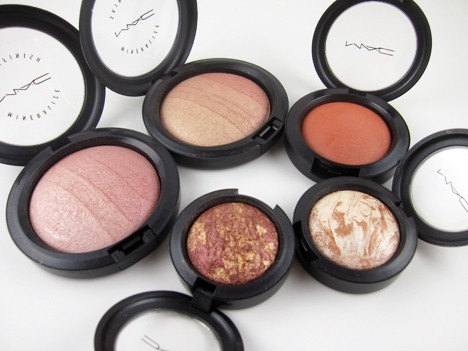 photos: we heart this
Youth is one of those components of beauty that just goes away. We lament it, chase it, long for it, but when it's gone, it's gone. Staving off the outright markers of lost youth is one of the reasons I'm a big supporter of mineral makeup and all its soft, shimmery glory. MAC's Naturally collection is a glowing example of products that can eliminate that need for soft focus a little bit longer.
The natural shimmer, sheen and glow of young skin can be revisited upon our older visages in the forms of mica and iron oxides, titanium and manganese. The Naturally collection uses these minerals and more to give skin a nearly incandescent luminosity.
This line includes Mineralize Blushes, Eye Shadows and (my favorite) Skinfinishes in fresh, sheer and sexy tones as well as jojoba and mango oil infused Eye Pencils and wholesomely hot, tinted Lipsticks and Lipglass. The wht team was lucky to receive a few of the Mineralize products portion of the collection for review.
Mineralize Skinfinish – Blonde
Why save the best for last? I'm too in love with the Mineralize Skinfinish ($28) in Blonde to wait! Described as a "Soft Pink to Rose Degrade" by MAC, I find this to be a brilliant alternative to bronzer for those who want to avoid the streakiness or muddiness that many a tan or brown bronzer offer, yet still want an all-over sun-kissed glow.
Mineralize Skinfinish – Redhead
First, the large domed compact yields a lot of product. The powder itself is almost creamy in texture and is super finely milled, filling in pores and lines to really mimic that soft focus I was speaking of earlier. Another benefit of the powder being so fine and creamy is that the shimmer almost appears as a lotion would, without the chunky, almost glittery bits.
from left: Blonde, Redhead
As a brunette, the shades of pinks in Blonde worked well for me. If peach is more your thing, Mineralize Skinfinish in Redhead (Gold to Salmon Pink Degrade) awaits you with subtle stripes in a range from gold to peachy pink.
The Mineralize Eye Shadows ($20) are an impressive looking bunch as well, with nature's finest colors swirled in ice cream-like ripples of multi-faceted dimension.
Mineralize eyeshadow – Summer Haze
I tried Summer Haze, an explosion of golds in tones ranging from pale to antique. More determined souls could use a thin brush to trace the veins of color for precise application, but I love swiping across these swirls to extend the multi-faceted color to my lids.
Mineralize eyeshadow – In The Sun
I noticed some have commented (on MAC's own site) that these colors fade fast but I haven't had this problem. I do use a good primer and would suggest that everyone invest in one as well, particularly with mineral shadows. As far as application, I recommend using a finger for these. Like Skinfinish, the powder is almost creamy in texture and the finger seems to deposit just the right amount of color without waste or fallout.
from left: In The Sun, Summer Haze
The color is quite buildable and can be naturally reflective or intense. Wet application works especially well with these, really bringing out the metallic properties of the shadow.
Rounding out the mineralized products we have the Mineralize Blush ($22) in three shades.
Early Morning Mineralize blush
Our own Stef tested Early Morning and describes it as a beautiful, intense blush. She says "I suspect most will have to go pretty light on this. It's pretty far off from the 'peachy pink' description MAC gives. It's really more of a dark orangey coral."
Early Morning
Not surprisingly, like shadow and skinfinish, the consistency is a divine. Stef said the Mineralize Blush is "almost creamy, it's so silky soft and a dream to apply and wear."
As a long-time supporter of the glowing youth movement to support minerals in makeup, MAC, I welcome you—naturally.
Mineralize Pros:
• Fine milled, creamy powder that minimizes pores and fine lines
• Glowing dimension
• Buildable color (and shimmer)
Mineralize Cons:
• Colors may fade without a good canvas
• Some may prefer a more traditional palette to extract singular colors
• Quite a bit of shimmer—if you're not a big shimmer fan
Readers (especially mineral makeup fans) – how do you feel about MAC's Naturally collection?
MAC's Naturally Collection:
Lipstick
A Perfect Day – Light neutral pink (Amplified)
Beach Sand – Light tan (Cremesheen)
Sweet Sunrise – Light neutral peach-pink (Lustre)
Pillow Talk – Neutral pink (Cremesheen)
$14.50 U.S. / $17.50 CDN
Lipglass
The Wee Coquette – Naked neutral pink
Fresh Air -Light pink
Naked Space – Creamy mid-tone nude peach
Hot Spell – Bronze with multi-colored pearl
$14.50 U.S. / $17.50 CDN
Mineralize Eyeshadow
Daylight – Peach with dirty blue lavender veining
In the Sun – Gold with violet veining
Summer Haze – Palest gold with deeper gold veining
Cloudy Afternoon – Cream with gold, grey, and pink veining
Twilight Falls – Cool brown with bronze veining
$20 U.S. / $24 CDN
Eye Pencil
Ebony – Soft black
Coffee – Muted brown
$14 U.S. / $17 CDN
Mineralize Skinfinish
Redhead – Gold to salmon pink degrade
Blonde – Soft pink to rose degrade
$28 U.S. / $33.50 CDN
Mineralize Blush
Subtle Breeze – Blue-pink
Fresh Honey – Warm apricot
Early Morning – Peachy pink
$22 U.S. / $26.50 CDN
Brushes
187 Duo-fibre stippling brush
$42 U.S. / $50.50 CDN
286 Duo-fibre tapered brush
$30 U.S. / $36.50 CDN
Sherri is co-author of What Would You Do With This Room?
My 10 Foolproof Commandments to Great Interior Design, and of course, a wht writer!
Disclosure: This review includes products that were provided by the manufacturer/PR firm for our consideration. For more info, or any questions, please see our disclosure policy.