photos: YBF Skincare
As promised, we're back with another update on Ruff's Raffle for animal rescue The Amanda Foundation. On Sunday, February 12th we heart this will be hosting the beauty filled raffle during Martini Madness at Lola's in Hollywood. Tickets are on sale for the event featuring an evening of tasty treats, cold cocktails, mingling with fellow animal lovers and an amazing silent auction.
We're ecstatic over the support we've received from our friends in the beauty industry and today we wanted to highlight the generosity of indie brand Your Best Face (YBF) Skincare.
If you haven't tried this up and coming line, come on down to Martini Madness and enter Ruff's Raffle – you just might be the winner of this enormous YBF Raffle Basket valued at $1,195 – that's a lot of skin care!
The YBF Loves Animals Raffle Basket includes full sizes of EVERY product in the Your Best Face Skincare product line tucked inside a felt-lined gift box:
• Define Lip Area Anti-Age Cream
• Quench Lip Treatment Balm
• Correct Invigorating Eye Cream
• Refresh Rejuvenating Eye Cream
• Nourish Revitalizing Eye Cream
• Prep Brightening Exfoliant Microdermabrasion Cream
• Balance Skin Treatment
• Defend Wrinkle Prevention
• Control Deep Wrinkle Cream
• Restore Skin Brightener
• Boost Daily Moisturizing Cream
• Hydrate B Concentrate Serum
• Antioxidants Concentrate Serum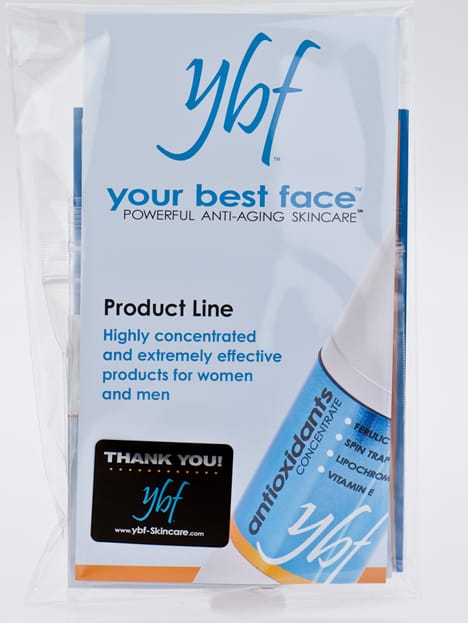 If you're not the big winner of the YBF Basket, don't worry. Every single wht Gift Bag (received with a $20 raffle ticket purchase) will include a YBF Skincare Stuffer!
Inside you will find four generously sized samples of four popular products from the line; Correct Invigorating Eye Cream, Boost Daily Moisturizing Cream, Hydrate B Concentrate Serum and YBF's latest, the limited edition Private Reserve Antioxidant Treatment Oil in sandalwood.
This little packet of joy has an $85 value ~ and your whole 20 buck donation goes directly to The Amanda Foundation. Everyone's a winner!
As if that's not enough, the good people at YBF wanted to recognize the good people working on behalf of the animals and included these adorable Gift Sets (packed with 4 YBF trial sized goodies) for the Amanda Foundation volunteers at the event. How sweet is that?
Speaking of sweet, remember the sweet bundled deal YBF Skincare and Truth in Aging offered this past weekend? Well the people at both companies have decided to extend the offer! If you can't make Martini Madness, head on over to Truth in Aging
and snap up this trio of YBF products. The limited time exclusive is valued at $260, but is yours for $200 and $20 will be donated to The Amanda Foundation!
This YBF exclusive pack includes a full size Correct Eye Cream, a full size Private Reserve Antioxidant Treatment Oil in Rose and a travel size of Control Deep Wrinkle Cream. Click here to order.
Thanks once again to YBF Skincare and their amazing donations in support of the animals and The Amanda Foundation!
See you all February 12th at Martini Madness!
Tyna, co-founder and co-editor of wht, worries about becoming a crazy cat lady, reads at least a book a week, checks in at a Flyers fan forum every morning and is forever (some say obsessively) organizing her closets and drawers.