The Green Monday Review of the Multi-Ethnic Hair Care Line
photos: we heart this
Dads slay me. A father bandaging a boo-boo at a park, a dad swinging a child high on his shoulders, even one trying to calm a crying baby in the middle of the store — there's just something adorable about fathers and their kids that never fails to make me smile.
So when I read that founder Israel Segal's impetus for creating Free Your Mane hair products was his two adopted children, I melted. I mean, tell me this quote from Segal doesn't tug on your heartstrings:
"As the guardian of my children's future, I was driven to create a product that is eco-conscious and sustainable while building a socially responsible company."
This, of course, made reviewing the multi-ethnic hair products just a teensy bit harder. Luckily, Free Your Mane products delivered more than just a sweet story and an awesome message; they delivered amazing results.
This Green Monday approved company makes products without mineral oil, sulfates, phthalates, parabens or petroleum, combining the best ingredients in nature and science without harmful fillers. Inspired by the issues he found while caring for his children's African-American hair, Segal decided to create a product that was not only easy on your hair, but good for it also.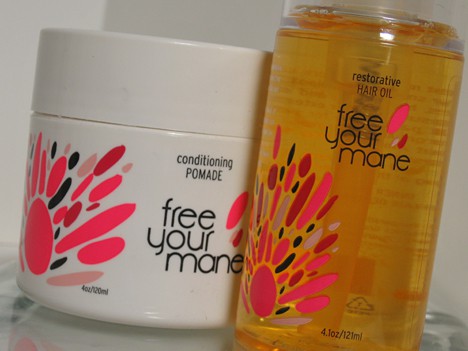 Free Your Mane uses ingredients like Argan oil, Pomegranate Seed oil and the exclusive Brilliant Baobab Oil from African, which can hold up to eight times its weight in moisture. These ingredients, along with a commitment to sustainability and eco-friendly standards make Free Your Mane a must for any green girl who loves good hair.
While this line was designed to address the needs of African-America hair, I truly believe the "multi-ethnic" label fits and that it works for most hair types. I got to test three products; and while I liked the shampoo and conditioner, the Baobab Brilliant Restorative Hair Oil ($25) is really where Free Your Mane shone. I've never said this before, but…I may have found my Holy Grail hair product.
This golden hued beauty has replaced ALL of my frizz control products. The pump bottle puts out just enough product without any waste and the consistency is thin without being watered down, almost like an olive oil. When applied to wet hair, it gave me shine and eliminated frizz; when applied to dry, the Restorative Hair Oil calmed down any flyaways and helped revive my curls. Oh, ladies…the LOVE have for this hair oil knows no bounds.
The Sulfate Free Shampoo ($16) was a standout in that it did something that most sulfate free products do not — lathers well. The creamy formula cut right through my product drenched hair and made it squeaky clean without stripping my hair or making it dry.
The lightweight Daily Detangling Conditioner ($16) has a formula, rich in the Brilliant Baobab Oil, that's made to address the needs of those with coarse, thick or unmanageable hair. My only quibble is that I prefer a thicker conditioner, but I have to say the thinner consistency stood up to my coarse tresses – making detangling a breeze and leaving me with soft, manageable curls.
Finally, let me just address one characteristic that, while I love, may not be for everyone. Free Your Mane has a distinctive scent; it was specially designed by Segal to appeal to both male and female and is called "Bois-Tabac." It's a very earthy and deep scent, almost evocative of Ojon Restorative Hair Treatment, but lighter.
Personally, I love it! It's less pronounced in the shampoo and conditioner, but when I wore the hair oil, I often would catch a slight whiff of it as I moved my head or shook my hair. I'm curious to see what the other testers (and readers) think of the signature scent.
Pros:
• Incredible moisturizing ability from conditioner and shampoo
• Hair oil controlled my curls like a champ
• Lovely deep, earthy scent
•Logo design is TOO adorable
Greens:
• Ecological and sustainability commitment from the company
• No mineral oil, sulfates, phthalates, parabens or petroleum
Cons:
• Price, while standard for high-end hair care, may still be too high for some
• Not for those with hair that is oily or needs volume
• Signature scent may not be for everyone.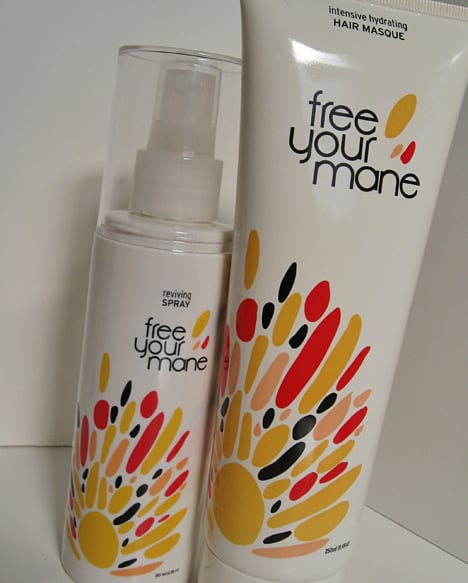 For now, the Free Your Mane collection consists of six products. I can't wait to hear what the testers thought of the Intensive Hydrating Hair Masque (rumored to help seal split ends), the Reviving Spray (think of a liquid dry shampoo) and the Conditioning Pomade (adds powerful hold while conditioning hair).
Since I've found my Holy Grail product, I'm dying to try the others in the line! Free Your Mane may have won over my heart with the story of how it started, but it's the great products that have earned my undying love.

Readers and testers – have you discovered the wonders of Brilliant Baobab Oil and the Free Your Mane Hair Care collection?
[ratings]
Alyssa is kinda geeky, kinda girly and all the way in love with her cowboy husband who can say words like, "ornery" with a straight face. She live in Texas and is working on her Masters, being a good cook and the art of looking cute in the morning AND being on time for work. Visit her blog Kind of a Mess.
Disclosure: This review includes products that were provided by the manufacturer/PR firm for our consideration. For more info, or any questions, please see our disclosure policy.