Happy Oscar Weekend everyone! I admit, I don't get out to the movie theater very often, so when the Academy Awards roll around, I'm lucky if I have seen a few of the contenders. But every year, I'm still parked in front of the television for the big awards ceremony. I can't resist the outfits, makeup, and hair on display on the red carpet (and maybe I'll add a few movies to my Must See List).
Our image this week is of my favorite old Hollywood glamour girl, Audrey Hepburn backstage at the 1954 Academy Awards, the year she won Best Actress for Roman Holiday. (And wouldn't you love to know what exactly is in her little stash of products?)
Onto the Lipstick League!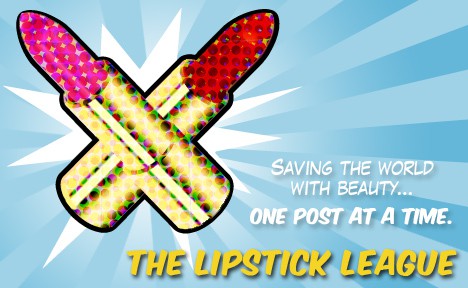 Question of the Week: – If you weren't blogging about beauty, what would you be blogging about?
Answer: One reason I love writing for wht is that I'm able to blog about other things I love – food, books, decorating, thrifting, etc. But one topic I would enjoy writing about (that just doesn't fit in with wht) is elite gymnastics. I spend way too much time online reading gymnastics blogs and watching old meets and routines on YouTube. But IT IS an Olympic year – I just may find a way to share my obsession with you all in a post this summer!
And from around the League this week:
we heart this – Glam.com just sent their latest package to Beauty Board members. Take a look at what they're excited about for spring, from L'Eau de Chloé to mascara with a flexible wand!
Beauty Junkies Unite – We tried out six shades of the new L'Oreal Infallible 24HR Eyeshadows, and couldn't believe the long wear we got out of a shadow that isn't a cream!
Clumps of Mascara – is head over heels in love with OPI's Holland collection. Some of the polishes are just so so and others are just amazing!
EauMG – Inspired by a Gauguin art exhibit, Victoria shares which perfumes that she believes could fit in with these Polynesian paradises.
Gouldylox Reviews – You can mix this little miracle into everything. This huile is that good!
Lipglossiping – Gets on board with the latest beauty trend straight from London Fashion Week… Face Lace. Intricate stick-on designs for the visage!
Nouveau Cheap – If you haven't heard, Payless Shoe Source sells cosmetics now. And guess what? There's some awesomeness to be found in their newest collection.
Pink Sith – Loves her Barry M Dazzle Dust in Oyster Grey so much, she went a Absolutely Ape with Alliteration.
Prime Beauty – continues her series on "Brands You Need To Know About But Probably Don't" with GlamNatural and their outstanding hydrating foundation.
Phyrra – Flirts with the Make Up For Ever La Bohème Rouge Artist Natural lipsticks, which are perfect for spring.
Vampy Varnish – Loves the new NYX Roll On Shimmers and they come in 16 shades!
How about you readers, what would you like to blog about?