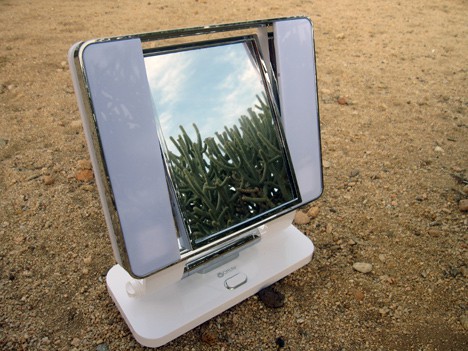 That's my new obsession, my OttLite makeup mirror. I've been coveting one for awhile. They just went on sale and if you sign up for their emails, you get an additional 20% off. Plus, free shipping! How could I have not bought it? I look forward to more precise makeup application and lots of illuminated pimple picking.
Let's do a little leaguing, shall we?
Question of the Week: – What's your favorite home fragrance product (candle, tart, incense, fragrance oil, plug-in or other)?
Answer: I'm definitely a candle freak (not as much as Tyna is, but close). My current favorites are my Maninfest Destiny in Vintage Velvet and Crabtree and Evelyn Smoky Amber. I like for my house to smell like a boudoir!
Prime Beauty – goes from drab to fab before you can say "long, lush lashes" with Too Faced Better Than False Lashes. You HAVE see it to believe it!
Phyrra – compares Urban Decay's old and new Mildew and shows you a few more shades!
we heart this – would you like a $100 gift card to spend at a site FILLED with brands like Fekkai, Becca, Deborah Lippmann, and many others? Then enter our New London Pharmacy giveaway!
Beauty Junkies Unite – People are starting to get excited about the upcoming release of OPI's The Amazing Spider-Man Collection, are you one of them? Check out the review & swatches and decide for yourself!
Clumps of Mascara – is in love with NYX Cosmetics' Color Lip Balms. Have you tried these babies yet?
EauMG – Candle lovers, check this out! EauMG reviews the Jonathan Adler Pop Collection Candles!
Krasey Beauty – is offering up the entire Denise Richards Volume Extend Haircare line! Click on over to Krasey Beauty, and enter to win!
Nouveau Cheap – Is the new CoverGirl Tone Rehab 2-in-1 Foundation|Base rocking my world or is it just another gimmick? Click here to find out.
Pink Sith – Says that the MAKE UP FOR EVER Natural Artist Lipstick is so awesome and so moisturizing you won't need to apply it in a swimming pool like Lynda Carter!
How about it readers, what's your favorite home fragrance product (candle, tart, incense, fragrance oil, plug-in or other)?