Impress your guests with this stunning, yet simple salad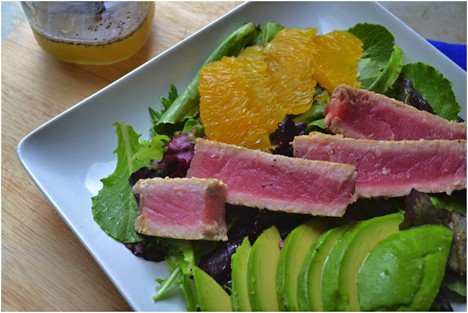 photos: stefanie for we heart this
Hello we heart this readers! I am so happy to be a part of this great website and community. For those of you who are not familiar with me, I am Stefanie and I write a little blog called Sarcastic Cooking. I'll be here every month to share some of my favorite recipes. Before we get to the recipe, here is a little bit about me:
• I love cooking. I am pursuing my passion for cooking with my blog and hope to one day make it a full-time career. Until then, sigh…one can only dream.
• I tell a lot of stories from my life that most often have to do with food or some awkward experience; there are a lot of them.
• I am newly married and live with my husband Mike and our pug Weezer in the great city of Chicago. My husband and I are addicted to Portillo's cheeseburgers and Lou Malnati's deep dish pizza. (I can't be expected to create awesome dishes every night).
• I am kind of a jack of all trades. I have worked with bugs, as a health inspector, a bookkeeper, a retail manager, a fry cook, caterer…. The list goes on really. However, the one thing I am still mastering is baking.
Now, let's get down to the food. You will come to see I like to balance something totally indulgent with something healthy and nutritious. It is all about balance and a little bit of will power, I guess.
Today, fortunately or unfortunately for you, I went with a healthy dish and made a beautiful spring salad. It's a quickly seared sesame crusted Ahi tuna steak along with tart orange slices and creamy avocado, on top of a bed of fresh baby greens, coated in a lemon-honey-poppy seed vinaigrette. This is one of those surprisingly simple dishes that, beautifully plated, looks really impressive when served to your guests.
Sesame Crusted Ahi Tuna, Avocado, and Orange Salad
Ingredients
(Makes 2 Salads)
• 1 ½ lb. Ahi Tuna Steak
• 1 Tablespoon Sesame Oil (can also substitute olive oil)
• 1 Tablespoon Sesame Seeds
• 1 Haas Avocado
• 1 Navel Orange
• 4 Cups Mixed Baby Greens
Lemon-Honey-Poppy Seed Dressing Ingredients
• 2 Tablespoons Lemon Juice
• 1 Teaspoon Lemon Zest
• ¼ Cup Honey
• ½ Teaspoon Poppy Seeds
• 1 Teaspoon Dijon Mustard
• ¼ Teaspoon Sesame Oil
• ½ Teaspoon Cider Vinegar
• A Pinch of Salt and Pepper
Directions:
1. Prepare the salad dressing. Combine the lemon juice, lemon zest, honey, poppy seeds, Dijon mustard, sesame oil, cider vinegar, salt, and pepper in a small bowl. Whisk to evenly combine and set off to the side.
2. Add the sesame or olive oil to a plate or Pyrex dish. Coat both sides of the tuna steak in the oil. Sprinkle the top side of the oil coated tuna with ½ teaspoon of sesame seeds.
3. Heat a large heavy bottomed skillet over medium heat for a minute or two. Add the tuna to the hot skillet, sesame coated side down. Sprinkle the remaining sesame seeds on top of the tuna steak. Sear each side of the tuna for two minutes for a nice pink interior. If you like a more thoroughly cooked tuna, sear for four to five minutes per side.
Note: The tuna will continue to cook after you remove it from the heat.
4. Thinly slice half of an avocado for each salad. They look very pretty fanned out across the greens.
5. Slice the top and bottom off of the orange. Cut down the sides to remove all of the rind. Then carefully cut on either side of the membrane to remove each orange segment. I would say you only need about five segments per salad.
6. Give the dressing a quick whisk again. Toss two cups of mixed greens with a tablespoon or two of the dressing. Thinly slice the tuna steak into about ten slices, five per salad.
Ta-da! Spring perfection on a plate.
This salad is great for a quick weeknight meal or a fancy weekend brunch. The tuna would also be great on the grill.
Readers – are you a fan of 'fancy' salads? What are you favorite recipes?
Stefanie of Sarcastic Cooking has done everything in food from wearing a hair net and working a fryer to inspecting classy restaurants. For now, she's just so happy cooking in her kitchen alongside her pug Weezer, her husband, and most definitely accompanied by a glass of wine.