photos: we heart this
It's that time again! As a proud member of the Glam Beauty Board we get quarterly boxes curated with the products that you'll be reaching for all season long. This summer it's all about glowing with warm color, staying blemish free, shining from within and keeping your hair looking it's beachy best. Here's how…
How sweet is this Sonia Kashuk Abstract Travel Duffle ($39.99)? Absolutely perfect for a weekend getaway, it's Pucci-esque swirls make me happy just looking at it.
But best of all – it comes with two see through toiletry bags. I love clear bags, they make access so easy. As does the fact that these bags velcro to the inside of the duffle bag so they don't get lost in your sea of clothes!
Balm lovers rejoice, Clinique Chubby Stick Moisturizing Lip Colour Balms
($16) combine the ease and comfort of a lip balm (moisture and a twist up tube) with the benefits of a gloss (shine and color).
Two Ton Tomato, Heaping Hazelnut, Curvy Candy
I got to try three sheer shades: Heaping Hazelnut; a medium nude, Curvy Candy; a medium fucshia pink, and my favorite Two Ton Tomato; a coral kissed red. Throw all three in a bag and be ready for any lip emergency!
Two Ton Tomato, Heaping Hazelnut, Curvy Candy
Speaking of coral kissed red, OPI Holland Collection Nail Laquer in Red Lights Ahead. Where?
($8.50) is bright, sunny and beautiful. And the formula applies like a dream; thin with perfect, opaque coverage in just two coats.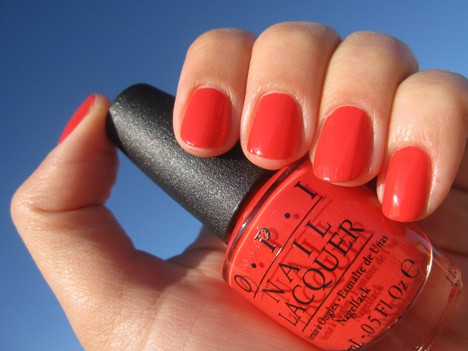 Oh, I love when science and beauty meet! Stila Custom Color Blush in Self-Adjusting Coral
($20) is true to its name; self adjusting to YOUR perfect shade by reacting with the pH of your skin. A dark coral with gold micro glitter, just a light application gave me a pop of color. But even with a heavy hand, it seemed to ease up right in front of my eyes and looked natural on me.
For a flash of golden light, try Bobbi Brown Long-Wear Cream Shadow in Candlelight
($24). It's more of a shimmery wash of pale golden glitter than a shadow, but it's super smooth and stays put without creasing. I love it across the brow bone.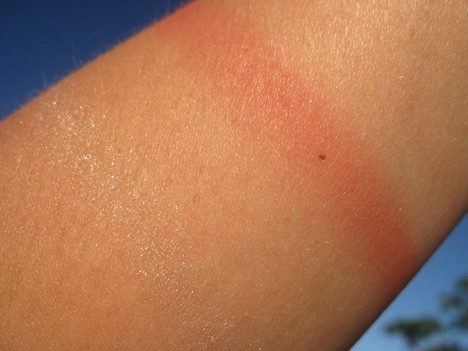 Bobbi Brown Candlelight Cream Shadow and Stila Self-Adjusting Coral Blush
Wearing Stila Self-Adjusting Coral Blush, Bobbi Brown Candlelight Cream Shadow and Clinique Chubby Stick in Two Ton Tomato.
But there's more to summer than color alone (what?!) Check out the products that will have you ready to face the heat.
Know those fabulous windblown waves your hair has after a day at the beach? You can get them with a couple minutes in your bathroom! Not Your Mother's Beach Babe Texturizing Sea Salt Spray
($5.99) even smells like the beach; a mix of salty sea air and suntan oil. A couple of sprays delivers piecey texture and a matte finish, with surprisingly crunch-free results. This is definitely the bargain of the bunch.
Nothing ruins summer fun quicker than a pimple. Stop them in their nasty tracks with Philosophy Clear Days Ahead Cleanser
($20). It's an oil-free, salicylic acid treatment that leaves my skin feeling clean, but not tight, and cheers me up with its citrus scent.
The item that released the biggest "squee" from me was Kerastase's Nutritive Masquintense Hair Mask
($48.77). I'm a big fan of this line. As a matter of fact, most of my go-to "my hair needs serious help" products are Kerastase. Masquintense has just been added to that list.
The thick white cream has the feel and scent of an old school face cream, much to the delight of anyone who, like me, used to play dress up at their Grandmom's vanity. But the results are what's the real draw; the softest hair imaginable!
The days may be clear and bright, but if your skin's not you may want to give Dr. Andrew Weil for Origins Mega-Bright Skin Tone Correcting Serum
($55) a try. It reduces dark spots and discolorations and prevents them from reappearing thanks to its Rosa Roxburghii complex (that's a Chestnut Rose). It's got an uber-light consistency and a fresh, slightly fruity scent. I can attest that I haven't met one Dr. Weil product that I haven't liked!
I recently reviewed Dove's Clinical Protection Clear Tone Anti-Perspirant Deodorant
($7.99) and am happy to say it's still reigning as my new favorite deodorant. Though I don't have a problem with excessive darkness (which this promises to help with), the clinical strength keeps me dry even in the desert. And the formula, with Calendula and Sunflower Seed Extracts, keeps me feeling moisturized.
Even a spf-a-phobe like myself knows that you can't survive the summer without a good sunscreen. Three things are a must for me: it has to be scent free, feel like next to nothing on my skin and not leave me feeling oily. L'Oreal Sublime Sun Advanced Sunscreen SPF 50
($8.79) meets that criteria with flying colors. The added bonus is that the fine spray is super easy to apply.
How about it readers, which products have you ready for the summer?
Stef is many things. Amongst them: co-editor of we heart this, graphic designer, Philly girl in the California desert, borderline hoarder and a hardcore beauty junkie.
Disclosure: This review includes products that were provided by the manufacturer/PR firm for our consideration. It also may contain an affiliate link, a link that gives us a small commission if you purchase the item. For more info, or any questions, please see our disclosure policy.