Happy, healthy skin is as easy as 1,2,3!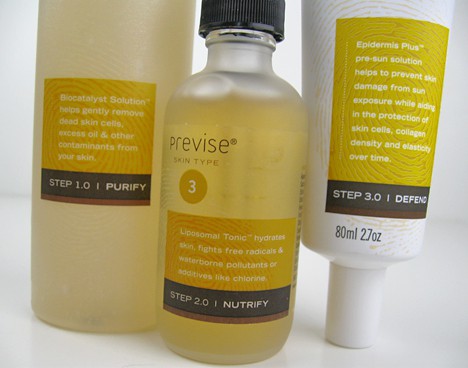 photos: we heart this
I was just telling myself I could use a new summertime skincare regimen. Just like that, POOF! My wht fairy godmothers deliver right to my front door. Like an answer to my wishes, I was asked to review goodies from Previse, a 3-Step skincare system tailored to my skin type.
I received the Skin Type 3 set, but I had to do some investigating on Previse's website to see if the 'powers that be' got my skin type right…well, of course they did! After answering a variety of questions on Previse's skin care consultation questionnaire, from skin color to my family's cancer history to geographical location, I was matched with the #3 set.
The 3-step skincare set includes a foaming cleanser, a fancy-looking serum, and what seems to be a moisturizer, but is called a pre-sun solution. This just may be the perfect summer skincare set.
The company's concept is prevention. Previse literally means to "know in advance; to foresee". They do not claim to be able to undo years of bad behavior, but moving forward they aim to educate and heal the skin. Previse keeps it simple and natural in terms of ingredients and with their handcrafted, small-batch products.
They do not use ingredients that are non-sustainable or harmful to the environment. Their products and ingredients are cruelty-free and vegan. Plants and herbs such as Red Algae, Rosemary and Fennel Extract are carefully blended to address issues such as improving hydration, combating radiation damage and reducing the UV effect on the skin. Based on their simple philosophy, I am a fan before even trying the products!
After doing my homework on Previse, I pulled back my hair, and began the testing. Being a packaging nut, I was immediately impressed with the simple yet chic bottles. The first step, the Purify Biocatalyst Solution Cleanser ($34) comes in a simple, shampoo looking bottle and has a lovely smell of peppermint. It foamed up nicely, and the minty smell was refreshing. It left my skin smooth and refreshed.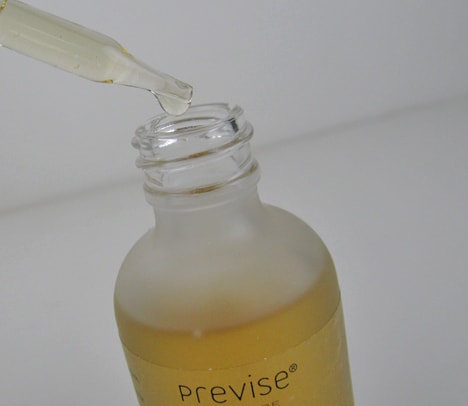 The second step in the regimen, the Nutrify Liposomal Tonic ($48) comes in a sturdy glass bottle with an eyedropper for easy delivery of the product. The serum felt very much like water, and was soothing to the skin. The recipe claims to hydrate, fight free radicals and waterborne chemicals such as chlorine – perfect for summer days in the pool!
The final step, Defend Skin Epidermis Plus ($48) had me a tad confused at first. Is it another serum, a moisturizer? Answer: It's a defensive moisturizer. But does this moisturizer have SPF or not? According to their FAQ, this lotion is currently not SPF rated, but "Defend helps to prevent skin damage from sun exposure while aiding in the protection of skin cells, collagen density, and elasticity over time." Even better, Previse is currently testing a new formula with a minimum SPF of 20.
As for the lotion, it comes packaged in a simple, and very portable squeeze tube and feels nice and soothing on the skin without a trace of greasiness. The minty smell was a bit unusual in a moisturizer, but it was pleasant and uplifting.
Overall the Previse Skin Care regimen was a dream come true for summer; light, natural products that prevent the summer's ravages on the skin. We have a tall order for skincare in Maryland. The summers are very hot and humid, and the winters are cold and dry. I am not sure if the line is heavy enough to get us through our harsh winters, but it is a great summer skin helper!
we heartsters – for those that believe "a good defense is the best offense" in skin care, the Previse 3 Step collection needs to be added to your playbook!
Disclosure: This review includes products that were provided by the manufacturer/PR firm for our consideration. For more info, or any questions, please see our disclosure policy.
Stephanie was born in France and travels there every year. Makeup is her passion (she worked as a makeup artist for Laura Mercier). She also loves to cook and do artsy stuff and garden.
Latest posts by glamazon56