I used to be a master of correspondence. Hand written thank you notes, birthday cards that arrived on time, letters on beautiful sheets of paper; I'm telling you…I did it ALL. But over time, thank you notes turned into thank you emails, birthday cards became posts on Facebook pages, letters became texts. And that's if any of them even go out at all.
I think part of the issue is that electronic correspondence never felt as special. No stamps or stickers required when composing an email. There's not even a pretty pen involved! And don't even get me started on the lame selection of online cards I normally find. But I knew I needed to somehow find that same joy in the new school that I found in the old school. Especially when it comes to my "girls".
That's the four of us above that were inseparable in high school; Tyna, Tiffany, Allyson and me. Through the highs and lows of being a teenager, we were always there for each other. As we got older, and our lives went down different paths; college, marriage, kids; being there became harder to do while we were in different cities. Correspondence became vital to letting each other know we care. But if it's not easy, and I'm not excited by my options, I won't do it. So, what's a girl to do? The answer is justWink!
justWink brings back that loving feeling of finding the perfect card. Whether you have the time to send them the classic way with their cards you can buy in store, buy them through the iPhone app (where they will print and mail a physical card for you) or send them for free via text, Facebook or email; they have a selection of cards for whatever you want to say. For me, I felt I was long overdue to let the girls know what they meant to me. So I downloaded the app and started browsing.
Delve into their categories and you'll notice immediately that this isn't the typical online card selection. Sure, you'll find ones that are heartfelt. But more so, you'll find hip designs and hilarious themes with an edge of snark. I found the perfect card for the girls very quickly.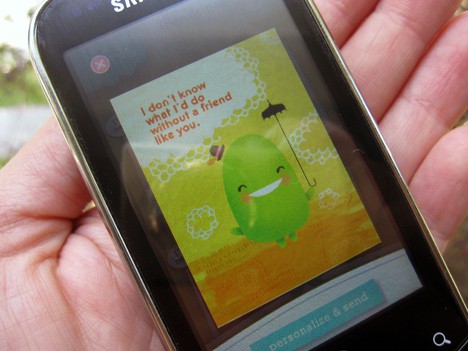 It says "I don't know what I'd do without a friend like you" and on the inside "seriously, I'd be bored sh*tless!" But more than just a chuckle, there's some great things going on inside the card. You can add a photo, personalize it with a message and…
…sign your name! It may not be an actual pen, but it's close. I was able to text the card to all three of them. And within 5 minutes, my girls knew I love them.
You can even create an automatic reminder list based on all of your Facebook friend's birthdays. So really, no excuses for lousy correspondence skills anymore, for me or you!
justWink is an awesome collection of greeting cards that feature bold colors, adorable illustrations, and witty copy for every occasion. The combination of whimsical unicorns, sweater-wearing cats, and (of course) bacon with realistic, yet playful messages create an unexpected experience for all. And guess what? Each card has a QR code and URL on the back that directs you to a free justWink app for iPhone and Android phones. Download the app and you can send digital cards via text, email or Facebook. For more information and where to find justWink cards on shelf, visit just-wink.com or facebook.com/justwink.
Disclosure: Compensation was provided by JustWink via Glam Media. The opinions expressed herein are those of the author and are not indicative of the opinions or positions of JustWink.