For happy, healthy lips have a Red Apple (or two) a day!
photos: we heart this
Natural makeup brands often perplex me. They sound so great on paper, with their healthy ingredients and kindness to animals, but when I use the products, I secretly find myself longing for the glossier, less earthy mainstream brands. Why, I wonder, can't a cosmetics brand offer everything?
Enter Red Apple Lipstick, whose motto is "trying to save the world, one pair of lips at a time." Red Apple strives to give us the best of both worlds with their luxurious, beautifully packaged lip products that are also natural and gluten-free. This is especially rare in cosmetics, and important for anyone with gluten sensitivity.
Did you know there was gluten in most lipsticks? I had no idea, but I bet anyone with celiac disease does. Red Apple's lip line can be used by anyone, no matter what their dietary restrictions. In addition to being 100% gluten free, Red Apple products are paraben free and soy free; crafted with vegan ingredients and made in the USA.
The review team received a range of Red Apple's Gluten Free Lipsticks ($17.50 to $23.50 each) for testing:
Rally Balm ($15) – packaged just like the lipsticks, this is a clear balm that helps protect lips from the damaging rays of the sun with SPF 8, and makes an excellent base for lipstick and lip glosses, extending their staying power.
Sunkissed – striking bright orange-y red creme with subtle gold sparkle
Crush On Me – hot pink creme meets fuchsia and violet
Reddy or Not – a bright sheer red with a satin finish, inspired by the amaranth plant's bright flowers
Pedal Pusher – bright medium pink with a hint of fuschia
Strawberry Lips – a brown kissed red with a sheer consistency
Sunkissed, Crush on Me, Reddy or Not, Petal Pusher, Strawberry Lips
I tested Sunkissed and it is striking indeed – a bold shimmery orange-red with bright tangerine/blood orange undertones – this one is full of pigment that "packs a bold, brilliant punch." This lipstick stains the lips for long wear, and has a strong, fruity scent. With its gold sparkle, Sunkissed is bold for daytime and can be made way bolder with additional coats.
I also tried out Strawberry Lips which is designed to match the color of summer strawberries. Its matte texture is almost balm-like and the color, which I love, goes on way lighter than it looks in the tube. It's a great daytime red, flattering for most skintones. As with Sunkissed, the color can easily be built up with additional coats. It has a very subtle, fruity scent.
Want a few more bites of Red Apple? We've got more – let's take a look at the six Gluten Free Lip Glosses ($22.50 each) we received:
Cotton Candy – pale baby pink with silver and pink glitter and lots of shine
Dancing Princess – pink/purple gloss with hints of fuchsia and glitter
Firestorm – metallic brick red
Metropolis – medium pink with lilac glitter
Diamond Sands – shiny and somewhat sheer golden nude with multicolor glitter
Wonderland – clear gloss with glitter and shine – it's like a liquid disco ball!
I tested Metropolis, a bright-yet-light hot pink with lots of shine, which I found to be creamy and highly pigmented. Described by Red Apple as "fun and girly but not too intense," I love everything about this gloss: the dreamy color, the doe footed applicator, the chunky square tube, the faint vanilla scent.
Cotton Candy, Dancing Princess, Firestorm, Metropolis, Diamond Sands, and Wonderland
Red Apple's glosses are designed to glide on smoothly, with no stickiness or chemical smell. The color is not especially long wearing, but I even love reapplying it because the packaging is so nice. If the other colors are anything like Metropolis, which I've been wearing nonstop, I'll be buying more.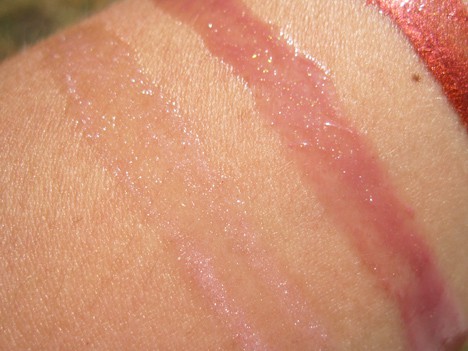 Cotton Candy, Dancing Princess
Firestorm, Metropolis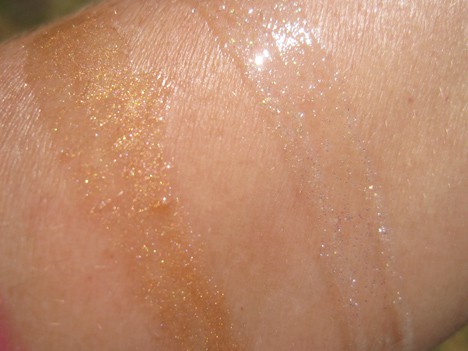 Diamond Sands, Wonderland
Pros:
• World class makeup
• Zero Gluten
• Paraben Free
• Totally Vegan
• Solid, pretty packaging
• Red Apple is so sure you'll love their lip products, they offer a 100% money back guarantee
Cons:
• I wasn't crazy about the strong fruity scent of the Special Edition lipsticks (like Sunkissed). The regular lipstick and gloss scents were lovely.
Readers – do you buy gluten free makeup? Testers – did you enjoy a taste of Red Apple?
[ratings]
Melissa loves road trips, bargain shopping, drive-in movies, lip gloss and rock 'n' roll. She lives in Baltimore with her precious pup Zeus.
Disclosure: This review includes products that were provided by the manufacturer/PR firm for our consideration. For more info, or any questions, please see our disclosure policy.