Capture the spirit of fall with these bath and beauty standouts
photos: we heart this
I am more than ready to feel a little bit of chill in the air! And since we heart this is a proud member of the Glam Beauty Board I was thrilled to receive a box filled with the latest in bath and beauty for Fall 2012. As the days slowly morph from the heat of summer to the crispness of autumn, your beauty routine and makeup selections should change too; and these products helped me seamlessly make the seasonal transition!
For hair that's looking frizzy and damaged after too much fun in the sun, turn to Dove for a little TLC. I'm a shampoo and conditioner snob, but have a drugstore budget, and after years of "research" Dove is the only hair care I trust and buy.
The Nutritive Therapy Nourishing Oil Care Shampoo and Conditioner
($7.49 each) is infused with natural almond and mineral oils and does an amazing job of soothing and smoothing hair and controlling flyaways, frizzies and tangles – all without weighing down hair. My fine locks had plenty of volume and looked sleek and shiny after just one use. This drugstore duo can go head to head with any of my high-end faves.
Wind blown, day at the beach hair is making way for smooth, sleek styles and Ojon's Super Sleek Restorative Blowout Perfector ($25) is the perfect product to achieve the look. This happy orange tube of sunshine smells divine and protects my hair from heat styling monsters like blowdryers and straightening irons. Just a dab of the Azurite and Plant Keratin enriched cream leaves my hair super shiny, frizz-free and salon perfect. It's my new holy grail styling product – and could be yours as well.
If you need some help easing out of summer and into the hustle and bustle of fall, add Juara's Invigorating Coffee Scrub ($37) to your morning shower for an instant wake up call. This deep and dark body scrub, crafted with fresh Indonesian coffee beans, smells better than your local coffee shop. It's a time saver too, as it contains gentle, sulfate-free cleansing agents that produces a nice lather to clean while it exfoliates – leaving fresh, glowing skin behind.
For me, fall is a time for new things and fresh starts, so I was thrilled to discover a new to me brand, La Face Laboratories and their PUR Purifying Facial Wash ($48). This multi-tasker is a cleanser and toner in one with a refreshing citrus scent of lemon and grapefruit and a lush, foamy formula.
I loved the feel of this thorough but gentle cleanser-slash-toner that uses naturally derived humectants and anti-inflammatory ingredients including aloe and Copper Gluconate to completely clean the skin, tightening pores AND moisturize. It leaves my skin feeling bright, refreshed and soft to the touch. My favorite new beauty discovery of the season!
Skin needs some extra moisture when the summer turns to fall and Dr. LeWinn by Kinerase Wrinkle Repair Day & Night Cream ($25) works double time to keep your face soft and supple while improving the look of fine lines.
This cream from the renowned skin authorities at Kinerase is super thick and creamy, yet still light enough to be worn during the day. It also works well as a make up base, helping foundation and concealer blend smoothly and easily, without adding a greasy shine to the face.
Eucerin is a well loved and trusted name in my household. I turn to this brand many nights for some serious skin therapy on my hands, elbows, feet and knees. Now I'm thrilled to add some Eucerin to my daily routine via the Daily Protection Moisturizing Body Lotion with SPF 15 ($11). Just because summer is over, it doesn't mean you can skimp on the SPF. The lightweight, fragrance free lotion comes with a pump for easy application.
I start to carry a bit more makeup with me during the fall, but don't want to overdo it (there's enough in my purse already). So this cute Modella Makeup Bag ($3) does the perfect job. It's on the small side, but still has ample room for my necessities; a compact, lip gloss, lip balm, lipstick and a highlighter/concealer pencil. Pretty fab for just three bucks.
Everyone wants to keep that summer glow just a little bit longer, and LORAC TANtalizer Highlighter & Matte Bronzer Duo
($32) can have you looking sun-kissed all year round. Packaged in a extra large, golden palette, this duo will last a long time.
Just a sweep of the matte cocoa brown bronzer gives the look of a light tan and it can also be used for contouring. I like that it's paired with shimmery, yet natural highlighter as opposed to a blush; it's a nice, useable combination. The slightly pinkish, finely milled highlighter has just a touch of sparkle and can be worn over the bronzer or alone. I especially like to use a dab right below the arch of my brows to highlight and add some life to my eyes.
Move from the sheer glosses of summer to a more pigmented lip with MARK's Make It Rich Lip Color Crayons ($11). These sweet vanilla scented, chubby pencils walk the line between gloss and lipstick and offer shine and deep color all in one package.
My lips have been sporting a natural, polished look with the help of Naturally, a golden, pinkish nude hue that is perfect for the day. Great for a quick touch up when you need to look put together, but not overdone.
MARK Make It Rich Lip Color Crayon in Naturally, LORAC TANtalizer Bronzer (and a hint of the highlighter in the corner)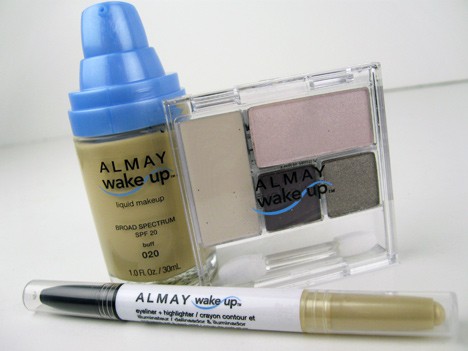 If you need to restock your makeup for the fall, Almay can affordably move you from the bright colors of summer to the richer deeper hues of fall. Check the aisles of your fave drugstore for the Wake Up products, a collection designed give life to tired faces with formulas infused with "a touch of caffeine" and complexion awakening hues.
The Almay Wake Up Liquid Makeup
($12) offers six shades of lightweight foundation coverage with the benefits of a broad spectrum SPF 20. The hydrating formula boosts moisture while perfecting and protecting skin – and can be worn by all skin types.
The Almay Wake Up Eyeshadow and Primer Quad
in Exhilarate ($8) was designed as an all-in-one-kit to "bring life to tired eyes". The creamy, caffiene boosted primer brightens eyes and creates a smooth canvas for the three complimentary shadows in a pretty matte plum, shimmery taupe and pale pink that should flatter any complexion.
You get some real bang for your buck with the duel-ended Almay Wake Up Eyeliner and Highlighter
($9). Formulated with cucumbers, green tea and a hint of caffeine, this portable mulit-tasker can be stashed in a purse for a quick eye lift.
One side contains a jet black bolt of eyeliner to quickly define eyes, while the other side has an iced gold, blendable highlighter. Dot the shimmery gold over, under or in the corner of the eyes to highlight and open eyes and hide dark spots.
I've already shared my love of Benefit's fabulous boxed powders , so I was ecstatic to see these famed cubes of color will continue to be seen on the most stylish faces this fall.
I admit I squealed out load when I saw the colorful Bella Bamba
boxed powder ($28) in this box of goodies. I have half a dozen of these finely milled, sweetly scented powders but not this one, a watermelon-pink blush laced with shimmering gold undertones.
Benefit Bella Bamba
The pure pink hue can be lightly swept on for a touch of color or layered for a more intense glow. And like all Benefit boxed powders, this flattering pink should work on any complexion, warm and cool tones alike.
And we would be remiss not to mention the power of nail polish to usher in the new fall colors. This season, I'm loving the rich, multidimensional red of
Orly's Smolder Nail Lacquer
($5).
This get noticed shade has amazing depth and intensity and the hue seems to change with the light. At times the color is more pure red with hints of copper, while other times it has a distinctly wine-like hue with flashes of almost black. No matter how the light catches this polish, it's a stunner and the perfect nail color to welcome the fall.
Readers – which of these Glam Beauty Board products are you adding to your fall shopping lists?
Tyna, co-founder and co-editor of wht, worries about becoming a crazy cat lady, reads at least a book a week, checks in at a Flyers fan forum every morning and is forever (some say obsessively) organizing her closets and drawers.
Disclosure: This review includes products that were provided by the manufacturer/PR firm for our consideration. It also contains an affiliate link, a link that gives us a small commission if you purchase the item. For more info, or any questions, please see our disclosure policy.