Customize your wardrobe with these easy to use screen prints!
I have had this old tank top for what seems like forever and knew I had to do something with it. So when I was sent some Zip Paints and Screens from Fashion Art Projects to try out I was itching to start.
This is the perfect DIY if you are like me and you can't throw out any old items because you know a project will come up and you will want the items back. The images can be printed on almost any material and dress up a shirt, jacket, tote bag, sweats – you get the picture. You can also use any old shirts with a random stain on it, just place one of the screens on the stain and paint away, no one will ever know.
Tip: This DIY uses the Sports themed Zip Screen package and the Small Butterfly Zip Screen, which among with other kits and paints, can be found at Wal-Marts nationwide.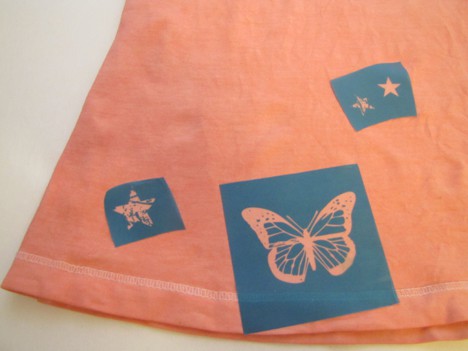 1. Peel the back of the Zip Screens and place them on your shirt (or any other piece of clothing you are using) where you want the design. I ended up cutting one of the big sports themed screens because I just wanted to use the stars, along with the butterfly, in my design.
2. Tear open the paint packages and rub it on top of the stencil. You can remove the screen immediately after like I did to re-use them in another location. I also rinsed the butterfly screen off to be able to use it with another color.
3. Wait for the paint to try and you are finished! How easy is that?
I loved these Zip Paints/Screens and the final result I received. I couldn't believe how easy they were to use. I kept all the screens to re-use at another time and am already thinking of what I want to do next.
we heartsters – What old favorite could you spruce up with these? Do you keep your old clothes to one day re-vamp?
Disclosure: This review includes products that were provided by the manufacturer/PR firm for our consideration. For more info, or any questions, please see our disclosure policy.
Jenelle is a DIY fashion blogger from Canada who's believes you can be fashionable while staying on a budget. Traveling the world, meeting Justin Timberlake and attending Fashion Week are just a few things on her bucket list. Check out her blog,
Nelle Creations
for more DIY fun.
Latest posts by nellecreations