Dig into the sweet stuff over the holidays with this Ulta exclusive
One of my favorite things about the holidays – and I'm sure most of you will agree – is the over abundance of gift sets and palettes that come out from my favorite makeup brands. Most are just too good to pass up! Anyone else end up buying a slew of these as presents for themselves? Yes? Okay, good. I knew I wasn't the only one.
Too Faced is no exception to the hit list of holiday palettes to check out for 2012. We at wht have so many reasons to love Too Faced already: cruelty-free, quality products, and ADORABLE packaging to boot. This year they're offering an abundance of sweet treats that won't cost us the calorie intake – and we'll be taking a look at our faves all week long!
We're starting with the Color Confections
palette ($29), a sweet assortment of makeup must-haves for eyes, lips and face. It comes in the cutest candy box packaging, complete with a removable "bow", making it perfect for gift giving.
photos: we heart this
Inside the adorable circular box you will find eight day to night eyeshadows, two luminous bronzers, two blushes and three lip colors. That's a whopping $128 value. You do the math. The 15 shades in this exclusive to Ulta
palette are versatile for any time of day and will take you far into spring.
There are two eye shadow quads and the included shades are:
Champagne Sparkle – light shimmer highlight shade
Icy Pink – cool toned pink shimmer
Metallic Grey – slightly shimmery medium grey
Black Shimmer – soft black with silver micro glitter
Gold – shimmery yellow gold
Chocolate – light matte brown
Khaki Green – true mid-toned green with gold shimmer
Gilded Olive Green – highly pigmented dark brown-green with gold micro glitter
Color Confections Eyeshadows – Gold, Chocolate, Khaki Green, Gilded Olive Green
There are no crazy colors in this palette but you receive some really amazing neutrals with accompanying highlighters. My favorites were mainly from the neutral quad that has the greens and browns. I can see those being made into quite a number of looks.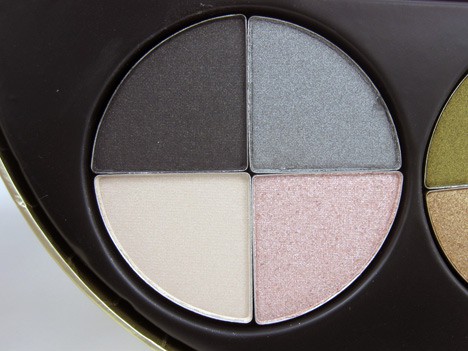 Color Confections Eyeshadows – Champagne Sparkle, Icy Pink, Metallic Grey, Black Shimmer
The cool toned shadow circle will make for a great smoky eye during the holiday party season. I must admit I had issues with the two lighter shades of each quad, the Gold and Champagne Sparkle, which were on the chalky side. In a perfect world, I would love a little tube of Too Faced Shadow Insurance Primer included in this palette!
Moving on to the top part of the box, for the face, you get two bronzers in large rectangular pans, flanked by two blushes:
Bronzers:
Golden Bronze – light matte cool toned brown
Chocolate Brown – warmer, golden brown with micro gold shimmer
Blushes:
Pink – candy colored pink with gold micro glitter
Peach – light shimmery peach
Color Confections Blushes -Pink and Peach; Bronzers – Golden Bronze and Chocolate Brown
The bronzers will suit quite a range of skin tones. I can see Golden Bronze working best for those with pale complexions because it is a bit too invisible for my light-medium skin tone.
The Peach was definitely my favorite blush of the two. Pink can end up chalky on me, and the glitter in it is more chunky than the shimmer in the Peach. There is good pigmentation with both blushes and together they cover both warm and cool tones.
Finally, for the lips there are three glossy lip colors:
Color Confections -Hot Pink lip gloss, Pink blush
Color Confections – Beige Shimmer lip gloss, Peach blush
Beige Shimmer – a champagne highlight
Spice – warm neutral pink
Hot Pink – cool berry toned pink
Beige Shimmer, Spice and Hot Pink lip glosses
I loved both Spice and Hot Pink. I'm not a huge fan of lip products in palettes, but these will give you a perfect touch of color and gloss in a pinch! Spice was more of a "my lips but better" shade for me and Hot Pink has that sassy 90's lip look to it. Beige Shimmer was too light for my pigmented lips and totally washed me out. However, I can see this being used strategically by dabbing some in the middle of your lower lip for the illusion of fuller lips.
With all palettes, I do find both hits and misses, but this one is such an amazing value that I can oversee a couple of the shades I don't see myself using daily.
Readers – has Too Faced sweetened the deal for you this holiday season with Candy Confections?
Click here to shop Color Confections
at Ulta!
Amanda is a beauty & fashion lover who hopes to own a Shiba Inu one day. She spends most of her time frolicking in NYC, chowing down, perusing blogs and updating her own; mandabear. She's also getting seriously involved with her iPhone.
Disclosure: This review includes products that were provided by the manufacturer/PR firm for our consideration. It also contains an affiliate link, a link that gives us a small commission if you purchase the item. For more info, or any questions, please see our disclosure policy.