Too Faced rewrites the Book of Love with this dreamy collection
photos: we heart this
I love fall. The obvious pumpkin lattes, chilly nights and the sight of nature bursting its seams with shades of red and gold notwithstanding, fall also brings us first-of-the-season makeup kits and palettes in time for the holidays. As my fellow wht reviewers have proclaimed, it's an intoxicating time of year!
I'm happy to report the nice people at Too Faced provided me with the Love Sweet Love Set
($46), my first seasonal excitement this year, wrapped in a case of Tiffany blue – a color all women will adore. The soft, velvet-ish case features gold embroidered script and a nice three-sided zipper closure; best of all this bag is roomy enough to fit all of the beauty staples needed for a holiday vacation.
An added bonus is that unlike many cosmetic sets, this Too Faced set is self-contained if you want (or need) it to be. You can carry this case with all the enclosed products, mix and match from your stash at will, or even use the cute bag for non-beauty related purposes. Of course it's not just the case to get all breathless over, the products inside are pretty special, too.
Let's take a look at what's included:
• Book of Love palette: 6 eye shadows, 2 blushes, 2 lip glosses
• Full-sized LashGASM Mascara
• Shadow Insurance Eye Primer (0.17 oz.)
• Perfect Eyes eyeliner in Perfect Black (0.03 oz.)
• Primed & Poreless Face Primer (.5 oz.)
• Exclusive "Teddy Bear Hair" face brush
• Exclusive gold embroidered velveteen makeup bag
That's $130 worth of Too Faced quality products for under 50 bucks!
Let's start with the basics; the Primed and Poreless tinted primer is not only a great primer, but can serve double duty as a foundation, particularly for a more natural daytime look. The tint evens out skin tone almost as well as the primer smooths the skin out. Score. Meanwhile, the Shadow Insurance Eye Primer is a wht fave and will keep those silky, creamy, finely milled shadows (I'll get to those in a minute) on your lids all day long.
These two products are the first things you'll use before whipping out The Book of Love. This darling and well, book-like, palette is the centerpiece of the set and like all Too Faced products features divine and clever packaging. Opening the first page reveals a nicely sized mirror and…
…a verse from William Shakespeare.
While the back cover features a love poem from Too Faced's Jerrod!
Packaging aside, I know what you really want to see is the make-up, and this palette doesn't disappoint. Inside you'll find, six eye shadows, two blushes, and two lip glosses, all in Neapolitan shades of sweetness.
The shadows are a neutral dream. With the exception of one highlighting shade (mentioned below) all of these shadows have great pigment, and all apply with creamy smoothness. Included are:
Vanilla Sugar – cream with a slight shimmer
Mocha Ice – shimmery light brown
Ganache – chocolate with a slight shimmer
Strawberry Cream – barely-there shimmery pink (this one isn't too pigmented, but is great as a highlighter on the eyes or face)
Burnt Sugar – shimmery grey taupe
Licorice Glitz – dark grey with silver shimmer
Eye Shadows: Vanilla Sugar, Mocha Ice, Ganache, Strawberry Cream, Burnt Sugar, Licorice Glitz
A closer look at Vanilla Sugar, Mocha Ice and Ganache
As well as Strawberry Cream, Burnt Sugar and Licorice Glitz
For the rest of your face, you'll find two blushes that are both fairly light in pigmentation but offer a just-right natural glow. Pink Caramel can double as bronzer or blush; pink enough for blush, but enough brown for all-over glow. Lollipop, the other blush, is a perfect punchy pink; also subtle and sweet.
Blushes: Lollipop and Pink Caramel, Glosses: Bubble Gum, Raspberry Truffle
The two lip glosses in The Book of Love are Raspberry Truffle – a brown tinged berry, and Bubble Gum – a medium-toned girly pink. Both of these glosses have lots of shimmer and are thick without being sticky. I found that both of these pretty shades have decent wear time for a gloss (a couple hours).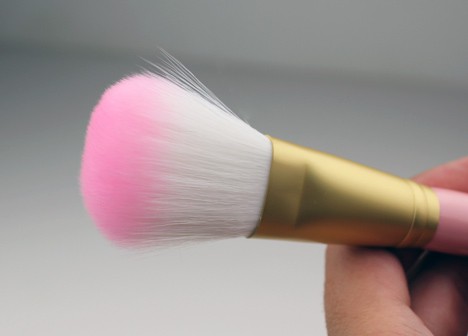 The Teddy Bear Hair Brush is exclusive to this set and is aptly-named. This super-soft, full-sized face brush is fantastic for applying those blushes – or your own face powder.
Meanwhile, the Perfect Eyes Eyeliner in Perfect Black is a smudge-proof liner that glides effortlessly across the lid – purrfect for creating the very romantic and alluring cat eye. (Click here to see the full wht review of the Perfect Eyes Eyeliner)
To top it off, you get a full size LashGASM mascara (in black, of course) to make those sooty, demure lashes work for you. I especially love that LashGASM eschews the popular, gimmicky wands and gives us a straightforward plastic bristle wand with teeth that grab, separate and define lashes as every good mascara should.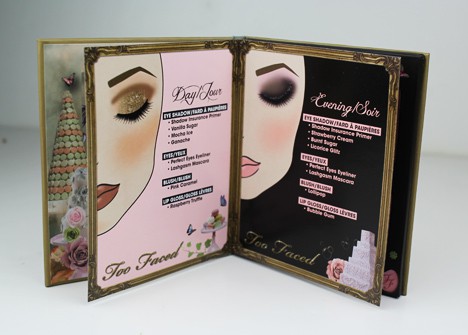 Instructions, hooray!
Finally, Too Faced wraps the Love Sweet Love Set
all up with a nice little bow in the form of instructions found within the pages of the Book of Love, with details on creating both a day and night time look.
So, put all these lovely products together and you've got yourself everything you need for a glam face on the go. And when it's wrapped in a lovely tote of Tiffany blue, you won't even miss the diamonds.
Readers – are you ready to crack open the Book of Love found in Too Faced's Love Sweet Love Set?
Shop the Love Sweet Love Set
at Sephora!
Sherri is co-author of What Would You Do With This Room?
My 10 Foolproof Commandments to Great Interior Design, and of course, a wht writer!
Disclosure: This review includes products that were provided by the manufacturer/PR firm for our consideration. It also contains an affiliate link, a link that gives us a small commission if you purchase the item. For more info, or any questions, please see our disclosure policy.