♫ Silver and Gold ~ Everyone Wishes for Silver and Gold ♫
photos: we heart this
I have a couple of trips coming up and I've been trying to wedge everything a girl could need into a teeny, tiny weekender bag. I am having a hard time finding space for socks, much less makeup. I'm the type of girl that has a closet filled with makeup, so editing what I have to a few items that fit every occasion while I'm away is challenging, to say the least.
Thanks to Too Faced
, my packing just got a lot easier. Their Glamour To Go Spun Sugar Palette
has almost everything I could need while I'm gone. To make things even better, it's quite possibly the most adorable, girly palette these eyes have ever seen – Shimmery gold! A bow! Even curly cues!
The Spun Sugar ($22) palette contains eight eye shadows – four warm golden beige and brown shades, as well as four cool silver and grey shades. In the bottom slide-out compartment, you'll find a silky, shimmery highlighter with a hint of pink, a clear gloss with a hint of glitz, and a shimmery bronzer. Also contained in this palette, is the most perfect mirror – this sucker is HUGE and stays up, so you can apply your makeup hands-free with it.
When you lift the lid to this magical, whimsical palette, you are faced with the choice of the following shadows in two groupings, that all work with the universal highlighter, bronzer and gloss:
Gold Shadows (clockwise)
• Light greenish gold with glitter
• Warm orange-gold shimmer
• Chocolate with gold micro glitter
• Light yellow gold with white shimmer
Silver Shadows
• Icy silver shimmer
• Light grey shimmer
• Black with tons of silver shimmer
• Gun Metal grey shimmer
A fun note, before we get to swatching the shades. At the blogger unveiling of the Too Faced holiday collections, co-founder Jerrod mentioned that when they developed Spun Sugar they were thinking of the classic animated Burl Ives singing "Silver and Gold" in Rudolph. Cute!
Spun Sugar eye shadows
A closer look at the Gold shadows
And the Silver shadows
As you can see, the Spun Sugar Palette
contains every shade of eye shadow I'd consider a "basic". I found the palest shades of these shadows to be a little hard to apply using a shadow brush, so I just finger-painted them onto my lids from lashes to brow. I used the next darkest shadow for my lids, I then contoured with the shadow darker than that, and finally used the darkest shade as a liner. The end result was the easiest smoky eye this lady's ever done and the result was flawless.
But it's not just eye shadows in this fantastically priced palette, in the second slide-out compartment you'll find three more universally flattering products
Highlighter – pink champagne with gold micro glitter
Bronzer – medium brown with gold shimmer
Gloss – pale yellow gold with gold micro glitter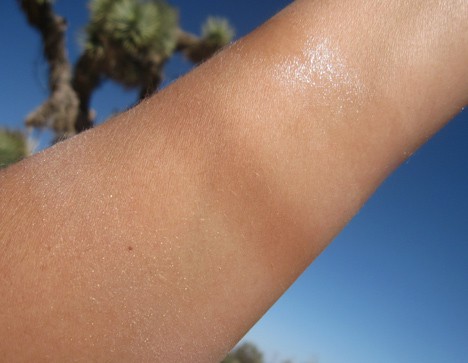 Spun Sugar Highlighter, Bronzer and Lip Gloss
The highlighter in this kit is gorgeous and is like a pink version of Too Faced's famous Candlelight. It is perfect on top of the combo cream blush/lip product that I keep in my travel bag at all times, giving me a little ethereal glow. Meanwhile the clear sparkle lip gloss gives some dazzle to this same cheek/lip multi-tasker. The bronzer is not too brown and not too orange, finely milled and blends seamlessly.
I only wish this contained a blush and skipped the lip product – panned lip products always end up getting fall out from the powders next to them after a few uses, which I hate. Yet overall, the Spun Sugar palette is the complete package in a compact form that is total eye candy. It's a great addition to one's travel kit, perfect for someone just getting started with makeup, or anybody who is a sucker for adorable packaging and great products (guilty as charged!)
Readers – What do you look for in a travel palette? Does anybody else think this is the cutest palette ever?
Shop the Glamour To Go Spun Sugar Palette
at Sephora!
Krista resides in the middle of nowhere with her bff/hubby, an obscenely big-eared dog, and a puppy that makes feral capuchins seem mellow. She has an irrational fear of ax murder, owns more than one machete for home defense/the zombie apocalypse, and goes to sleep serenaded by the sounds of the Chupagobbler, a mythical turkey beast that roams the woods around her house. She also has an obsessive love of Tom Selleck's moustache that is, quite frankly, alarming.
Disclosure: This review includes products that were provided by the manufacturer/PR firm for our consideration. It also contains an affiliate link, a link that gives us a small commission if you purchase the item. For more info, or any questions, please see our disclosure policy.