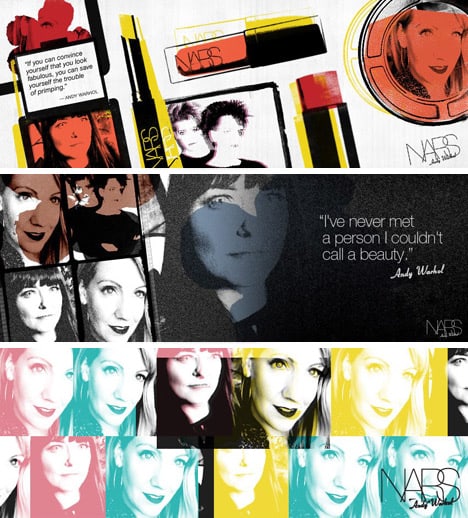 Have you been to the NARS Facebbok page to Andy Warhol-ise your photos (in honor of their uber-fab collection)? But wait! Read the Lipstick League first…
Question of the Week: What ONE beauty item would you choose if someone offered to purchase it for you…no price limit?
Answer: I have to go for Le Métier de Beauté CHEM60 Pro-Peel and GLOW10ai Mask. Ever since Sherri and Tyna got to check it out (and have not stopped raving about it since) I've been hella jealous. It's $265, so a beauty fairy godmother would have to be involved.
EauMG – Victoria reviews Iris de Nuit perfume. It's a fresh out of the dryer iris!
Lipglossiping – talks lucky numbers as she tries to figure out the sums involved in making a fragrance as delightful as Liz Earle's latest offering!
Gouldylox Reviews – I'm not the most confident person when it comes to body image, but shapewear boosts my confidence each time I wear it. Have you tried it? Rachel Zoe has a new line (yes, I too wonder if she's worn it) and I'm giving away $100 worth in this (sponsored) post!
Nouveau Cheap – As a self-proclaimed "dry shampoo junkie" who can't resist trying every new version that hits the drugstore, I couldn't wait to get my hands on the newest offering from Aveeno.
Pink Sith – tells you all about Literal Linda and the Lise Watier Portfolio Corrector. She is also giving one away, so enter today!
Prime Beauty – picks her favorite bareMinerals gift sets from a mind boggling selection.
Phyrra – is hosting an amazing Too Faced Giveaway worth $209! And it's open Worldwide!
we heart this – We're having a Too Faced giveaway of our 10 favorite products. Pop by and enter, why don't you?
Beauty Junkies Unite – Enter to win a Too Faced prize pack, with 10 of Amber's favorite products, valued at $267!
Clumps of Mascara – is lovin' how creamy these Too Faced Créme lipsticks are. And that gold tube? Goooorgeous!
Guest Post of the Week, as chosen by EauMG – One of my favorite blogs is Beauty Huile. It's a must read beauty blog if you love green beauty products and oils as much as I do!
How about you readers, what ONE beauty item would you choose if someone offered to purchase it for you…no price limit?