We review Rembrandt's Deeply White 2 Hour Whitening Kit, plus a whole lot more!
photos: we heart this
Let's face it some of the best things in life are free – like a smile. But the truth is your teeth can be very telling and they are not telling any "white" lies.
Oh yes, I am calling out my teeth for being a tattle tail for what is going on in life. Stains can appear from too much coffee, tea or red wine. If you have lipstick or food on your teeth, one could be accused of not paying close attention to the small details. I was thrilled when I got test out some teeth whitening products from the likes of Rembrandt
and Reach
, because I want those little tattle tails to be silenced.
First up is the Reach Total Care plus Whitening Toothbrush
($3.99) which boasts CaCO3 micra whitening technology. This is the only toothbrush delivering whitening power with its MICRAWHITENING™ Calcium Carbonate bristles. Now I confess, I typically do not use a manual toothbrush but, I FELL IN LOVE with this one.
This tooth brush has a special flexible touch and feel. It is easy to hold in your hand and reach various places and angles. This is the first manual brush I have used that has this flexibility to it. It also kind of gently massaged my mouth. And I especially loved the tongue cleaner feature because I want that whole mouth clean feeling.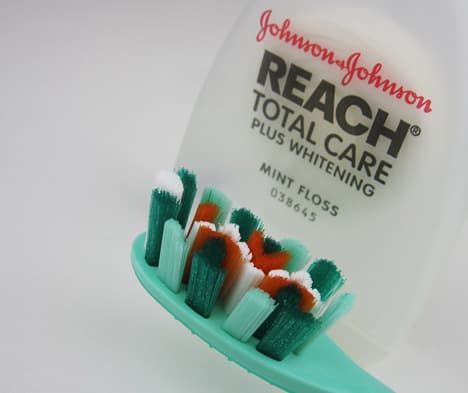 Of course, we all know that flossing your teeth is a key part of healthy teeth and gums. The Reach Total Care plus Whitening Floss
($3.29) was kind of a revelation. Why? I am a results driven person. When I saw what came out of my teeth when I flossed, I was shocked.
This Reach floss has micro-grooves flex technology combined with the power of baking soda. Together they work to help grab and remove twice the amount of plaque compared to other to flossing products. I was thrilled to see that this wasn't just PR promises, but visibly apparent when I flossed my teeth.
Finally, I was a happy camper with the quality and strength of this floss. I really appreciated that the Total Care plus Whitening floss did not shed or unravel like some brands do.
On my quest for the mega watt smile (yes, Stef, I am talking about you and your pearly whites with a bit of longing and envy), I got to try the Rembrandt Deeply White 2 Hour Whitening Kit
($22.99).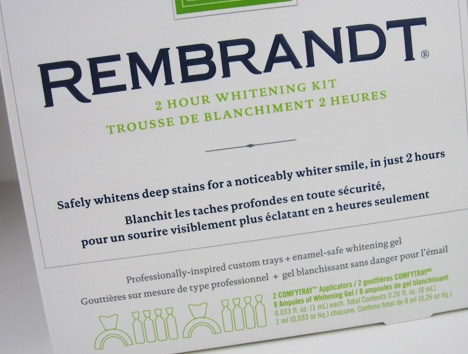 This kit is designed to whiten your teeth in one two-hour setting. Hydrogen Peroxide is the active whitening ingredient found in the eight applicators. The applicators are used on both the upper and lower teeth, so the package contains a total of four whitening sessions.
The whitening process works by the applying the whitening gel to both the upper and lower trays provided. The trays are worn on the teeth for 20 minutes and then removed for 10 minutes. Additional gel is added to the trays and they are again worn for 20 minutes and then off for 10 minutes. This process is repeated four times, and takes a total time of two hours.
While this kit is easy to use and effective, it felt like a long process. And my gums did feel a bit sensitive after the process. However, you are not obligated to complete the entire two hour session. I have a friend who loves this product, but only does about an hour session each time. Additionally, from my experience, you do not have to complete all four sessions to see results. I noticed whiter teeth after my very first use.
Rembrandt also offers four toothpaste formulas and I was able to test two tubes. Their Deeply White plus Peroxide Whitening Toothpaste
in Fresh Mint ($7.29) again uses peroxide to remove stains and is formulated for superior whitening. Rembrandt states that this toothpaste not only whitens, it also restores enamel.
I also brushed with Rembrandt's Intense Stain Whitening Toothpaste with Fluoride
($7.29), another whitening toothpaste that also removes stains and restores enamel.
top: Intense Stain, bottom: Deeply White + Peroxide
A closer look reveals that both formulations have fluoride in the toothpaste. And I did notice a moderate amount of whitening right away with both products. As a tester, not a dentist, I cannot measure if my enamel was restored. However, I will note that both toothpastes have a very unique mint taste. I am not saying this was a bad thing, but it took a bit to get used to. There is not a lot of product in each tube, which makes it a bit expensive per ounce. But I think these toothpastes would be great for use after sipping too much coffee or wine.
Overall, my teeth are happier, and a little whiter and brighter after testing this arsenal of stain fighters from Reach and Rembrandt. If you're in need of a little brightening this holiday season, skip the dentist's office and check your drugstore aisles for these effective and affordable options.
Testers – what did you think of these whitening products?
Readers – what do you use to keep your teeth bright?
Holly is a Midwestern gal living in the beautiful Pacific Northwest. She loves gardening, animals and is a skin care junkie. Holly is always on the quest to try something new or old and live the best life possible.
Disclosure: This review includes products that were provided by the manufacturer/PR firm for our consideration. It also contains an affiliate link, a link that gives us a small commission if you purchase the item. For more info, or any questions, please see our disclosure policy.