Found: My entire mascara wish list in one little tube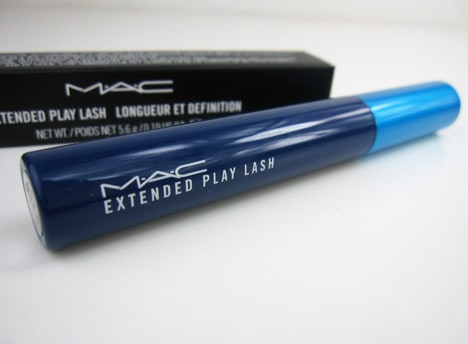 photos: we heart this
I am tough on mascara. I have oily lids, so most mascaras just melt on me until I resemble Alice Cooper after an hour. I need something that can go the distance. I need mascara that can last. And curl. And define my lashes. And lift them. And make them thicker. What can I say? I'm demanding.
Apparently MAC has tapped my phones and hacked into my email and social media (possibly even installing cameras in my home and car) because their Extended Play Lash Mascara, is pretty much everything I've ever wanted in a mascara. It's uncanny. Or maybe MAC is just so awesome, they thought they'd finally create a mascara that covers every want/need/demand a girl can come up with. (I'm still leaning towards the covert surveillance thing, though.)
MAC's Extended Play Lash Mascara ($16) is offered in Endless Black – the inkiest of blacks – and swears that you can get 16 hours of wear out of it. They also promise it's not only incredibly tenacious, but is easy to remove (not the case with most extended wear mascara formulas). Just a 20-second soak with some warm water and off it comes. Sounds easy enough, right?
The sleek navy blue tube with metallic blue lid contains what this tester must say is one of the best mascaras her lashes have ever donned. The mascara applies thinly; I required two coats for my preferred level of drama. As it dried, I noticed the formula managed to pull my lashes up and curl them. Also worth noting, my lashes now had volume while still managing to have definition – all without any clumping.
brush comparison: standard brush top, skinny and long Extended Play bottom
A quick note on the brush – it is a skinnier style – perfect for getting into each lash and reaching the outer corners of your eyes. While I didn't test this for a full 16 hours, I did get a solid 8 hours of wear without flaking or melting – pretty much unheard of for me.
When I was ready to remove it, I dampened my fingertips (no 20-second soak required, maybe 5 seconds, tops) and gently slid the dissolving formula away, with not a smidge or a smudge left behind. I think I'm in love.
So, if you're like me – a demanding mascara wearer- – I think you've met your match with MAC's Extended Play Lash Mascara.
Readers – What is the main thing you look for in a mascara?
Krista resides in the middle of nowhere with her bff/hubby, an obscenely big-eared dog, and a puppy that makes feral capuchins seem mellow. She has an irrational fear of ax murder, owns more than one machete for home defense/the zombie apocalypse, and goes to sleep serenaded by the sounds of the Chupagobbler, a mythical turkey beast that roams the woods around her house. She also has an obsessive love of Tom Selleck's moustache that is, quite frankly, alarming.
Disclosure: This review includes products that were provided by the manufacturer/PR firm for our consideration. For more info, or any questions, please see our disclosure policy.