This set is a ticket to paradise for Ultra Plush Lip Gloss fans!
photos: we heart this
If you have a lip gloss lover on your list this holiday season, here's a gift to leave them sky high with glee! Let Benefit
add some joy to the season by gifting their Limited Edition High Flyin' Glosses Set
for Holiday 2012. This sweet scented set contains six adorable mini tubes of their coveted Ultra Plush Lip Gloss in every available shade.
Of course, if you would rather gift yourself with this collection, who am I to argue? At just $26, it's an affordable present to stuff into your stocking without feeling any quilt.
As a Benefit lover that has yet to try their latest glosses, I was thrilled to get my hands on this set. Tucked inside the cute pink package are six mini sized tubes of Ultra Plush Lip Glosses
, three cremes and three shimmers, that correspond with Benefit's celebrated Box of Powder face shades .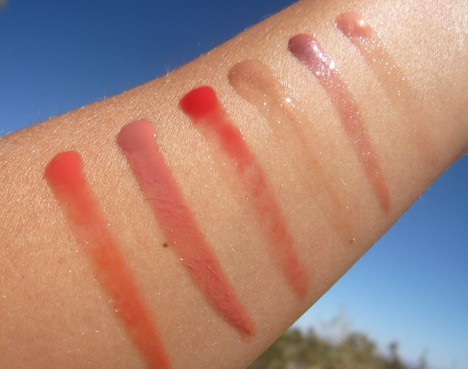 Coralista, Dallas, Bella Bamba, Hoola, Sugarbomb, Dandelion
You (or your giftee) will never be without the perfect gloss color with these…
Cremes:
Coralista – sheer light coral
Dallas – medium warm pink nude
Bella Bamba – bright yellow-based watermelon pink
Shimmers:
Hoola – peach nude with gold and peach shimmer
Sugarbomb – medium dusty pink
Dandelion – light pearly pink
These glosses give a super sheer hint of color, and true to most Benefit products are flattering to practically any skin skin tone. These are the perfect tubes to stash in a purse or pocket for on the go color – no mirror required.
Beyond the cute little tubes (everything seems better in mini size!), the packaging bonuses include a slant tip applicator for easy glossing and a soft, squeezable shell that allows you to dispense the perfect dollop of color. Each gloss is softly scented with sweet, slightly tangy, fruit punch-like scent that I enjoy – but it fades fairly quickly for the fragrance adverse.
But it's the formula of the Ultra Plush High Flyin' Glosses
that put me over the moon. These glosses glide on like a dream; super smooth, almost creamy in feel, without a hint of stickiness. They're also moisturizing on my lips, leaving them soft and supple and not in desperate need of a balm after a few hours of wear.
A closer look at the cremes: Coralista, Dallas and Bella Bamba
And the shimmers: Hoola, Sugarbomb, Dandelion
I love each and every one of these shades, but my faves are the punchy Coralista (finally, a coral I can wear!) and the dusty rose shimmer of Sugarbomb. For once in my life I'm going to reach the end of a tube of gloss – and then I plan on running out and picking these two up in their full size versions.
Pros:
• Smooth, non-sticky formula
• Sheer, flattering colors
• Adorable packaging
• Nicely priced and a great way to try all six Ultra Plush Gloss hues
Cons:
• You'll have a hard time gifting this and will wind up keeping it for yourself!
• Seriously, I have no cons with this set
Readers – are you jetting to your local Sephora to pick up Benefit's High Flyin' Glosses set?
Tyna, co-founder and co-editor of wht, worries about becoming a crazy cat lady, reads at least a book a week, checks in at a Flyers fan forum every morning and is forever (some say obsessively) organizing her closets and drawers.
Disclosure: This review includes products that were provided by the manufacturer/PR firm for our consideration. It also contains an affiliate link, a link that gives us a small commission if you purchase the item. For more info, or any questions, please see our disclosure policy.