A holiday collection to rev you up for the party season!
It's always an exciting part of the year when MAC releases their Holiday line of individual make up essentials. This time around, it's a party-ready collection of sweet and sultry and a bit of extra dimension (more on that in a bit!)
In their new Glamour Daze collection, there are candy colored hues, neutrals and even a bit of vamp. Not surprisingly, it all goes deliciously well together. Glamour Daze sums up the art of getting ready: the aura of couture and the drama of the dressing room.
Here's a look at all the products we had a chance to check out…
For this review we'll be looking at a few eye and cheek selections.
This collection brings back the fabulous finish that is Extra Dimension – a smooth, almost-liquid to powder formula that shimmers on eyes and face like nothing I've seen before! I'll let the swatches do the talking. It's quite gorgeous and perfect for a holiday collection.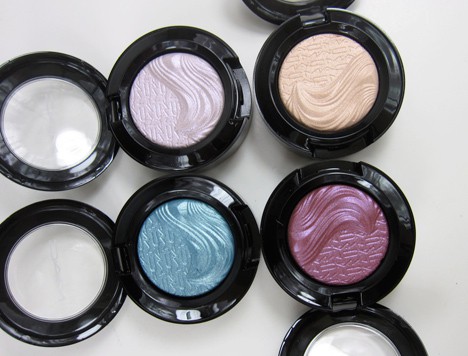 The Extra Dimension Eye Shadows ($19.50 each) offer something for everyone because it includes neutrals and light colored jewel tones that will glisten up any eye look. We received four to check out:
Divine Blue
Ready to Party
Stylishly Merry
A Natural Flirt
Divine Blue – shimmery mid tone aqua
Ready to Party – pale iridescent lilac base with a cool pink glow to it
Stylishly Merry – mid-tone dusty violet that can be layered to look more fuchsia/magenta
A Natural Flirt – soft peachy nude
Extra Dimension Eye Shadows – Divine Blue and Ready to Party
Extra Dimension Eye Shadows – Stylishly Merry and A Natural Flirt
These shadows apply smooth like butter and the Extra Dimension makes them a bit more special than your standard eye shadow. The colors are buildable for more color if needed, because they do go on rather sheer. What's great about these is that they are not too flashy or crazy, but provide something extra without overdoing it.
Extra Dimension Skinfinish in Superb
Taking the Extra Dimension formula to the face, we also tested an Extra Dimension Skinfinish ($29 each) in Superb, a soft peachy nude with multidimensional shimmer. This highlighter has a cool, almost creamy formula that offers an extra dash of sparkle as it sculpts, highlights and contours the face. Promising ten hours of wear, Skinfinish should last through any holiday party.
Extra Dimension Skinfinish in Superb, Powder Blush in Easy Manner
Also for the face, we received the Glamour Daze Powder Blush ($22) in Easy Manner, a light dirty peach (A bit of a color shifter, this looked medium pink when I swatched it ~Stef) . All in all, this was one of my favorite pieces in the Glamour Daze collection.
Glamour Daze Powder Blush in Easy Manner
With its satin finish, it is incredibly simple yet so perfect for everyday wear. The Easy Manner Powder Blush works especially well if you choose to introduce a bold lip or eye to your look because it doesn't interfere. The staying power of this was amazing and still looked great after a day long shift at the office!
Extra Dimension Skinfinish in Superb, Powder Blush in Easy Manner
Rounding out the Glamour Daze collection and to finish off those eye looks, we received two Kohl Power Eye Pencils and one Fluidline from this limited edition holiday line.
Kohl Power Eye Pencils in Mystery and Orpheus
The Glamour Daze Kohl Power Eye Pencils ($16.50 each) promise intense, opaque coverage in four smoky hues with a duo-chrome pearl finish. The formula offers a smooth, snag-free application and blendability. We tested Mystery, a blackened teal shimmer, and Orpheus, a blackened chocolate with gold pearl.
And who doesn't love MAC Fluidlines ($16.50)? I had the pleasure of testing out Little Black Bow, a gorgeous charcoal with flecks of pearlized grey.
You can tell right off the bat there is something a little more special here than your standard Fluidline. This is a perfect candidate to replace your beloved black eyeliner for holiday parties. It's still dark but sparkles! I loved how it wasn't opaque and still remained to be a long lasting liner.
Kohl Power Eye Pencils in Mystery and Orpheus, Fluidline in Little Black Bow
The Glamour Daze collection is girly and shimmery and ready to party, but there are also products that you can carry you throughout the daytime and well past the holidays.
Readers – what are your party picks from MAC's Glamour Daze collection?
Click here to shop the Give MAC gift finder where you can shop the holiday selections by color, price or category!
Extra Dimension Eye Shadow
Ready to Party – Pale lilac
A Natural Flirt – Soft peachy nude
Evening Grey – Steel silver
Divine Blue – Mid-tone aqua
Stylishly Merry – Mid-tone dusty violet
Stolen Moment – Dark taupe
Round Midnight – Dark burgundy
Tall, Dark & Handsome – Black with pearl
SRP $19.50 U.S./$22.50 CDN
Fluidline
Feminine Edge – Pink mauve with dazzle pearl
Catch My Eye – Cool taupe grey with dazzle pearl
Little Black Bow – Charcoal with dazzle pearl
SRP $16.50 U.S./$20.00 CDN
Powder Blush
Easy Manner – Light dirty peach
I'm the One – Mid-tone blue pink
Small Vanity – Dusty rose tan
SRP $22.00 U.S./$26.50 CDN
Extra Dimension Skinfinish
Whisper of Gilt – Light soft white gold with shimmery sheen
Superb – Soft peachy nude with multidimensional shimmer
SRP $29.00 U.S./$34.00 CDN
Nail Lacquer
Endless Night – Pale grey pink with iridescent pearl
In the Limelight – Mid-tone creamy mint
Girl Trouble – Super glitter pink
Everything that Glitters – Black with super multidimensional glitter
SRP $17.50 U.S./$21.00 CDN
Lipstick
Beauty – Pale cool pink (glaze)
Innocence – Soft coral (frost)
Outrageously Fun – Mid-tone magenta violet (cremesheen)
Glamourdaze – Mid-tone creamy plum (cremesheen)
Dramatic Encounter – Deep purple (amplified)
SRP $16.50 U.S./$20.00 CDN
Lipglass
Impossibly Sweet – Sheer soft pink with multidimensional pearl
Pink Fade – Light creamy pink
Talk Softly to Me – Light creamy coral pink
Deliciously Demure – Soft cool brown with pearl
Flight of Fancy – Rich purple
SRP $16.50 U.S./$20.00 CDN
Mascara
False Lashes – Black
SRP $20.00 U.S./$23.50 CDN
Kohl Power Eye Pencil
Raven – Intense black with red pearl
Orpheus – Intense black with gold pearl
Mystery – Intense black with green pearl
Feline – Intense black with black pearl
SRP $16.50 U.S./$20.00 CDN
Amanda is a beauty & fashion lover who hopes to own a Shiba Inu one day. She spends most of her time frolicking in NYC, chowing down, perusing blogs and updating her own; mandabear. She's also getting seriously involved with her iPhone.
Disclosure: This review includes products that were provided by the manufacturer/PR firm for our consideration. For more info, or any questions, please see our disclosure policy.