Paint a self-portrait with the NARS Andy Warhol Flowers 1 palette
photos: we heart this
"If you can convince yourself that you look fabulous, you can save yourself the trouble of primping."
~ Andy Warhol

"Andy Warhol met the most beautiful people, but for him anybody could be a beauty if they felt that way."
~ Francois Nars
If I could meet any two famous people, living or dead, I think I'd pick Francois Nars and Andy Warhol. I love the quality and pigmentation of NARS products, as well as the range of colors; and I greatly admire Warhol's creativity and representation of his subjects, particularly in his silkscreen prints. While both men are fabulous as separate individuals, I think it would be especially amazing to meet them both at the same time, to work together with them on a project and delve into their minds.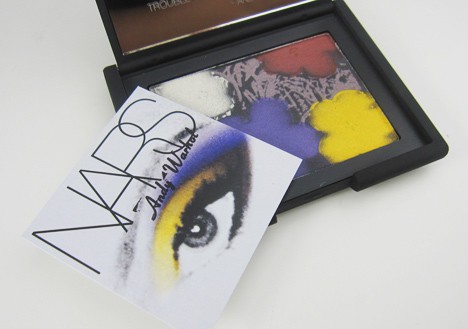 Both men had/have so much talent, and across multiple types of artistic media; both dearly loved their pet dogs and incorporated them into their work; and both of them firmly believed, in spite of being in industries saturated with superficiality, that beauty has more to do with one's attitude and outlook than with one's physical features. Rather than just creating or capturing a pretty face, each of them strove to bring out the unique characteristics of their models, creating evocative works that captured the complexity of each individual.
Unfortunately, it will never be possible to have them both in the same room collaborating. But NARS has come up with the next best thing – an Andy Warhol inspired collection
. It's incredibly fitting that a cosmetic company known for being modern, audacious, and iconic would create a makeup collection that pays homage to an artist known for the same qualities.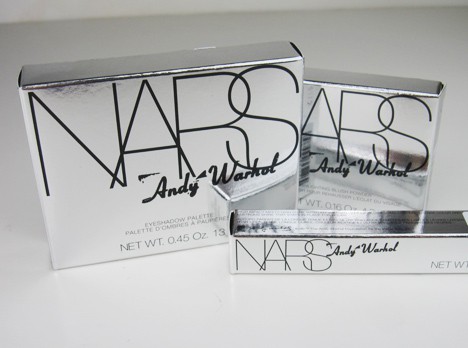 The Limited Edition NARS Andy Warhol collection features a 29 piece collection (six of which are exclusively available at Sephora). It features a range of color products, including lip gloss, nail color, eyeshadow palettes, eyeliner pencil, and eyeshadow pencils, influenced by the hues in Warhol's art.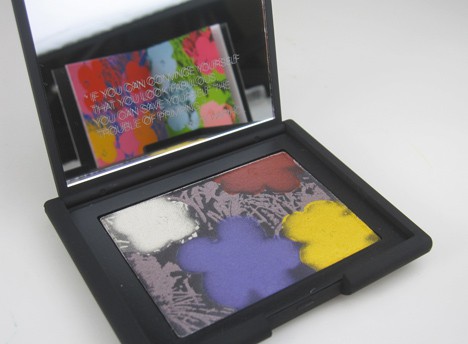 I received the NARS Andy Warhol Flowers 1 Eyeshadow Palette
($55) to test, a Sephora exclusive product. The palette is housed in traditional NARS rubberized packaging, but with silver lettering on the front, and the Andy Warhol "stamp," instead of the usual white lettering.
The inside mirror features the Andy Warhol quote at the top of this post, etched into the glass. The palette is also quite a bit larger than other NARS products, as it contains a total weight of 0.45 oz of product. Flowers 1 features five different shades of satin/shimmer-finish eye shadows: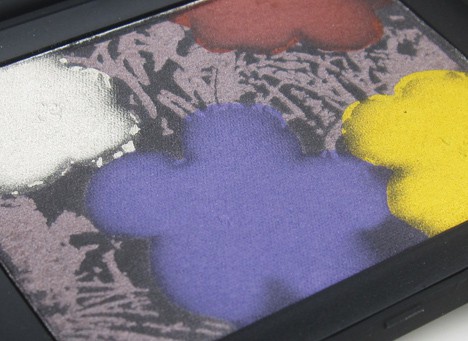 White – A bright white frost, almost metallic, with a slightly chunkier texture. The most pigmented shade of the five.
Gold – A bright yellow gold. To get the truest color, try pressing the color onto lids rather than sweeping.
Lavender Gray – A purple-tinged taupe and a lovely neutral to help tie together the other colors.
Brown Rose – An interesting rusty brownish-red that has just the right amount of shimmer.
Dark Lavender– Very sheer violet purple. The least pigmented in this palette.
The black overspray replicates Warhol's famous silkscreen print of poppies. It's a thin layer that comes off easily.
Flowers 1 Palette – White, Gold, Dark Lavender, Brown Rose and Lavender Gray
The colors in this palette are bold and don't "go" together in a traditional sense. If you like your palettes to be monochromatic, the NARS Andy Warhol palettes in Flowers 2 and Flowers 3 will be more to your liking. This palette definitely makes a statement, but it can also be toned down.
A closer look – White, Gold and Dark Lavender
Dark Lavender, Brown Rose and Lavender Gray
If you've been hesitating to buy this palette because of the bright colors, be reassured that the colors tend to be on the sheer side but can be built up with the help of a primer. I tried several different primers with this palette, and found that they all seemed to perform about the same in terms of enhancing the shadow.
Let's take a look at this palette in action:
Finally, a note on the unique flowered layout of this palette – I found that each area of color is large enough that it is easy to pick up color with your standard sized eyeshadow brush. Additionally, the bright hues stayed bright – I didn't notice much fading during the day either, which is a plus.
All in all, with its limited edition packaging, creative palette design, and bold, bright colors, the NARS Andy Warhol Flowers 1 Eyeshadow Palette
is sure to please the artist inside of you.
Readers – Are you inspired by this palette? Are you going to use it on your self-portrait?
Marilyn is a makeup maniac and slow but stubborn runner. She loves color coding her day planner, reading celebrity gossip and drinking good wine. Marilyn blogs about makeup and fitness over at her blog, Lipgloss and Spandex.
Disclosure: This review includes products that were provided by the manufacturer/PR firm for our consideration. It also contains an affiliate link, a link that gives us a small commission if you purchase the item. For more info, or any questions, please see our disclosure policy.