Cookies and truffles and tortes, oh my!
photos: we heart this
It's that time of year everyone – the season when we put our calorie watching on hold – and enjoy all of the treats the holidays have to offer! We've shared a number of sweets with our readers over the years that are perfect as DIY gifts or just great to have on hand for all of your holiday visitors.
Today, we've gathered those treats in one post for our official Holiday Sweets & Treats – Recipe Round Up. So gather up your kitchen helpers and pick a few wht tested recipes to celebrate the sweetest of seasons.
Cookies
Peanut Butter Blossoms
Peanut Butter Blossoms – To me Christmas means cookies, and this Hershey Kiss topped treat is one of my very favorites.
Coconut Vanilla Sugar Cookies – We featured these cookie cutter sweets for Valentine's Day, but the coconut and vanilla flavors will work with Santa and reindeer shapes too!
Nutella Chocolate Chip Cookies
Flourless Nutella Chocolate Chip Cookies – if you're participating in a cookie exchange this year, this unique Nutella based cookie will stand out in the crowd.
Holiday Cookie Bonanza, Part 1 – Way back in 09, our review team shared their favorite Christmas cookie recipes. Part 1 includes recipes for Sherri's family classic Soft Buttermilk Sugar Cookies, Cori's no-bake Peanut Butter Balls and what Pam claims are the best Oatmeal Raisin Walnut Cookies ever.
Molasses-Spice Cookies
Holiday Cookie Bonanza, Part 2 – Still haven't found the perfect cookie recipe? We've got more including my chewy and crunchy, ginger infused Molasses-Spice Cookies, and drugstore diva Nouveau Cheap's Vegan Chocolate Chip Cookies.
Giftable Treats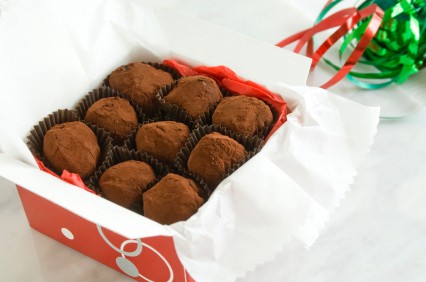 Chocolate Mint Truffles
Chocolate Mint Truffles – If you're looking for a gift-worthy treat, try these easy to make (and easier to eat) chocolate truffles infused with fresh mint.
Pumpkin Butterscotch Blondies – If cookies aren't your thing, try this brownie-like treat full of butterscotch goodness.
Oreo Truffles
Oreo Truffles – A super easy, no-bake treat made with the best packaged cookie on the market, Oreos. Decorate with holiday sprinkles, wrap in cellophane and you have a sweet little gift.
Little Tea Cakes – If you have a tea-lover in your life, bake these Scottish treats (the recipe came direct from Scotland!) and gift with a pretty mug and some fancy teas.
Chocolate and Peanut Butter Bon Bons
Chocolate and Peanut Butter Bon Bons – We're so thankful our own Pam pried this old family recipe from her Mother-in-Law. Chocolate and peanut butter? What's not to love?
Happy Endings
If you're hosting a big holiday meal, you may be searching for a fantastic dessert (beyond a giant plate of cookies) – we've got two suggestions for the perfect ending to any celebratory dinner:
Irish Bread Pudding
Irish Bread Pudding with Caramel Whiskey Sauce – Want to wow at the end of the meal? Try this Irish classic that Stef describes as "creamy, warm, sweet yet savory and insanely good".
Carmel Pecan Torte – Impress your guests with this fancy looking, caramel torte. Bonus: Have guests with diet restrictions? It can easily be made gluten free!
Readers – what are your favorite holiday sweets & treats?
Tyna, co-founder and co-editor of wht, worries about becoming a crazy cat lady, reads at least a book a week, checks in at a Flyers fan forum every morning and is forever (some say obsessively) organizing her closets and drawers.