A seasonal DIY that's easy as A,B,C!
photos: rachel for we heart this
Over the years, I have collected quite a few sets of wooden alphabet blocks. Partly, because I have small children, but also, because I adore the vintage charm of the well-loved blocks. This year, I decided to turn these beloved treasures into some holiday decor. This DIY is easy, affordable and a real eye-catcher.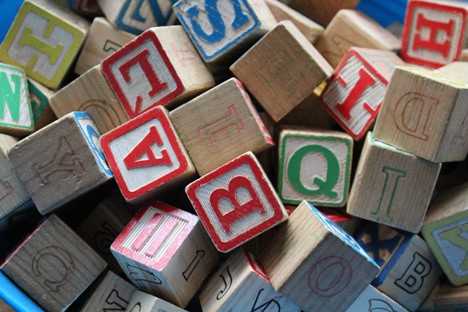 Supplies:
• Wooden letter blocks
• Wood glue or Elmer's Glue
• Paintbrush
• Newspaper for work surface
• Drill (optional)
• Ribbon or cord (optional)
• Wooden beads (optional)
Tip: You can often find wooden blocks at thrift shops and flea markets. I've been able to buy bags of them for a dollar or two.
Directions:
1. Select desired words, names or expressions. Find coordinating blocks, and arrange them horizontally, vertically or stacked on top of one another.
Tip: If your blocks are new and you want them to appear worn, you can easily use sand paper to distress the surface.
2. Carefully spread a thin layer of glue with a paintbrush on the side of the block that you are attaching. A little dab is plenty, you do not want glue oozing out between your letters. In the event that you have an overflow of glue, just wipe it away it with your paintbrush.
3. When forming stacks of words, or expressions, glue one row of blocks at a time. Work on a flat surface and be sure that the blocks are lined up straight, otherwise they will not stack properly. If you're using wood glue, they are extremely difficult to get apart, and you risk breaking a block, (or two), trying to pry them apart.
4. Stand your words vertically for a few hours to dry. That way glue doesn't seep down, adhering your blocks to your work surface.
Another decorative option for wooden blocks, is to drill a hole through the center of each, so that you can string a cord or ribbon through the block and hang your creation. You can even spell out a phrase by separating the words with wooden beads or blocks that have an image.
When stringing your blocks together, I recommend nylon cord, (which can be found at hardware and craft stores). Tie in a knot at each end – if you do not want the knot to come undone, you can carefully use a match or lighter to seal the knot.
You can hang a phrase of blocks on the mantel, while small words or initials make whimsical hanging ornaments. Be sure to tie a loop at the top of your vertical design for easy hanging.
With the alphabet and numbers at your fingertips, the options for block designs are endless. Make one for you, and one for a friend. Have fun playing with blocks, and enjoy your Holidays!
Readers – are you ready to raid the kid's playroom to start making your own wooden block holiday decorations?
Rachel is a stay-at-home Mom that never seems to be home. She's a military wife, mother to The Danger Boys and a self-proclaimed craftaholic that enjoys photography, knitting, baking and all things handmade.