A holiday palette she'll love more than her classic rock faves
photos: we heart this
Time is almost up for holiday shopping, and we've got one last limited edition holiday 2012 set that will have her singing with joy. Take a gander at Anastasia Beverly Hills Want You To Want Me Eye Shadow Palette
($34), a luxe nude and plum eye shadow kit that had me rocking with glee.
Just one look at the plush packaging was all it took to have this palette rocket to the top of my must-have chart. Nestled inside the basic black and gold chained graphic box is a double CD sized black velvet box with a golden magnetic clasp closure engraved with the Anastasia Beverly Hills insignia.
Unclasp this package to reveal the goodies: a 9 Shade Eyeshadow Palette, a mini Liquid Eyeliner, a mini Clear Brow Gel and a Double-ended Shadow Brush, as well as a large, high quality mirror attached to the flip up lid.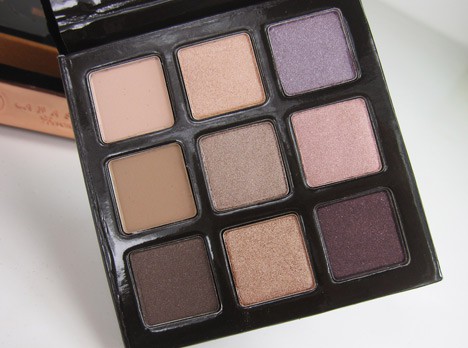 As a lover of pretty, shiny things, I was immediately drawn to the palette of eye shadows. Included in this set of 9 rock inspired shadows are a range of browns and plums with both matte and shimmery finishes. The deep wine and lilac hues fulfill my holiday drama needs, while the nude and cocoa browns will carry me all through the year.
The rock-n-roll named, gorgeous shadows alone are enough to get my endorsement, and we'll get to the swatches in a minute. But first I want to talk about the mini sized "extras" included with the palette of my dreams.
Anastasia Beverly Hills is renowned for their incredible eye and brow products, end the eye enhancing items in the Want You To Want Me palette, a Mini Clear Brow Gel and a Mini Liquid Eye Liner in Jet are no exception.
The Clear Brow Gel applies smoothly with a mascara-like wand, brushing my brows in shape and then setting them into place. My slightly unruly brows are tamed into submission with a subtle sheen that adds some drama – all without any sticky or crunchy residue. It's the holy grail of brow gels, my friends.
Meanwhile, the Liquid Eye Liner in Jet is a deep, inky black with fabulous pigmentation. The thin brush applicator allows for precise lining and the formula goes on the lids super smooth. Even better, it stays on the lids. Even after a night of wear, my oily lids were no match for this liner and I was smudge and flake free. A true victory for me.
Even the mini sized Duel-ended Brush is a rock star. At first, the teeny sized brush seemed like the throw away of the kit. But I love how the small brush heads fit perfectly into the shadow pans, and was impressed with their softness and spot-on application powers.
Speaking of shadows, are you ready to take a peak at the colors in action?
Platform Wedge – medium nude matte
Front Row Center – light champagne shimmer
Ziggy – light grape with silver shimmer
Members Only – medium mushroom brown matte
Power Ballad – medium brown shimmer
Jellies – medium pink shimmer
Graphic T's – dark chocolate brown with gold shimmer
Brass In Pocket – light bronzey brown shimmer
Iron On – blackened plum with purple micro glitter
And all the way to the right is Jet, the inky black liquid liner
As you can see all nine shades mix and match well. Currently, I love to wear Power Ballad on my lids, with Ziggy blended into the crease and a dusting of Front Row Center on the brow bone. And I must note that Graphic T's has quickly become my daily, go-to brown shadow. It's a great not quite matte deep brown with the perfect touch of shimmer.
Overall, the Anastasia Want You To Want Me Eye Shadow Palette
is definite hit. So if you're looking for a last-minute gift that she is sure to want, need and love, I recommend braving the crowds and hitting your local Sephora to pick up this gem.
Readers – do you want, need and love this gift palette too?
Tyna, co-founder and co-editor of wht, worries about becoming a crazy cat lady, reads at least a book a week, checks in at a Flyers fan forum every morning and is forever (some say obsessively) organizing her closets and drawers.
Disclosure: This review includes products that were provided by the manufacturer/PR firm for our consideration. It also contains an affiliate link, a link that gives us a small commission if you purchase the item. For more info, or any questions, please see our disclosure policy.