It's best of week here at we heart this! We're taking a slight posting break over the holidays, but to celebrate the upcoming New Year, we'll be bringing you the best and most popular posts of the past year. Tonight's the night we all add a little extra color and sparkle to our makeup routine, which sadly often leads to smudged, raccoon eyes. To help you combat the makeup slide, we're sharing our 'secret' to smudge proof eyes! ~ wht
I've been a makeup junkie for two decades, a beauty reviewer for seven years and the co-editor of we heart this for over three – yet it was only within the last six months that I discovered the secret to banishing smudged makeup and raccoon eyes for good. Today, I get to share this 'secret' with the wht readers; a gem of a tip that's been keeping my eye makeup smudge free for months, picked up while dining in NYC with a former makeup artist.
Before we get to the tip that finally lead me to conquer raccoon eyes (an issue that has plagued me since I first picked up an electric blue eyeliner – it was the 80's!), let's cover a few of the fundamentals.
If your carefully applied eye makeup suffers the same fate as mine once did – smearing and smudging all over until it ends up pooled underneath your eyes – make sure you have these basics covered.
• An eye-specific primer is a must. Look for formulas geared to oily skin. Apply it sparingly to a clean eyelid before any makeup to help keep everything in place.
• So are waterproof formulas. Especially in your mascara. When shopping for eye makeup look for formulas made to last, especially those labeled 'waterproof'. Other key phrases to watch for include 'oil-free', 'smudge-proof' and 'crease-less'.
• Top eyeliner with a powder Run a line of powdered eyeshadow in the same hue over it. This may dull the glossiness a bit, but it will also help absorb the oil in the liner and make it stay put.
Now that we've got Raccoon Eyes 101 covered, let's get to the tip that's changed my life. As I was discussing my eye makeup woes with my friend, I detailed the steps above that I took to keep things in place. She revealed that it's not just about the primers, shadows, liners and mascaras…it all comes down to your EYE CREAM. And she was right!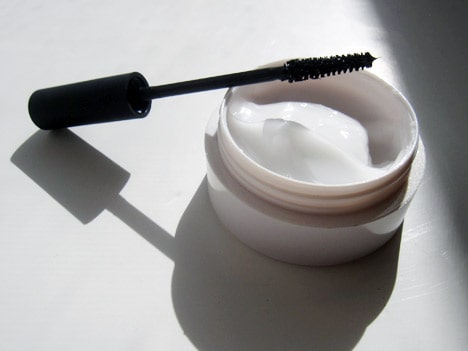 I've been in love with lush, rich eye creams since the first time I used one. And while they may do wonders for fine lines and dull skin, their heavy textures (applied right before makeup application, right?) aren't helping your makeup. Especially since the moisture left behind leaves a nice slick surface for your makeup to slide right on to.
Am I advising you to ditch your eye creams? Never! You just need to rethink them a little bit:
• Reach for the heavy hitting, thick eye creams just once a day as part of your nightly beauty regimen. Sleeping on it gives those creams all night to work their magic, too.
• In the morning or before applying makeup, if you need some moisture around the eyes, it's time to reach for an oil-free, gel-based formula.
Skipping heavy eye creams before applying makeup has made the difference in my fight against traveling eye makeup. I've been using a gel eye cream in its place and couldn't be happier. Not only does my eye liner, shadow and mascara last until I'm ready to take it off, the gel has a cooling and soothing effect I look forward to every morning.
There you have it readers – my secrets behind a smudge-proof look. I hope these simple steps help keep your make up in place – and your face raccoon-free!
Readers – what are your fool-proof beauty secrets? Share them in the comments!
Tyna, co-founder and co-editor of wht, worries about becoming a crazy cat lady, reads at least a book a week, checks in at a Flyers fan forum every morning and is forever (some say obsessively) organizing her closets and drawers.