A Clarisonic coveter becomes their latest true believer!
photos: we heart this
I've heard the choir singing the praises of the Clarisonic Sonic Skin Cleansing System
for years. As any gadget lover and beauty product hoarder worth her salt, I have coveted one for each of those years. But there was always that price tag — a couple hundred bucks is nothing to sneeze at (or experiment with). When the compact Mia made its debut (clocking in at $119), I put it on my Christmas list; but my stocking came up empty. This year, however, everything changed and now I have felt that sonic boom.
My brand-spanking new Aria Sonic Skin Cleansing System
($199) has me wondering how I ever did without it. Was my skin ever clean…ever? This past summer my first facialist told me that my skin was clogged (she blamed my makeup) and that I had rosacea. I got cleansers and toners, lotions and even vitamins; they all worked to a certain extent in reducing my redness and smoothing my complexion but, short of a peel, nothing has worked like the Aria.
I had tried automatic face cleansing brushes in the past. My desperate mother bought my teenage self one many moons ago and it didn't do much more that foam and tickle. Though those brushes look very similar, they weren't sonic. Sonic is where it's at.
Clarisonic's patented micro-massage motion cleanses the skin six times better than with hands alone, and it does it in a single minute. The massaging action loosens impurities trapped in the pores leaving skin perfectly prepped for absorption of moisturizers, creams, lotions and serums.
charge like this for travel…
The new Aria model features the coveted sonic micro-massage motion with a few new, travel-ready additions:
• A battery indicator that let's you know when it's time to re-charge
• A USB-enabled pLink charger – charge from your laptop!
• A drying stand that converts to a charging station when coupled with the charger
…or like this at home!
Like my other sonic miracle worker (my toothbrush) the Aria has a timer that is adjustable for one or two minutes. The one-minute cycle is divided into three 20-second intervals (20 forehead, 20 chin, 20 cheeks) so you don't spend too much time in any one area.
The brush is very gentle but I've never felt the need to use the longer duration.
There are also three speeds (high, medium and low). The highest speed did feel slightly abrasive while the lowest seemed a little too gentle. Like Mama Bear, the middle one was just right.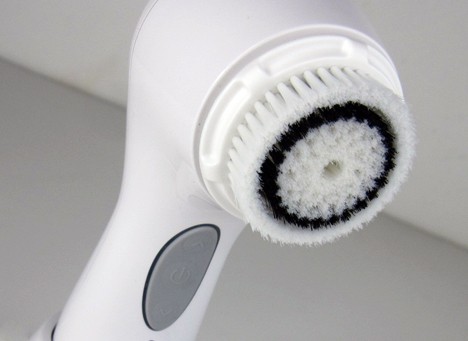 The Aria comes with the Sensitive Brush Head but there are other brush heads available for different skin types. Since it is suggested that the brush heads be changed every three months, I've already stocked up on a twin pack (I'm giving the Deep Pore heads a go next).
The results are almost immediate. I alternated between the 1 oz trial size of the Refreshing Gel Cleanser (non-drying and gentle) included with the Aria and a basic tea tree oil cleanser that I've been favoring lately with fantastic results from both.
Without any anti-redness or rosacea treatment my skin has had nary a trace of red. My pores appear much smaller and my skin's texture is smooth, glossy and healthy. A little moisturizer with sunscreen and I'm good to go! All that money I was afraid of spending in purchasing a Clarisonic is clearly made up for in the fact that I'm using less products on my face with better results—nothing fancy either.
The Clarisonic Aria is no space hog. Its compact design fits nicely in its charging/drying stand. Charging is made easier as well with a USB enabled Universal Voltage plink Charger with AC adapter. To make matters better (so far as travel goes, that is) there's no need to lug around the stand if you don't care to — the magnetic cord attachment connects directly to the handle. It seems like such a small thing — a charging station — but toting that stand is the one thing I hate about traveling with my sonic toothbrush.
Add my voice to the choir and give me a Hallelujah! The Clarisonic Aria Sonic Skin Cleansing Brush
is an absolutely necessary beauty tool. I would never say that I won't purchase another fancy skin cream or potion that claims to do what the Aria already does, but at least I won't need to!
Readers – are you a Clarisonic convert too?
Sherri is co-author of What Would You Do With This Room?
My 10 Foolproof Commandments to Great Interior Design, and of course, a wht writer!
Disclosure: This review includes products that were provided by the manufacturer/PR firm for our consideration. It also contains an affiliate link, a link that gives us a small commission if you purchase the item. For more info, or any questions, please see our disclosure policy.