This Limited Edition collection ushers in a new Purple Reign
photos: we heart this
Are you a purple fanatic? I happen to know a few and it seems to be one of those colors people feel very strongly about. MAC's got something special for those of you who love everything purple…but with a cool twist.
MAC's Taste Temptation collection is dedicated to a life of exotic, seductive and stylish after-hours. This is a cohesive line consisting of eyeshadows, nail lacquers and lip products in deep purples, plums and amethysts. Basically enough to convert just about anyone into a purple enthusiast – if you aren't one already.
Night Blooming Mattene Lipstick, Perky Lipglass
Ready to check out some colors? Let's start with the lip products, with shades crafted to compliment the Taste Temptations blushes. I love that MAC included Mattene Lipsticks ($15) rather than their standard lipstick line in this collection. They are moisturizing and the color pigmentation is out of this world! You wouldn't think a lipstick in this slim profile casing would be enough, but they will last a while.
Night Blooming Mattene Lipstick and Passionately Tempted Powder Blush
We received and tested Night Blooming, a bright blue pink, which is the prettiest berry-toned hue! While it's a better match to the Passionately Tempted blush in the pan, than on the skin, I loved the formula and the overall look of it on my lips. I have a feeling this shade will look good on everyone.
Perky Lipglass and Unconventional Powder Blush
And of course every MAC collection needs some Tinted Lipglasses! Shown here is Perky ($15), a lavender pink frost that's a liquid version of the Unconventional powder blush.
Perky Lipglass and Night Blooming Mattene Lipstick
Perky is one of those Lipglasses that can work well on its own, depending on your lip pigmentation. Otherwise, it makes a fantastic layering gloss, especially over the Mattene Lipsticks.And wow…check out those sparkles.
Passionately Tempted and Unconventional Powder Blushes
For the face, the Taste Temptation collection boasts two beautifully pigmented Powder Blushes ($20 each):
Unconventional – light lavender pink frost
Passionately Tempted – dark magenta with a slight shimmer in the pan that's undetectable on skin
Passionately Tempted, Unconventional Powder Blushes
I tested Unconventional, which actually wasn't too hard for me to wear, as I had originally feared. While I do think that it will look best on lighter skin tones, I think the shimmer in this helps it from looking ashy. Meanwhile, word is the magenta hue of Passionately Tempted goes a tad plummy when applied, but is still a pretty and bold shade.
Next, for the eyes, let's look at the namesake product in this collection: the Taste Temptation Eye Shadow X4 quad ($40). This, my friends, is all you'll need for day to night smokey-eye needs.
In this palette you'll find:
Look at the Eyes – lavender frost with a slight magenta sheen
Stay Sultry – dusty grape in the pan, which turns blackened grape on the skin
Naval – brightened navy, beautiful in the pan but chalky and patchy on (what a shame!)
Carbon – a bad showing on MAC's go to matte black, chalky and stiff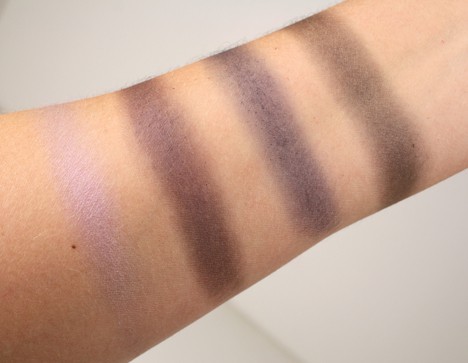 Look at the Eyes, Stay Sultry, Naval, Carbon
I will start by saying that these colors are not incredibly pigmented at first swatch because they apply very softly. That's where eyeshadow preference comes in. This could be perfect for someone who doesn't want an intense application, but still wants to introduce color into their eye look.
Last but not least, for the nails, there are two GORGEOUS Nail Lacquers ($16 each) that I feel were perfectly chosen for this line:
For Fun – bright magenta purple creme
Blue Gaze – bright purple creme, with just a touch more blue we would have had ourselves a Blurple!
I love how they included a dead on purple shade, while also playing to the blue-purple crowd. I love both but am more drawn to Blue Gaze because blue-purples look good with my skintone. While I want to reserve For Fun as a spring/summer shade – it's such a vivid purple! These polishes applied nice and creamy with great pigmentation.
Who knew you could have so many different shades of purple in one collection? MAC and their color professional did! Check out the latest in this royal hue and get a pop of purple in your winter look.
Readers – Will you be rocking the purple this season with Taste Temptation?
Mattene Lipstick
Nocturnal Instincts – mid-tone greyed lavender
Night Blooming – mid-toned blue pink
Seductive – intent vivid purple
$15 US / $18 CDN
Lipglass
Perky – mid-tone shimmering lilac
Good Times – pale mauve
Revenge is sweet – vivid purple
$15 US / $18CDN
Nail Lacquer
For Fun – rich clean purple
Blue Gaze – dark periwinkle
$16 US /$ 19 CDN
False Lashes Extreme Black
False Black – black
$20 US / $23.50 CDN
Fluidline
Macroviolet – deep smoked violet with red pearl
Waveline – navy blue with low level gold pearl
$15 US / $18 CDN
Eye Shadow x 4
Taste Temptation
Look at the Eyes – light violet (frost)
Naval – navy blue (veluxe pearl)
Stay Sultry – deep navy (satin)
Carbon – intense black (matte)
$40 US / $47.50 CDN
Powder Blush
Unconventional – pale shimmering lavender (frost)
Passionately Tempted – mid-tone magenta (satin)
$20 US / $24 CDN
Brushes
211 – pointed liner
$19 US / $22.50 CDN
129 – powder/blush
$35US / $42 CDN
Amanda loves all things yummy, shiny, beautiful, and fun. On any given day you'll find her in the kitchen, walking her dogs, or catching a concert with friends.
Disclosure: This review includes products that were provided by the manufacturer/PR firm for our consideration. For more info, or any questions, please see our disclosure policy.