Resolution Accomplished: Healthy, Happy Hair for the New Year
photos: we heart this
I spent the holiday season abusing my hair: straightening, curling, blowdrying, applying too much product then scrubbing with clarifying shampoo to remove the buildup. Honestly, as I ended the year, my hair was a dry, dull mess.
Then, like a New Year's wish-come-true, a box of DermOrganic Argan oil hair products appeared on my doorstep, and all is right with the world again – or at least with my hair!
DermOrganic's vegan products are sulfate and paraben-free and contain certified Argan Oil, the centuries-old beauty secret of the Moroccan desert. Naturally organic Argan trees, which bloom twice a year, are native only to southwest Morocco. By order of the King of Morocco, Argan cultivation is a women-only business, which helps elevate their economic status – nice to know.
Rich in omega-6, antioxidants and vitamin E, Argan Oil creates a protective barrier against the various abuses to which we subject our poor hair – heat, sun, and wind – and restores smoothness and shine. I know, every hair care line makes lofty claims – in the case of DermOrganic, however, they're true, and then some!
First, I tested the staples of any hair care line, the shampoo and conditioner basics; these two basics helped to restore my hair to its pre-holiday state in no time flat:
Daily Conditioning Shampoo ($16) – With the most luxurious lather I've ever encountered from a sulfate-free shampoo, this combination of mild lipid and amino-acid cleansing creams is designed to moisturize, strengthen and rebuild the hair while it cleans. Safe for color treated hair, the shampoo can multi-task as an all-over cleanser that leaves skin soft and supple. And like all the products I tested, it smells delicious – vaguely fruity, almost like grapes.
See how thick the shampoo is?
Daily Hydrating Conditioner ($16) – Created with a similar mix of good-for-your-hair natural ingredients, this lightweight, pH balanced conditioner eliminates tangles, prevents flyaways, and controls frizz. I could actually feel the tangles leave my hair as I rinsed it! Color safe for everyday use, the conditioner rinses easily, leaving hair comb-able and ready for styling. As with the shampoo, a little goes a long way.
Intensive Hair Repair Masque ($16) – Those with serious damage, will turn to this restorative masque. Safe for everyday use, this intensive deep conditioner revitalizes and repairs damaged hair from the inside out.
After washing and conditioning, I reached for a leave-in treatment to continue to soothe and pamper my hair:
Leave In Treatment ($25) – Just a few drops of this Moroccan Argan Fruit Oil are all I needed to complete my DermOrganic hair makeover. The treatment, designed to restore shine and softness while strengthening brittle hair, absorbed instantly.
My drying time was indeed shorter (DermOrganic estimates hair will dry up to 30% faster), and I ended up with glossy, silky, and not at all over-moisturized hair. The heat from blow drying helps the oil penetrate the hair, although the treatment can be used on dry hair for touch-ups. It can even be added to haircolor, bleach or perm mixture for added shine and spreadability.
Leave In Spray Therapy ($19.99) – Fine haired ladies may want to try this spray version of the leave-in treatment I loved so much. This fine mist spray adds softness, eliminates frizz and improves slip. Also speeds blow dry time, protects the cuticle and adds shine and sleekness.
Finally, I tested one of DermOrganic's styling products:
Volume Foam ($15) – Instead of straightening my wavy hair like I usually do, I tested Volume Foam as directed by scrunching it through my hair, then letting it air dry. It really did amplify the curl; and adds shine, volume and definition. This non-aerosol "enviro-mousse" is alcohol free, with UV protection, and helps maintain your style even after brushing and in humid conditions.
The review team received these other DermOrganic styling products for testing; so make sure to check the comments for their thoughts:
Windswept Defining Whip ($17) – This lightweight style enhancer provides definition to curls without adding dreaded crispness, and controls frizz as well. Adds bounce and movement for smooth, supple hair.
Fast Dry Shaping Spray ($16) – This plus hold, non-sticky, ultra-fine mist contains a proprietary blend of three eco-friendly polymers designed to dry fast and keep hair in place all day.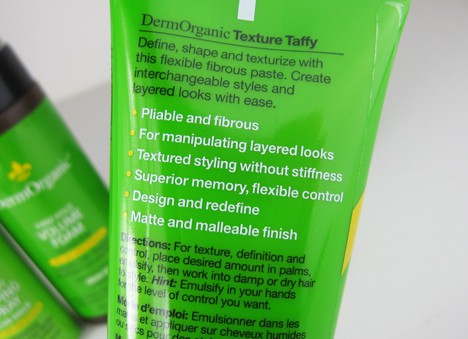 Texture Taffy ($17) – I can't wait to see the comments on this styling aid! Matte and malleable, this pliable, fibrous paste makes it easy to define, shape, and texturize your style.
The fibers within Texture Taffy
Pros:
• Entire line is safe for color treated hair
• Products are vegan and created without animal testing
• Free of anything you might possibly want to avoid, like artificial preservatives, salt, dyes, parabens, Propylene Glycol, sulfates and gluten
• Full of rich amino acids and grapeseed extract, which smooth and soften hair
Cons:
• Might be hard to track down in your local store. I'm hoping this will change! In the meantime, you can visit the DermOrganic online store.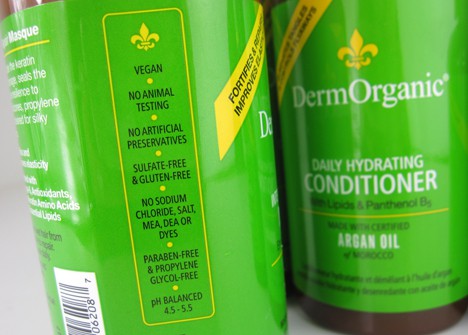 Overall, I was impressed with the quality and effectiveness of the Argan oil infused line from DermOrganic; I'm still loving the natural fruit scent in my shower every morning and best of all, my hair is happy and healthy and ready for a new year.
Readers – what are your resolutions for your hair this year?

Melissa loves road trips, bargain shopping, drive-in movies, lip gloss and rock 'n' roll. She lives in Baltimore with her precious pup Zeus.
Disclosure: This review includes products that were provided by the manufacturer/PR firm for our consideration. For more info, or any questions, please see our disclosure policy.