MAC's limited edition latest is pretty and powerful
photos: we heart this
On New Year's Eve, when I resolved to dedicate my year to fitness of every kind, I never dreamed that MAC's Strength collection would arrive on my doorstep to help me pump up my resolution with maximum muscle. "Flex your femininity," says MAC, "and do it with strength too irresistible to ignore."
The photos in the Strength campaign literally made my jaw drop; featuring an amply-muscled lovely (Serbian figure competitor Jelena Abbou) in black latex haute couture – the image takes for granted that strength and beauty can work together in perfect harmony. The model's face is soft, her arms are pumped and defined, and she exudes the kind of superhuman power (and confidence) that most of us can only dream of.
I love the way MAC presents beauty beyond the traditional definitions, but this unconventional beauty is a whole new world of impact. Here, strength is as much a state of mind as a physical state, and the colors in this collection can make you feel that way, too.
We tested a range of these colors with muscle:
All Woman: Eye Shadow X4 ($40)
Flawless Figure – icy white (veluxe pearl)
Brains & Brawn – dark taupe (matte)
All Woman – light charcoal shimmer with slight green cast (satin)
Black Magique – warm, deep black (veluxe pearl)
Flawless Figure, Brains & Brawn, All Woman, Black Magique
All Woman is a versatile, neutral palette that would work with warm or cool skintones. The four brand new colors create a neutral smoky eye that can be subtle for day, or seriously dramatic with more liberal use of Black Magique, the black veluxe pearl.
Flawless Figure, Brains & Brawn
All Woman, Black Magique
Only Flawless Figure, the bright white, has any serious shimmer; the other three colors are basically matte, blend beautifully, and wear for up to eight hours when used with a primer.
Nail Lacquer ($16)
Triumphant – cool taupe creme
Muscle Tone – milky light nude
Triumphant
I found Triumphant to be a strong, no-nonsense greige creme lacquer that looks great on short nails. The formula was thin and fast-drying, and – most surprising – had great coverage. One coat was almost opaque; two coats was perfection. With a base and top coat, I got a full week of wear before seeing any significant chipping.
Muscle Tone
Meanwhile, according to swatcher Stef, Muscle Tone is streaky and requires a lot of patience (that she doesn't have!)
Lipstick ($15)
Strong Woman – bright magenta (matte)
Firm Form – sheer charcoal black with gold shimmer (matte)
Pink Pigeon – bright hot pink (matte)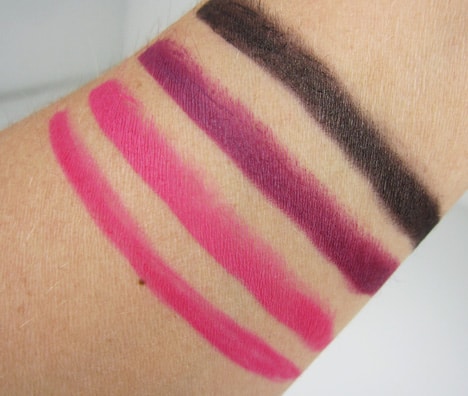 Embrace Me Lip Pencil, Pink Pigeon, Strong Woman, Firm Form Lipsticks
Originally released in the Iris Apfel collection, Pink Pigeon is my dream pink. Described as matte, it went on so smooth and creamy, it almost had a gleam when I first applied it, then settled into its natural matte state. The color is opaque and so bright, it's almost neon. If you're looking for a super-vivid, blue-based pink, Pink Pigeon is extraordinary and surprisingly easy to wear.
I knew Firm Form was going to be my challenge from this collection. Could black lipstick possibly be wearable? First, I tried it straight from the tube, and ended up with clumpy, uneven brownish black lips. Using a brush didn't help to even the coverage. But even though Firm Form didn't really work on me full strength, with a little clear lipglass, the color sheered down into a truly pretty purplish bronze. Worn with gloss, the gold glimmer is more obvious, too.
Lip Pencil ($15)
Embrace Me – Neon pinkish magenta
The perfect companion for Pink Pigeon, we've seen Embrace Me before as a limited edition in several other releases (Iris Apfel, Tour de Fabulous and Beth Ditto). I hope MAC gives in and makes this liner part of the permanent collection, because it's the ideal bright pink: soft, opaque, just this side of neon. I even love it worn alone with a touch of gloss.
As far as recent MAC releases go, Strength is one of my favorites, giving me power to face the new year. I resolve to be fearless, elegant and strong – at least until these mostly limited-edition products run out.
Readers – what MAC products give you the strength to face a new year?
Eye Shadow x4
All Woman
Flawless Figure – Pale warm shimmering white (veluxe pearl)
Brains & Brawn – Mid-tone taupe (matte)
All Woman – Greenish dark grey (satin)
Black Magique – Deep, dark black with warm tones (veluxe pearl)
$40 US/$47.50 CDN
Inner Strength
Lithe Spirit – Palest white pink (satin)
Inner Strength – Light cool mauve taupe (matte)
Fabulous Fit – Mid-tone cool grey (matte)
Heatherbelles – Deep charcoal (satin)
$40 US/$47.50 CDN
Opulash Mascara
Bad, Bad, Black – Black
$16 US/$19 CDN
Penultimate Eye Liner
Rapidblack – True black
$18.50 US/$22 CDN
Kohl Power
Feline – Rich Black
$15 US/$18 CDN
Technakohl Eye Liner
Graphblack – Rich graphic black
$15 US/$18 CDN
Powder Blush
Taupe Shape – Satiny taupe (satin)
Poised – Muted pinkish brown (satin)
$20 US/$24 CDN
Nail Lacquer
Muscle Tone – Pale neutral nude
Triumphant – Mid-tone cool brown
$16 US/$19 CDN
Lipstick
Party Parrot – Bright red pink (matte)
Pink Pigeon – Bright cleanest pink (matte)
Strong Woman – Bright violet (matte)
Absolute Power – Rich red (matte)
Firm Form – Gilded black with gold pearl (matte)
$15 US/$18 CDN
Lip Pencil
Embrace Me – Vivid pinkish fuchsia
Lasting Sensation – Bright coral
$15 US/$18 CDN
Brushes
168 Large Angled Contour
$35 US/$42 CDN
275 Medium Angled Shading
$25 US/$30 CDN
Melissa loves road trips, bargain shopping, drive-in movies, lip gloss and rock 'n' roll. She lives in Baltimore with her precious pup Zeus.
Disclosure: This review includes products that were provided by the manufacturer/PR firm for our consideration. For more info, or any questions, please see our disclosure policy.