We haven't played 3 things in a while, have we? Let's fix that!
During a trip to the drugstore for necessities last weekend (cotton balls and toothpaste) I decided it was time for a little splurge because I'm worth it! And no, this post is not sponsored by L'Oreal. Here are the things I decided were a must-have.
• Who's got two thumbs, a raging girl crush on Kate Moss and an obsession with bright coral-ish lipsticks? This beauty blogger! (I'm using my thumbs to point at myself.) So how could I resist the new-ish Rimmel Lasting Finish Matte by Kate Moss lipstick? 110 is a bright orange-red…
…that's pretty darn close to a MAC limited edition dupe! Shown above from left are MAC Sail la Vie, Rimmel by Kate 110 and MAC Party Parrot. Pretty close to Sail La Vie, no?
• A long time fan of nail stickers (seriously, I reviewed and fell for them in January 2011!) I'm excited to see multiple brands are doing them now. I can hardly wait to get L'Oreal Colour Riche Nail Lingerie in Something About Her on my nails.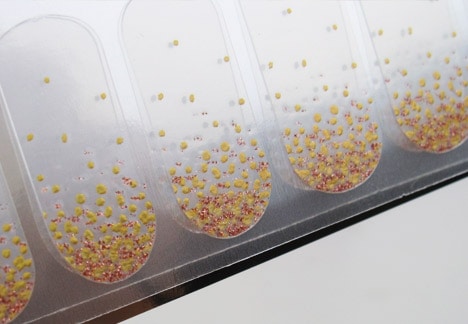 They have a smattering of pink glitter at the bottom of the nail with a metallic gold irregular dot gradient. I'll be applying these for our fancy pants Beverly Hills charity event this weekend!
• Considering I can't get a comb through my wet hair without a leave-in conditioner or detangler, I hardly consider L'Oreal EverCreme Nourishing Leave-In Spray a splurge. And I have to say, I may have a new favorite on my hands! It smells insanely good (not too fruity, herbal or flowery…just delicious), doesn't weigh my hair down and really leaves it feeling soft.
Ok readers, your turn – tell us the last 3 things you bought at a drugstore…