MAC proves that all that glitters is golden on the eyes!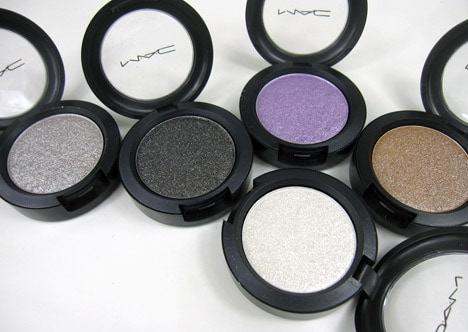 photos: we heart this
Glitter, glimmer, sparkle, shimmer, oh my! There are so many adjectives to describe the degree of glisten in shadows these days sometimes I feel the onus of being true to the most awesome shadows among us. Let me start by saying that MAC Pressed Pigments ($25 each) are pretty awesome.
It's really not enough anymore to say a shadow is "glittery" or "sparkly;" these were once terms for kindergarten arts and crafts or teen queen play makeup. Today, sparkle is for grown ups as is evidenced by the dreamy, creamy fine powder pigment of MAC's pressed pigments, with enough reflective shine to make polished metals cry jealous tears.
We heart this was fortunate to receive five of these twelve envy-worthy shades for review:
Enlightening — Deep Silver
Amethyst — Purple with silver undertones
Day Gleam — High pearl powder in MAC's NC30 shade
Jet Couture — Charcoal black
Angelic — Off White
Of these five, I got my hands on Enlightening, Amethyst and Jet Couture. These were not what I expected. In the pan these reminded me of Urban Decay's Stardust shadows, a versatile shadow with buildable color and sparkle that ranged just below a glitter to around a glisten. I loved these shadows but, in truth, they ain't got nothing on MAC's Pressed Pigments.
First, MAC's Pressed Pigments are the buttery, velvety-type consistency that most of us high-end beauty shadow aficionados have come to expect. That creaminess of consistency means a finer mill of powder that snatches up every available spot meant to be covered. It also means that the color in the pan is pretty much the color you will see on your lids.
Pressed pigments – Enlightening, Charcoal Black, Amethyst, Day Gleam, Angelic
These shadows can be applied with different methods with varying degrees of effectiveness. Stef suggested using fingers to press the shadow onto the lid would be most effective. I, of course, bow to Stef's shadow wisdom and used this method most frequently.
Using my finger to press the dry pigment onto my eyelids can be imprecise but is highly effective at depositing the most shadow with the least fallout. These shadows are also highly blendable so using a stiff yet soft-bristled brush to smooth things over after the finger application works marvelously (MAC suggests their 215 Medium Shader Brush).
Using a brush to apply these pigments dry will result in fallout. The pigment will still be intense rather than buildable but you'll have it on your cheeks and chin. I did this a time or two but not without a damp towelette and some face powder.
Working with the Pressed Pigments wet is another great option for application. Whether it is with a wet finger or a wet brush, the intensity of the already bold pigment is magnified and the fallout is nullified. The shadow goes from deep metallic to glossy, almost patent-leather-like shine. This is the grown-ups' answer to arts and crafts: foiling for the eyes.
A closer look at Enlightening and Charcoal Black
And Amethyst, Day Gleam and Angelic
There is something almost intrinsic about women's attraction to sparkle and shine. MAC pressed pigments are for those of us who turn our head at every shiny object and stop to contemplate every sequined dress and sparkly cocktail ring. Isn't that all of us?
Readers – Is your love of sparkle innate? If so, your love of MAC's Pressed Pigments must be preordained.
Pressed Pigment
Angelic – Off white
Light Touch – High pearl powder in W10 shade
Flicker – Pastel yellow
Blonde Streak – Light cream
Day Gleam – High pearl powder in NC30 shade
Enlightening – Deep silver
Blue Willow – Light icy blue
Sweet Acting – Mid-tone pink
Amethyst – Purple with silver undertone
Smoky – Deep silver blue
Deeply Dashing – High pearl powder in NW55 shade
Jet Couture – Charcoal black
$21 US/$25 CDN
Sherri is co-author of What Would You Do With This Room?
My 10 Foolproof Commandments to Great Interior Design, and of course, a wht writer!
Disclosure: This review includes products that were provided by the manufacturer/PR firm for our consideration. For more info, or any questions, please see our disclosure policy.