We're just days away from the most important event in award season; the Oscars. So please excuse us, but we're a bit red carpet giddy. How can we not be? The we heart this headquarters is mere blocks away from it!
Sadly, we have yet to walk the red carpet (if there's ever a category for 90s game show appearances, we're a shoe-in!) But that doesn't mean we can't partake in a bit of red carpet beauty. Enter the latest edition of the Glam Beauty Board.
Here are some of the product that got me red carpet ready…
Whether you're a Kardashian fan or not, there's no denying these gals are always ready for their close up. I think the secret lies in their lashes; their huge come-hither lashes. The kind of look you can only achieve with falsies like the Khroma Beauty Side Long Glance Lashes
($10.49).
These have a base of fine lashes, then thicker lashes are placed in a criss cross pattern throughout, making for one fabulous pair of fauxs. The bonus is the two shades of shimmery brown eye shadow included; one bronze, one milk chocolate; that accent the lashes nicely. I added the bronze to the inner corners of a smoky eye for a bit of pop.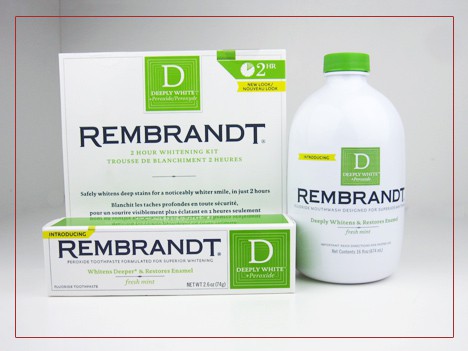 You're going to be doing a lot of smiling on the red carpet. But if your smile isn't bright you're never going to shine. Rembrandt has a trio of products to help with that.
To get you bright, there's the Deeply White + Peroxide 2 Hour Whitening Kit
($22.99). This kit is designed to whiten your teeth in two hours through its active ingredient, Hydrogen Peroxide.
The process works by the applying the whitening gel to upper and lower trays (which you first form to your teeth by soaking in hot water). The trays are worn for 20 minutes, you take a 10 minute break, then add additional gel and repeated the process three more times (it takes a total of two hours.)
Obviously you've got to commit some time for full results. But it's an easy enough thing to do while doing something else at home. Like most bleaching, I did feel a bit of sensitivity afterwards. But it dissipates quickly and was nothing I couldn't handle for the noticeable whitening it created.
To keep you bright, Rembrandt also offers two products in Fresh Mint flavor; Deeply White + Peroxide Whitening Toothpaste
and Deeply White + Peroxide Mouthwash
(both $7.29), also with Hydrogen Peroxide. While the toothpaste is great, it's the mouthwash I really love. The minty rinse slightly bubbles, leaving your mouth feeling fresh and looking bright. Rather than seeing the extra step as a chore (which I normally feel with ordinary mouthwash), it's actually pleasurable and instantly rewarding!
For my look, I needed something to play up my freshly whitened smile, but needed to keep it simple with my smoky eyes. Enter Bite Beauty Cinnamon Plumping lip oil

($22). That's right, oil! Imagine a liquefied Red Hot and you've got it. Spicy cinnamon bark with French olive oil, pure jojoba, castor seed oil and argan oil give lips a tingling plump and slight flush that's perfect with a bold eye.
I must be a tingle-addict because I am slightly obsessed with face products that produce them too. The best face tingle comes from a peel, so I was delighted to see the new AHA Brazilian Peel with Advanced Renewal Serum
($89) in my package. This is their classic peel; four professional-strength peel applications; packaged with a serum that feels more like a lotion, going to work on your freshly done face to seal in moisture and help repair existing skin damage.
So, how can you do a professional strength, 30 percent glycolic acid peel at home, you ask? (I did!) It's dual chamber applicator holds the glycolic peel on one side and an auto-stop neutralizer on the other. You mix them together in your hand (where you can feel the product warming), apply and the action is automatically stopped in 10 minutes. Genius!
Peels can do pretty amazing things: firm and tone skin, and reduce fine lines, wrinkles, blemishes and uneven skintone. I'm only one application in, but the smoothness this gave me with just one use was very impressive (even if the tingle was minimal, which may be good news to most!)
Everyone knows you need some bling on the red carpet. The R.J. Graziano "Star Attraction" Large Stone Medallion Drop Earrings ($39.95) provide about as much bling one can find in a diamond-less accessory! A gold toned circular base with hematite looking stones, these earrings catch the light in magical ways and could work with casual outfits or designer gowns.
Having just cut my hair, I didn't have quite as much hair to work with the Remington Waving Wand ($24.99) as I would have liked. But the clampless ceramic wand heated up super quick and did create some subtle waves, even on my short hair.
No one's going to ask "who are you wearing?" if all they see is a big ol' flaw (from shirt gaps to falling bra straps). Mask them with Hollywood Fashion Tape
($8.89), the kind of product that once you have you'll never want to be without again!
Finally, whether it's a long day at an award show or just a long day at the office, let's face it – sometimes you're just too lazy to wash your face (guilty). A good removal cloth on the bedside stand is a skin godsend! I LOVE these Josie Maran Bear Naked Wipes
($12). Not only because they smell delicious (thanks to cucumber, argan and grapefruit oils) but because a portion of all sales go to the NRDC's Polar Bear SOS initiative to help save them for becoming extinct.
Tell us we heartsters, are there any red carpet must haves on this list for you?
Stef is many things. Amongst them: co-editor of we heart this, graphic designer, Philly girl in the California desert, borderline hoarder and a hardcore beauty junkie.
Disclosure: This review includes products that were provided by the manufacturer/PR firm for our consideration. It also may contain an affiliate link, a link that gives us a small commission if you purchase the item. For more info, or any questions, please see our disclosure policy.