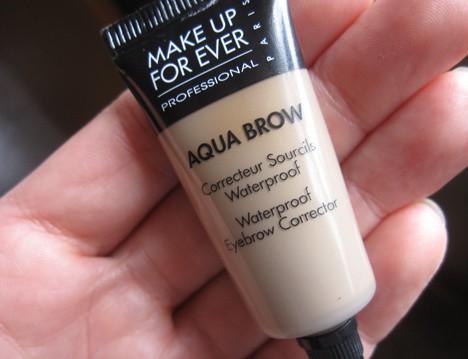 I have met my Holy Grail brow product. And it is called MAKE UP FOR EVER Aqua Brow
. I'll be gushing soon…
Question of the Week – What's your current favorite face powder and why?
Answer: Honestly, I don't love any of the powders I'm using right now. I'm excited to hear what your favorites are!
Here's what's going on with the league…
Prime Beauty – dishes on the new Laura Mercier Smooth Creme Lip Colours–there are 14 of them, see two of her favs!
Phyrra – shares several brands from The Makeup Show LA. Check it out!
Vampy Varnish – shows you several options for bright lips in the hotter Spring and Summer months!
we heart this – Stef shares one of her favorite bright eye shadow palettes, AND you can get it for under 5 bucks!
Beauty Junkies Unite – Curious if the new Miracle Blur Instant Line Smoother from L'Oréal Paris really works or not? Check out this review with before & after photos, then decide for yourself!
Clumps of Mascara – tested a makeup remover that just wasn't up to par. In fact, it just, well…it sucked.
EauMG – The 1920's are going to be a big trend this year thanks to The Great Gatsby movie coming out this spring. Instead of trying a perfume inspired by flappers, try one actually worn by flappers! Victoria reviews her favorite carnation perfume.
Gouldylox Reviews – Love the YSL Rouge Pur Couture lip stains? Don't miss these at the drugstore – some of the colors are an amazing dupe!
Lipglossiping – deploys her taste buds as she gets to grips with Jo Malone's limited edition Sugar & Spice fragrance collection.
Nouveau Cheap – has been testing the new CoverGirl Outlast Stay Fabulous 3-in-1 Foundation for a while, and finally has her verdict.
Pink Sith – has three of the new NARS Satin Lip Pencils to share with you and a question about lip swatches
Guest Post of the Week, as chosen by Prime Beauty – I don't have a discerning nose but love perfume so I go to Cute and Mundane to read fragrance reviews. Dovey doesn't only review fragrances though, she's all about the makeup too.
Readers, what's your current favorite face powder and why? (Help a blogger out!)