This makeup union of the snake is on the climb up our beauty charts!
The Chinese zodiac designates 2013 as the Year of the Snake, bringing steady progress and attention to detail. Those born under the Snake sign are rumored to be stylish, fashionable and possessors of exceptional taste. MAC's new Year of the Snake collection pays homage to this new year of beauty with exotic colors for eyes and face.
Year of the Snake is defined by a vibrant, shimmering palette encased in exclusive reptile-style packaging. Eyes, lips and face are all given the Snake treatment, and we received the full range of Eye Shadows and the Beauty Powder portion of this release.
First, the packaging… If you find it hard to give up beautiful, empty boxes, Year of the Snake will be trouble for you. Each standard black MAC box comes with a metallic-printed slipcover embossed with swirls of snakey color. I wish this design was printed on the products containers, too, but they are the standard black MAC plastic.
Inside the packaging, though, there is a surprise. Flip the lid, and behold… a reptilian design is embossed right onto the product. It's almost too beautiful to mar with a brush, but I'm glad I did.
The Year of the Snake contains four limited edition Large Eye Shadows ($21), all of the shades have been seen before in other collections (although not necessarily in this larger-sized container):
Once Upon a Time (metallic vanilla) – a pigment-rich veluxe pearl neutral that is versatile and blends perfectly. The color is close to my skin tone, but better – an opaque, slightly frosted neutral beige that works well as a highlighter or all-over color.
Aztec Brick (frosted true copper) – another veluxe pearl shade that gleams like a new penny and blends easily. Depending on the heaviness of application, Aztec goes from a dense metallic to a sheer wash of glimmer. The color has serious orange undertones and in its unblended form is extremely pigmented and dramatic.
Carbon (intense black) – a super-dark matte black. I found it works best used as a liner. With a little work, it can be blended into the veluxe shades to add a dark, smoky look.
Altered State (deep frosted blue purple) – see the comments to read what the tester has to say about this veluxe pearl shade.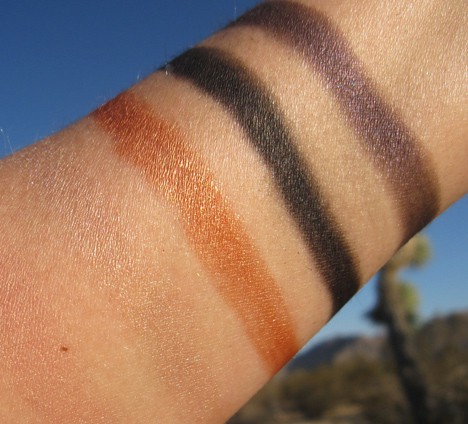 Once Upon a Time, Aztec Brick, Carbon, Altered State
I love the oversized pans and the embossed snake design, and on top of this, the veluxe shadows are easy to work with. With a primer, I'm getting a full eight hours of wear with very little fading.
I also tested Year of the Snake Beauty Powder ($24) in Shell Pearl.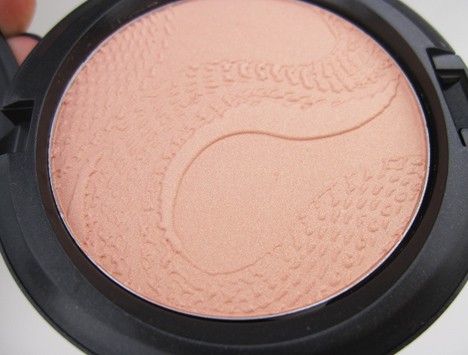 I've read about MAC's cult-favorite Beauty Powder, but this was my first opportunity to really try it, and, wow! I understand the devotion. Described by MAC as "delicately tinted in a pale peach with gold pearl," Shell Pearl goes on as a soft, velvety wash of subtle color, and I can't get over the smooth texture.
I've been using it as a daytime blush or an anytime highlighter, even as an overall finish if I'm in the mood to really gleam. The color might be too light for darker complexions, but for brightening up my pale winter skin, it's the prettiest thing ever!
I understand that Shell Pearl is actually a repeat from MAC's Give Me Liberty of London collection, but with its shimmery mystery, it works perfectly in the Snake collection. Of course the Snake pattern is embossed in the powder of this limited edition item.
Shell Pearl – indoors
Shell Pearl – in sunshine
Chalk up another hit for MAC – after sampling a taste of Year of the Snake, I feel ready to shed my winter doldrums and slither into the unexpected.
Readers – Are you celebrating the Year of the Snake with a few purchases from MAC's latest collection? What are your must-have pieces?
Lipstick
Freckletone – Neutral peach (lustre)
Plumful – Blossoming rose-plum (lustre)
Cockney – Sheer yellow red with multidimensional pearl (lustre)
$15 US/$18 CDN
Beauty Powder
Shell Pearl – Pale peach with gold pearl
$24 US/$29 CDN
Powerpoint Eye Pencil
Engraved – Rich black
$16 US/$19 CDN
Zoom Lash
Zoomblack Rich black
$16 US/$19 CDN
Large Eye Shadow
Once Upon a Time… – Metallic vanilla (veluxe pearl)
Aztec Brick – Frosted true copper (veluxe pearl)
Altered State – Deep frosted blue purple (veluxe pearl)
Carbon – Intense black (matte)
$21 US/$25 CDN
Pigment
Brash & Bold – Bright magenta
Push the Edge – Deep bright purple with pearl
$21 US/$25 CDN
photos: we heart this
Melissa loves road trips, bargain shopping, drive-in movies, lip gloss and rock 'n' roll. She lives in Baltimore with her precious pup Zeus.
Disclosure: This review includes products that were provided by the manufacturer/PR firm for our consideration. For more info, or any questions, please see our disclosure policy.