The Plums and Berries selections are deep fruit shades with a powerful punch!
I go through many phases of lipstick love, spending one month obsessed with nudes, and then moving into full on color mode the next. I'm sure it correlates with the seasons too because, as spring approaches my wardrobe is ready for a punch of color and my lips tend to follow suit.
Milani is well aware of this and pulled out the big guns with their latest Milani Color Statement Lipstick collection – a pigment packed line that will leave anyone obsessed with color drooling.
The berry and plum shades range from classic mauves to edgy violets. And as I pulled each one out to try, I was amazed at all of the beautiful hues. Part of 38 different shades to choose from, we took a look at the reds, oranges, pinks and corals in an earlier review.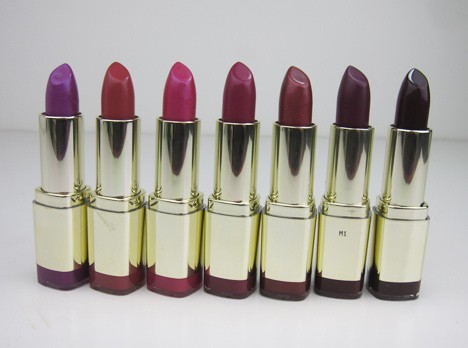 Violet Volt (34/metallic) – metallic fuchsia
Plumrose (17/cream) – medium rosy mauve
Raspberry Rush (18/metallic) – bright cool raspberry
Uptown Mauve (20/cream) – cool mauve berry
Chilled Brandy (22/shimmer) – plummy brown shimmer
Sangria (21/matte) – bright berry
Black Cherry (24/matte) – dark wine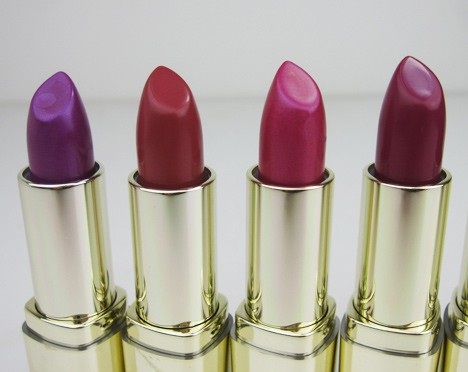 Violet Volt, Plumrose, Raspberry Rush, Uptown Mauve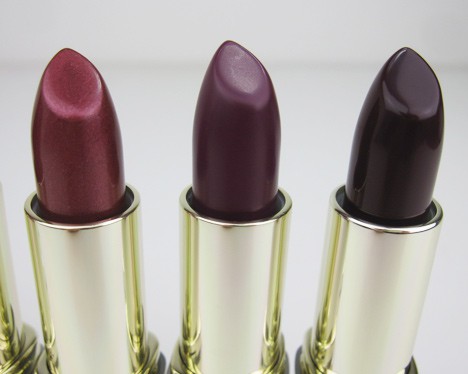 Chilled Brandy, Sangria, Black Cherry
My favorites have to be Chilled Brandy which is a gorgeous, shimmery mauve, and Plumrose, which is exactly that, a pretty plum rose. They are very versatile and have a nice pop of color, without being too dramatic for work.
Some of the more intense shades include Violet Volt, a shocking metallic purple, with a 80's punk vibe, and Raspberry Rush, a bright metallic pink that's super hot! With two coordinating lipliners, Brandy and Fuchsia, this color collection has you covered.
Milani Color Statement Lipstick – Violet Volt, Plumrose, Raspberry Rush, Uptown Mauve, Chilled Brandy, Sangria, Black Cherry
Milani touts these lipsticks as being "one stroke" and they really are… you'll be surprised how much color coverage you get with just one swipe across the lips. They have that same fruity scent, I still can't decide if it's more grape, or watermelon, as mentioned in the previous post, but it's not at all overpowering.
A closer look at Violet Volt, Plumrose, Raspberry Rush and Uptown Mauve
And Chilled Brandy, Sangria and Black Cherry
At $5.49 a pop, Milani's formula is one of the best I've tried… creamy and smooth, it moisturizes lips, and lasts awhile. This lipstick made it through my full day at work, and then some. It's one of the few lipsticks able to do that without drying my lips out, which is a big plus!
Pros:
• Great price
• Creamy formula
• Huge variety of colors
Cons:
• Seriously can't find one!
So, if you're looking for a punch of color and a wide range to choose from, hit the store and look for Milani's Color Statement Lipsticks. What's even better, is they are widely available at stores like CVS, Walgreens, Target, Walmart and Kmart, so you shouldn't have any trouble finding them!
Readers and testers – are you ready to make a statement this spring with Milani's Color Statement Lipsticks?
Erin is a secondary science teacher who adores makeup and fashion. She spends her free time pursuing her other passions which include cooking, antiquing, and decorating.
photos: we heart this
Disclosure: This review includes products that were provided by the manufacturer/PR firm for our consideration. For more info, or any questions, please see our disclosure policy.