Mad Men meets classic Thai flavors in this cocktail recipe
The return of Mad Men has conjured up some major cocktail fever. When Episode 3, The Collaborators, happened to show my own favorite mid-century cocktail glasses, I took it as a sign.
The Tom Khallins is a recipe I have played with a few different versions of, and this particular one is an easy way to whip up a cocktail incarnation of the Thai coconut-based tom kha soup. I used the classic Tom Collins recipe as inspiration – albeit with a few generous liberties.
There's one thing you need to know. It's white. White in a way that you aren't used to seeing in a cocktail. Don't let the color throw you off. This drink isn't cloyingly sweet; it's actually quite light and refreshing. Yep, it's a white cocktail. Don't knock it 'til you try it!
The Tom Khallins Cocktail Recipe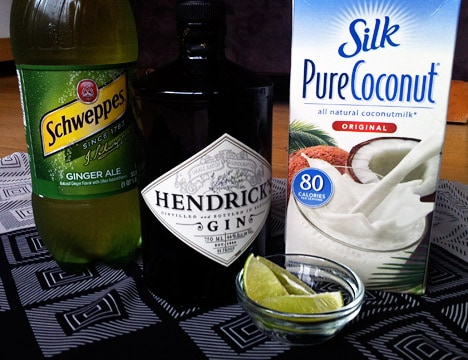 Ingredients:
• 1 oz Hendrick's gin
• 3 oz Coconut milk
• 1 1/2 oz ginger ale
• Small lime, cut into wedges
• Ice
Note: I tend to like using some strange ingredients in my recipes, so I thought I would take it easy on you guys this time. The weirdest thing would be coconut milk, which you can find with other milk substitutes like soy and almond in your grocery store's refrigerated section. Just don't go for the coconut milk from a can that you use in curries though, okay?!
I know, I know…you're thinking, "Great, something specific I need to buy." But, you can find other uses for it as well. I started using milk substitutes for everyday use because the real deal wasn't going over so well, and eventually settled for the coconut version because it 1) was delicious and 2) went really well with cereal. It has also been pretty successful in crepes and baked goods. So don't think of it as something you have to buy just for a cocktail. It's so much more useful than that.
Directions
1. Fill a tumbler and a cocktail shaker with ice.
2. Pour the liquid ingredients into the shaker, then squeeze one lime wedge in as well. Shake well.
3. Pour the contents into the tumbler and garnish with another lime wedge.
Tip: I recommend my favorite gin, Hendrick's, for this (and all cocktail) recipes. It's not juniper-forward like a lot of gins, so you won't end up with a pine tree flavored cocktail. Swap out at your own risk!
Readers – what are your favorite Mad Men era cocktails?
Heather blogs at foodforfunandpleasure and is a spice mistress extraordinaire at the Spice Station in Silverlake, CA.
photos: heather for we heart this