Happy Weekend weheartsters! As Eucerin Brand Ambassadors, this week Stef has been on an exciting trip to the Eucerin headquarters learning all about skin care and meeting up with fellow beauty bloggers!
She'll be back soon to tell us all about her adventures and new-found knowledge. But she sent us this peek of the Eucerin command center – and my eye was instantly drawn to that row of gorgeous looking Eucerin baskets. Stay tuned for all the details on what's inside!
Onto The Lipstick League: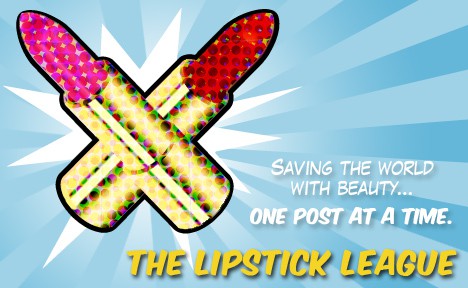 Question of the Week – When it comes to nail care, how often do you moisturize your cuticles? Do you prefer balms, creams or oils to get the job done?
Answer – I've got pretty decent cuticles and they don't need a lot of pampering. But when they are dry and ragged I always turn to my beloved Rosebud Salve. The sweet smelling balm sinks right into the skin and cures the area in no time.
we heart this – How could OCC improve upon their beloved Lip Tar? By adding a see-thru, glossy look to their original "hyper-opacity" formula and launching the Lip Tar Stained Gloss!
Beauty Junkies Unite – See why Amber thinks the Perlier Italian Lemon Sorbet Crackling Ice Body Water is literally the coolest new body product for summer!
Clumps of Mascara – can't get over how awesome Avon's newest mascara is. It's unlike anything you've ever seen before!
EauMG – shares one of her favorite natural finds of 2013 (so far). It's Phoenix Botanicals Night Bloom perfume oil, an intoxicating white floral with vanilla.
Gouldylox Reviews – This braid tutorial is so easy anyone can do it!
Lipglossiping – asks the all important question: Salt or Sugar? Is your exfoliator scrubbing you up the wrong way?
My Beauty Bunny – Too hot and humid to wear foundation? Jen checked out Too Faced's Tinted Beauty Balm (BB) Cream and found it's the perfect lightweight alternative for summer.
Nouveau Cheap – If you haven't seen the Dip-It from Target yet, it could be a game-changer for you (and it's only $2.50).
Pink Sith – Sometimes you just have to buy a nail polish because, KITTY!
Prime Beauty – has a question for you. Is there a foundation that provides a flawless finish AND substantial sun protection? Why yes, thanks for asking. Avene High Protection Tinted Compact SPF 50.
Phyrra – shows you how to be Naturally Chic with Milani Shadow Eyez Pencils and Liquid Eye Liners.
Guest Post of the Week, as chosen by we heart this – We love Beauty Info Zone for their straightforward and informative reviews on all things beauty, and we check in every week for The Sunday Scoop, which always includes a list of the very best beauty giveaways on the webs.
Readers – What is your favorite cuticle mositurizer? And what adventures did YOU have this week?