Eat, drink & be merry on the 4th with these wht tested recipes!
A wht classic – Corn, Avocado, and Tomato Salad
It's
best of week
here at we heart this! We're celebrating Independence Day by taking a little break over the quintessential summer holiday. So this week we'll be bringing you some popular summertime posts. If you're hosting a July 4th party or need to bring a dish to a potluck, we've got a plethora of dishes and drinks that will have everyone asking for seconds! ~ wht
The 4th of July is almost here, and you know what that means – it's time to eat, drink and be merry! And we're here to help. We've rounded up a few of our most beloved summer time recipes all in one handy spot. Try one, or two (or all) of these time-tested recipes to wow your friends and family on the big day.
Salads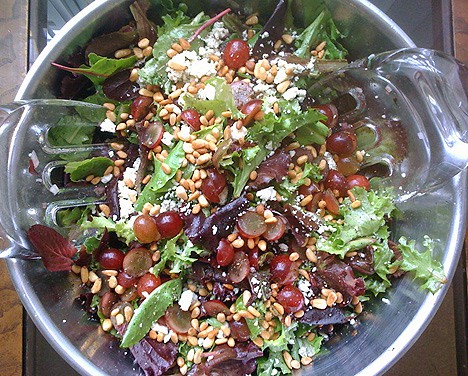 Oak Leaf Lettuce Salad – Make sure to get some fresh veggies into the day with a cool, crisp salad. One of our favorite "fancy" salads is this winner featuring pine nuts, red grapes and Cabrales cheese with a sherry vinegar & honey dressing.
Corn, Avocado and Tomato Salad – It's not a summer party unless Stef contributes this salad that highlights the freshest veggies of the summer – corn, avocado and cherry tomatoes. It's simple to make and always a crowd favorite.
Chicken, Bacon and Blue Cheese Chopped Salad – Somehow salads taste even better when all of the ingredients are finely chopped. This cheesy, meaty salad only gets tastier when it's tossed with a Balsamic Scallion Vinaigrette.
Sides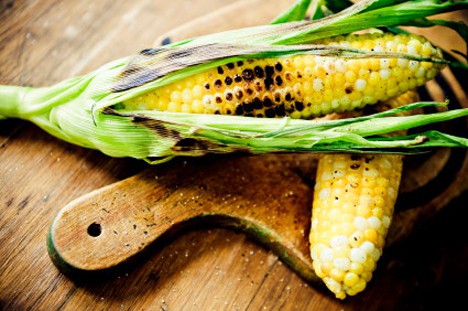 Corn on the Cob with Kick – Spice up the traditional corn on the cob with a few of these corn topping options, including Chipotle Butter, Chile & Parmesan, Pesto or Cayenne & Lime.
Summery Mac & Cheese – The beauty of this recipe for the cheesy all-American favorite is that it's just as delicious served piping hot or cold after a few hours (or days) in the fridge.
Blue Cheese Potato Salad We just shared this unique twist take on the classic summer potato dish, but wanted to reminded you that it would make the perfect side this 4th of July.
Entrees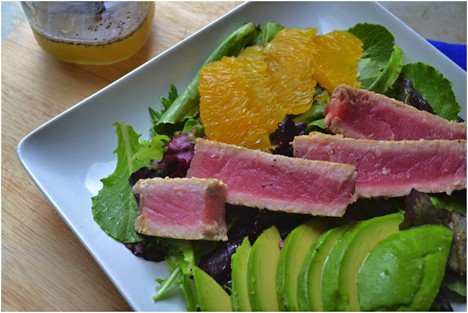 Sesame Crusted Ahi Tuna with Avocado & Orange – Step it up a notch and impress your guests with this simple yet statement making entree salad served with a homemade Lemon-Honey-Poppy Seed Dressing.
Pomegranate & Chipotle Baby Back Ribs – We show you how to go "low and slow" to get these mouth watering, tender Baby Back Ribs, then top them off with a yummy Pomegranate & Chipotle Sauce.
Penne Pasta Caprese – For the vegetarians in the crowd, serve this filling Pasta Salad chilled and topped with a dusting (or a heaping) of Pecorino Romano cheese.
Burgers
Juiciest Burgers Ever – We decided hamburgers deserved their own category, and if you love yours big and juicy, here's your recipe. In fact, we've declared these "the world's juiciest." The secret is in the paste of bread and milk that's added to the burger mixture.
Apple Cheddar Turkey Burgers – You could also fancy up your burger with this recipe that calls for an American Thanksgiving staple – cranberry sauce. It adds a unique and tangy taste, and when topped with cheddar cheese and apple slices the result is glorious.
Spicy Cheese Stuffed Burger How do you make a burger even better? Stuff it! This twist on the 'Juicy Lucy" combines cream cheese, horseradish and mustard for a stuffed burger with kick.
Cocktails
Blenderless Pina Colada – Between the grill and the guests, who has time to spend over a blender? Here's a way to serve the summertime favorite without using a blender. Add some pineapple slices, shredded coconut and a cherry for garnish and your guests will feel as if they are lounging on a tropical island.
The Rizzo – This cocktail was created by our own Stef and it makes a fabulous summer evening drink. Featuring DRY cucumber soda, rum, watermelon and mint; it's light, airy, sweet and completely refreshing.
Party Palmers – We've declared this the "official drink of we heart this", as it's become a standard at all of our get togethers. It's super easy to make and even better can be mixed in large batches ahead of the festivities. It's made with a few summer staples; ice tea, lemonade and vodka, and is always the hit of a party.
Readers – what's on your menu for the 4th of July? Share your Independence Day must haves in the comments.
photos: we heart this
Tyna, co-founder and co-editor of wht, worries about becoming a crazy cat lady, reads at least a book a week, checks in at a Flyers fan forum every morning and is forever (some say obsessively) organizing her closets and drawers.