We've got your Beach Blanket Bingo Party Covered
Is it the warm weather that tells me summer is nigh? No, I live in Southern California; it's always that way. Is it the release of the big summer blockbusters that ushers in summer for me? No, I never get much further than my Apple TV. For me, summer is announced when I receive my yearly batch of self-tanners and bronzers in my we heart this stash of review goodies. I'm delighted that this year my stash was brought to me by Bare Escentuals, my ever-present favorite makeup brand.
If you all don't know BE like I know BE, let me give you a brief overview. Bare Escentuals has several lines. Bare Minerals is their most popular line featuring their famous original loose powder mineral foundation made with natural earth minerals.
In addition to the classic foundation (as well as shadows, blushes, lipsticks and more), Bare Minerals also includes skincare and a READY line of pressed makeup made of sea minerals that hydrate and calm the skin. With the tanning and bronzing stash I received, I'll be talking about a little bit of all of these from the Bare Minerals line.
First up are their self-tanners for both face and body. The Bare Minerals Faux Tan Body Sunless Tanner ($26) comes in a fairly generously sized 6 oz. pump container. The pump is easy to operate with messy hands, a plus for any self-tanner.
The product itself is dark with a gel-like consistency that is absorbed into the skin quickly, it's immediate darkness telling you where you've applied (and where you missed) for a streak-free glow. Its quick absorption means no transfer to your clothes. I do, however, recommend wearing gloves when applying this if you don't want tan palms – it doesn't come off easily.
The color is golden brown, not orange and the scent is vaguely floral and not at all unappealing. The color is supposed to last 5 to 7 days and it does, fading gradually and naturally as a real tan would. This is a second formulation of a much-loved original Faux Tan; the first had parabens while this version does not. A mineral copper complex helps prolong the tan and aloe vera hydrates the skin.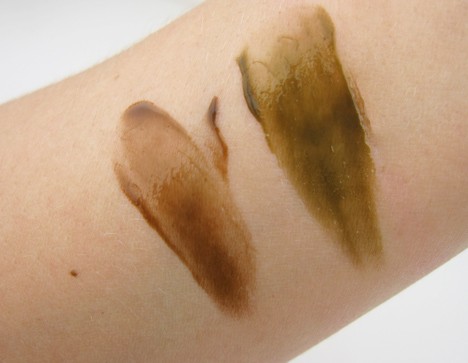 Faux Tan Face and Body (from left)
The Bare Minerals Faux Tan Face Gradual Glow Sunless Tanner ($24) has most of the same attributes as the Faux Tan Body (also paraben-free) with special plant emollients to keep moisture in without clogging pores. Also natural looking and easy to apply, the face formula comes in a wonderful 1.7 oz. soft tube pump so that not a bit of the tanner is wasted.
So now you got your tan and it's time to make that face beach party-ready! You will now need SPF (the self tanners don't have them) and Bare Minerals Advanced Protection SPF 20 Moisturizer for Combination Skin ($30) can do the trick.
This moisturizer is lightweight, without parabens or synthetic fragrances or artificial oils, owing its power to its ActiveSoil Complex containing antioxidants and minerals to defend against environmental damage with balanced moisture.
Advanced Protection SPF 20 Moisturizer in Sheer Tint – swatched and blended
Advanced Protection SPF 20 Moisturizer come in one shade; Sheer Tint, and I found it a luminizing moisturizer that evens skin tone and provides a healthy glow, while also getting in my daily SPF protection. If the sheer tint isn't a match for you, there is also a colorless Advanced Protection Moisturizer.
Can't quite say "no" to makeup, even with all the aforementioned? Me either — if it's a party we're talking about. Bare Minerals' famous All-Over Face Color in Warmth ($19) is perfect for newly faux-tanned skin, adding just a bit of dimension when using this matte powder/bronzer all those places the sun naturally hits.
I've also used Warmth to mix in and darken my foundation a shade or two this time of year. One shade of Warmth works for all skin tones (or so they say; I'd like to hear about that from you all). Be mindful not to use too much of this loose powder as a little goes a very, very long way (especially for the quite fair).
Ready Bronzer The High Dive
If you're in the forty-plus category like me, you may prefer the anti-aging benefits of the READY Bronzer ($24) instead. The SeaNutritive Mineral Complex in all the READY line provides antioxidants galore while increasing skin's firmness (after four weeks of use).
READY Bronzer in The High Dive, All-Over Face Color in Warmth – swatched
This pressed bronzer comes in three glorious shades of increasing brown-ness: The Skinny Dip, The High Dive and The Deep End. The High Dive was the perfect shade for my newly faux tanned face. Without the tanner, I think I'd need to Skinny Dip. How great that the READY collection provides shades of bronze!
READY Bronzer in The High Dive, All-Over Face Color in Warmth – blended
Well folks, Bare Minerals' got me covered for all my tanning and bronzing needs this summer. Now where's that party?
we heartsters – Do you bronze it up in the summer time with artificial means? Or do you prefer paler shades and big hats? Or (gasp/horror/gasp) do you butter up and bake the old fashioned way? Tanning aside, do you wear makeup to a beach party?
photos: we heart this, swatches shown on NC 25/30 skintone
Disclosure: This review includes products that were provided by the manufacturer/PR firm for our consideration. It also contains an affiliate link, a link that gives us a small commission if you purchase the item. For more info, or any questions, please see our disclosure policy.
Sherri is a writer, dog lover, old movie fanatic, history detective, political junkie, fashion pundit and social media consumer advocate. "A fancy dinner and expensive champagne are better than writing a rent check any day of the week."
skin tone: NC 25
skin type: oily/sensitive
favorite beauty product: anti-aging anything
Latest posts by sherrishera