Speed your way to a tropical bronze glow with tarte
I love a good fake glow. The power to whisk away winter whiteness with just a few dabs of color never fails to astound me. But faux-tanning has a dark side, too… or, should I say an orange side. There's nothing sadder than thinking I look believably "tan" before going out in the sunshine and realizing I'm more tangerine than bronze. With tarte Rainforest Glow and Park Ave. Princess, there's no need to worry your glow will be anything less than realistic – and the results are temporary for maximum versatility.
Before we get to their latest, let me say that one of the many reasons tarte is a longtime favorite of we heart this is the company's commitment to providing top notch products in an eco-and-animal-friendly fashion. You can count on anything tarte offers to be formulated without parabens, phthalates and synthetic fragrances.
The Rainforest Glow Instant Matte Waterproof Body Perfector ($34) is billed as a "nourishing body perfector," and is housed in a big flat tube for easy application. Rainforest Glow uses tarte's renowned maracuja oil – a pure source of rich vitamin C and essential fatty acids – to help hydrate and brighten the skin.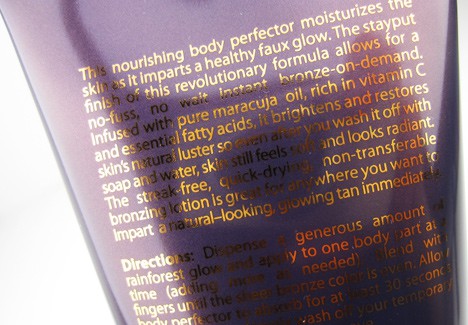 To me, the moisturizing properties are significant but secondary. What Rainforest Glow does best is bronze the skin in a 100% realistic way, masking uneven skin tone and imperfections as a bonus. Rainforest Glow is a non-streaky, extremely soothing lotion that dries quickly to a natural-looking matte bronze glow.
Rainforest Glow swatch
Although the color is waterproof, it will rub off on light-colored fabrics, so be careful what you wear (or where you sit). But for me, the gorgeous glow is worth the risk! When you've had enough faux-glow, Rainforest Glow does wash off with a quick scrub of soap and water.
Park Ave. Princess Bronze & Glow Matte Bronzer & Cheek Tint ($32) is a two-in-one duo of matte facial bronzer and cheek tint. The bronzer is a slightly altered cream version of tarte's infamous powder of the same name. This product is a marvel of a duo, with a small tube of bronzer topped with a rounded solid cheek tint. The bronzer is an easily blendable lotion, and the matching cheek tint is a crayon-style, soft solid.
Park Ave. Princess is the most beautiful bronzer I've ever used. Without a bit of shimmer or shine, its weightless, matte finish looks just like a natural tan, and it works equally well over foundation or bare skin.
tarte Bronze and Glow swatch
Meanwhile, the coordinated "natural flush" cheek color is a sheer, peachy-pink with a slight shimmer that adds the perfect highlight to "tan" cheeks. Used in combination, your face will have that sun-kissed glow without exposing yourself to any harmful rays.
Bronze and Glow bronzer and blush, Rainforest Glow
A close up of that beautiful blush
Pros:
• Both products give natural, sunkissed color
• Glow stays put until you're ready to wash it off
• Even after removing products, skin feels soft and nourished
• Bronzers don't contain unnatural shimmer or glitter, just believable bronze color
• tarte is a eco-friendly, cruelty-free line
Cons:
• Although Rainforest Glow is water resistant, it will rub off on light-colored fabrics if you're not careful. Dress and sit accordingly.
Overall, tarte's Rainforest Glow and Park Ave. Princess are the only products you'll need for a natural-looking, temporary tan – without a hint of tangerine.
Readers – have you tried bronzing-on-demand with the latest from tarte?
photos: we heart this, swatches shown on NC 25/30 skintone
Melissa loves road trips, bargain shopping, drive-in movies, lip gloss and rock 'n' roll. She lives in Baltimore with her precious pup Zeus.
Disclosure: This review includes products that were provided by the manufacturer/PR firm for our consideration. It also contains an affiliate link, a link that gives us a small commission if you purchase the item. For more info, or any questions, please see our disclosure policy.