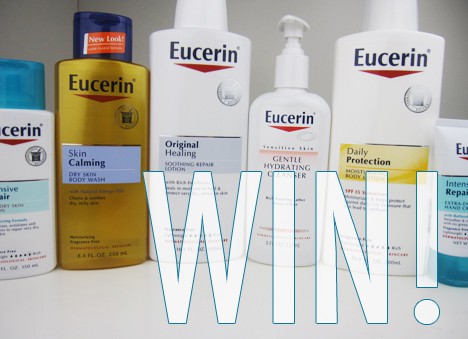 Congrats to the winner of this giveaway, Krista W!
If our Summer Skin Tips from Eucerin have you ready to start taking extra special care of your skin – you are in luck! Enter and win our Eucerin Summer Skin Care Giveaway and you'll receive a package of goodies to start protecting and softening your entire body. Winners will receive an assortment of Eucerin, as well as a CamelBak water bottle to tote with you during the day and keep your body hydrated.
Plus, you will get a $100 Visa Gift Card to spend on summer essentials (maybe a great pair of shades to protect your peepers or a stylish hat to shade your face) or anything you choose!
To enter, just complete our super simple Rafflecopter form (wait a few moments for it to load) and you could have it made in the shade. Good luck!
Disclosure: This giveaway includes products/prizes that will be provided by the manufacturer/PR firm. It is also being monitored by Rafflecopter, who will list your full name as entered on the widget shown here. For more info, or any questions, please see our disclosure policy.